The lowdown on Recycled Down
Interview with Allied Feather + Down

Photo – Allied Feather + Down

Innovation is one of the founding principles of Jones Snowboards. From our very first season we have always strived to develop new materials and production technologies that help our gear set new standards in performance and product sustainability.

The new Jones outerwear collection reflects this same design ethos. Our goal was to produce game changing technical outerwear that brought something new to the outdoor apparel industry.

The Jones Re-Up Down Puffy not only stepped up to that challenge, it crushed it. The Re-Up is the first down puffy in the world made with 750-fill post consumer recycled down. While recycled down has been available for many years, the Re-Up is the first garment to use recycled down at 750-fill power. The higher the fill power, the warmer the jacket, making the Re-Up one of the warmest down puffys on the market made with recycled down.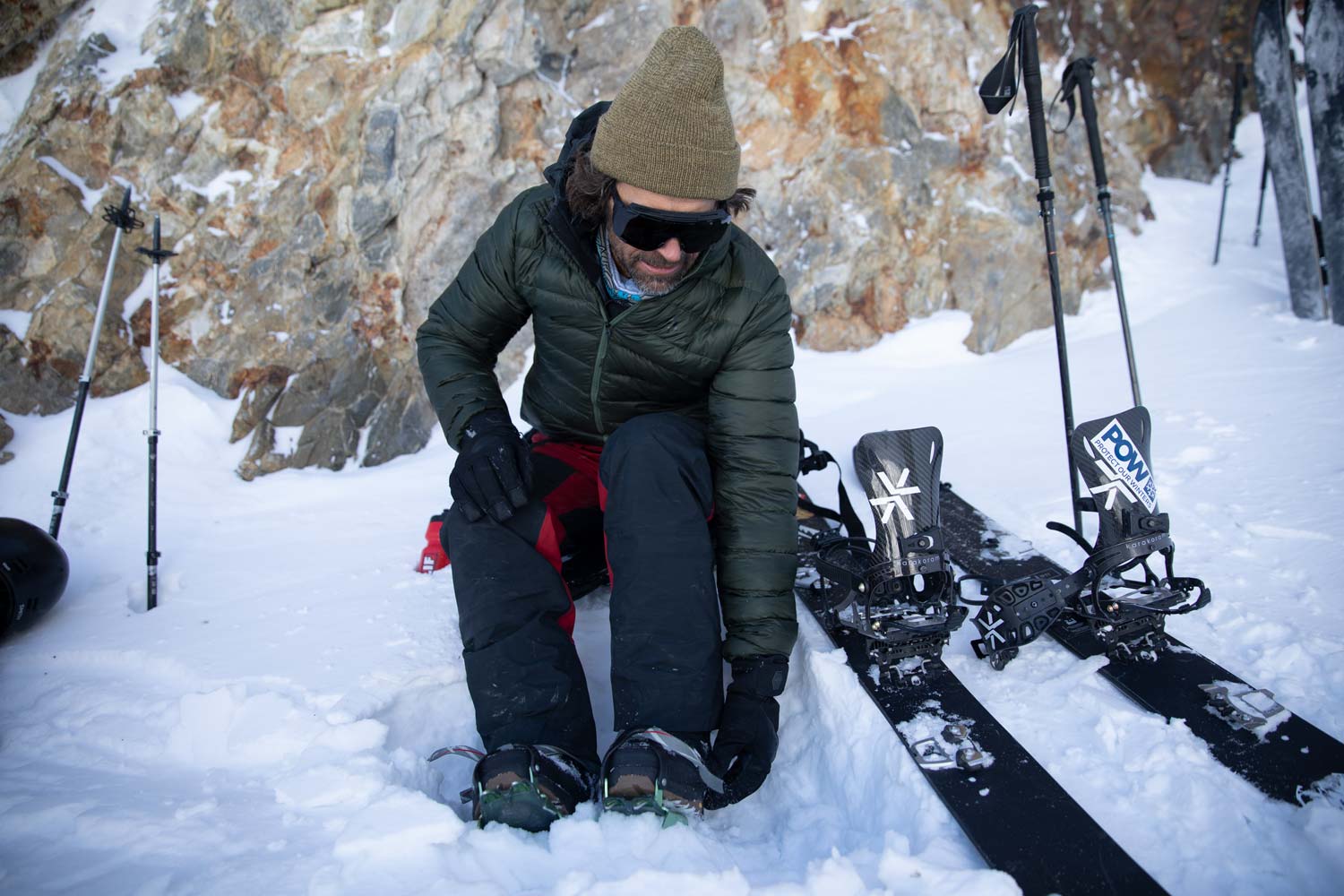 Jeremy Jones / Photo – Andrew Miller
Unlocking this new standard of sustainable performance would not have been possible without our partners at Allied Feather + Down. Allied is one of the world's leading suppliers of both virgin and recycled down for the apparel and bedding industries. With operations in Europe, North America and Asia, Allied has their finger on the pulse of the global down market, and only through their mastery of these markets were we able to source such high quality recycled down for the Re-Up.

To learn more about recycled down, and what makes the 750-fill power recycled down used in the Re-Up so unique, we caught up with Jonathan Uretsky, the Chief Operating Officer of Allied's Down Division. Read on to learn from Jonathan about where recycled down comes from, how it's washed and processed, and how it compares to virgin down.
What is the history of recycled down?
Down suppliers have been collecting and recycling down for the last 50 years, but until recently, it's only been available at a lower quality. For a long time the collection of post consumer down products for recycling was only done in Eastern Europe, and to a lesser degree, in Western Europe. Down suppliers would blend recycled down into virgin down to lower the cost, or if they needed extra feather content. Now we recycle down from all over Europe, Asia and North America to make our recycled down products.
Why do you think Europe was so far ahead of the USA in down recycling?
In Europe, post consumer product stories are a lot more well known and there is a better understanding about what materials can be recycled. In the USA, when a jacket or down comforter reaches its end of life, it either sits in the back of a closet for 20 years, or it goes to the landfill. This is especially true for bedding products. Most Americans don't view pillows as recyclable products. Allied is trying our best to change that misconception and let people know that bedding can be recycled and reused. To help with that we created a direct-to-consumer website called Renubedding.com that offers an incentive for consumers to recycle used down products.
Photo – Allied Feather + Down

How has the quality of recycled down changed over the years?
In the beginning, all we could get our hands on was recycled down cushions and down mattresses. These products are usually filled with mostly feathers and low quality down clusters. This quality of down isn't sufficient for creating apparel. But in the late 90s and early 00s, the global bedding industry introduced a stricter down labelling standard that required a minimum quality if a product was to be sold as down. Prior to the labelling standards, a pillow sold in the USA may have only contained 50% down clusters. Now, if you want to sell a down pillow in the USA, there has to be a minimum of 75% down clusters. So in the last 15 years the quality of down products on the market has dramatically improved, which has slowly led to the improvement of post consumer down products we collect for recycling.
When were you able to start using recycled down for apparel?
The down industry changed again in 2013 with the creation of the RDS, the Responsible Down Standard. The RDS was created to help eliminate the cruel practices of force feeding geese and live plucking. If down is RDS certified it is assured that it was humanely collected. The RDS also eliminated the practice of blending in recycled down with virgin down because the down had to be traceable to its origin. The RDS initially reduced the demand for recycled down because blending was no longer an option. Which in turn created the opportunity for us to collect more recycled down, and begin working on offering higher quality 100% recycled down for apparel. It took a couple years, but by 2017 several brands were using our recycled down to make apparel. Now recycled down is a well established material in our industry and lots of brands use it.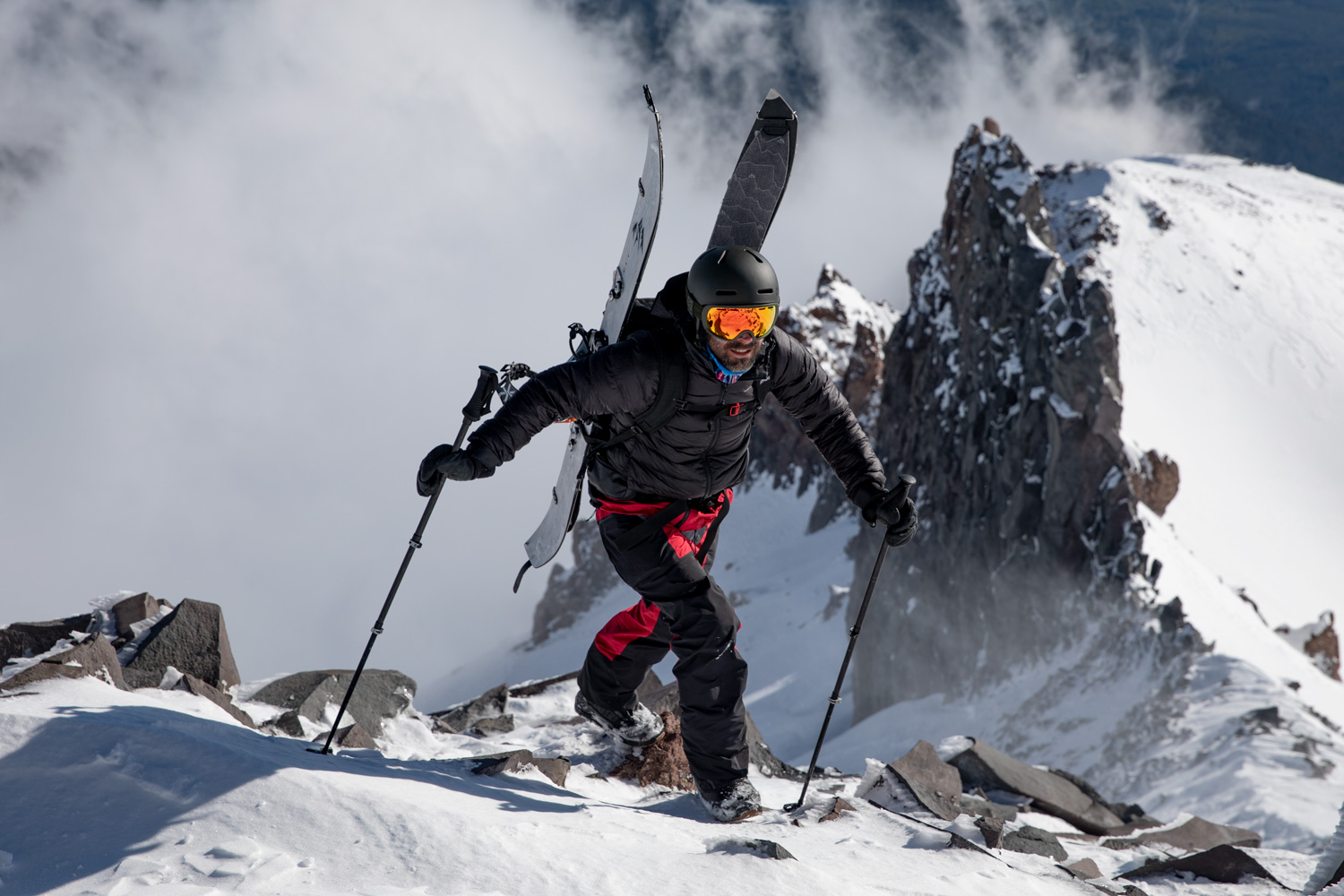 Jeremy Jones / Photo – Andrew Miller
Why is the 750-fill recycled down used in the Re-Up so unique?
The 750-fill recycled down in the Re-Up was sourced from China from one of our first collections of recycled apparel. Prior to this, we have primarily focused on collecting and recycling down bedding. The problem with recycling down apparel has been the issue of opening up the garments and removing the down. It takes a lot of labor and can be quite cumbersome to extract the down clusters from all the little channels. But, apparel is usually made with a higher quality of down than bedding. So once we found an efficient way to open up the apparel and pull out the higher quality down, that's when we were able to achieve a 750-fill power. A couple years ago we were lucky if we could hit 700-fill power with recycled down, so we're really excited to debut this new 750-fill recycled down with Jones.
How is recycled down processed?
Once the down clusters have been removed from the bedding or garment they go through a sterilization and sanitization process that involves multiple rounds of hot water rinses and soaks with different detergents. If the raw material is really dirty and oily, we might need to soak it twice and rinse it up to ten times. But if it's a cleaner raw material, we may only need to soak in once and rinse it three or four times. We have tests to ensure cleanliness and we strive to have a hypo-allergenic product. Washing down can use a lot of water, but we try to be as efficient as possible in our processing, both to save resources and to save money. Once the down is clean it gets dried and sterilized with high heat and steam pressure.
How is the production process for recycled down different from virgin down?
When we produce virgin down the clusters and feathers are collected as the bird is processed for meat production. The different size feathers and clusters then get sorted in a sorting machine. Once sorted, the virgin feathers and clusters undergo a very similar washing and sterilization process as recycled down. The sorting process is significantly reduced for recycled down because the sorting has already been done. Pillows, comforters and apparel won't have many feathers, so we can use almost everything, but products like down cushions and feather beds which have more feather content will need more sorting.
A down cluster / Photo – Allied Feather + Down

How does recycled down affect the carbon footprint of the industry?
The thing to remember about down is that it's a complete byproduct of the meat industry. So the true carbon footprint of down lives with the meat production industry and the demand for waterfowl meat. If no one produced virgin down ever again, there would not be one less bird raised. These birds are raised for their meat and the collection of down is just added value for the farmer. So while recycled down is a great product, and has its own benefits, it has no effect on the carbon footprint of producing virgin down. There is not less virgin down being made because we make more recycled down. But recycled down does use slightly less transportation and energy resources than virgin down because no birds were transported from the farm to the factory and the sorting process may be less intensive.
How does the performance of recycled down compare to virgin down?
Down is like a human hair, you want some natural oil on the clusters because that natural oil will help the cluster remain stronger. The stronger, more voluminous the down cluster, the more it can trap heat and keep you warm. Recycled down is getting processed for a second time so it's going to have less of that natural oil, but we use a gentle wash process on recycled down so that it doesn't remove as much oil. The brittle down clusters that do get broken in the wash process are also sorted out. So the recycled down clusters that are left to use are very strong and have really good moisture and oiliness to them. They are what I call "survivor" clusters and their performance should be equal or better than that of a virgin down cluster.
The first puffy in the world made with 100% recycled fabrics and 100% upcycled 750-fill down.
The Re-Up Puffy is simple, sustainable warmth for your body and soul. Layer it under a shell jacketk on brisk mid-winter days or slip into it on the summit.