Jones Snowboards are manufactured at SWS in Dubai, U.A.E.. Dubai is one of the world's major manufacturing/export centers which allows us to source 50% of our raw materials from local suppliers. Epoxy, standard fiberglass and stainless steel hardware are some of the materials we use that are made in Dubai. The other half of our raw materials are sourced from international suppliers who produce patented high performance materials for the ski and snowboard industry. Our Flax fibers, Basalt fibers, Sintered ULTRA base and wood cores are examples of these unique materials that are only available from one supplier worldwide.

Our apparel is made in India using organic cotton and polyester and our backpacks are made in Vietnam using recycled and PVC-free fabrics.
We strive to minimize the footprint of our shipping whenever possible. Our primary objectives are to make our packaging smaller and lighter so less fuel is consumed transporting our products and to eliminate air shipments.
In 2010, we shipped 60% of our final product by air shipment. In 2017, 95% of our final product shipped by ocean freight. This amounted to a huge reduction in our shipping footprint.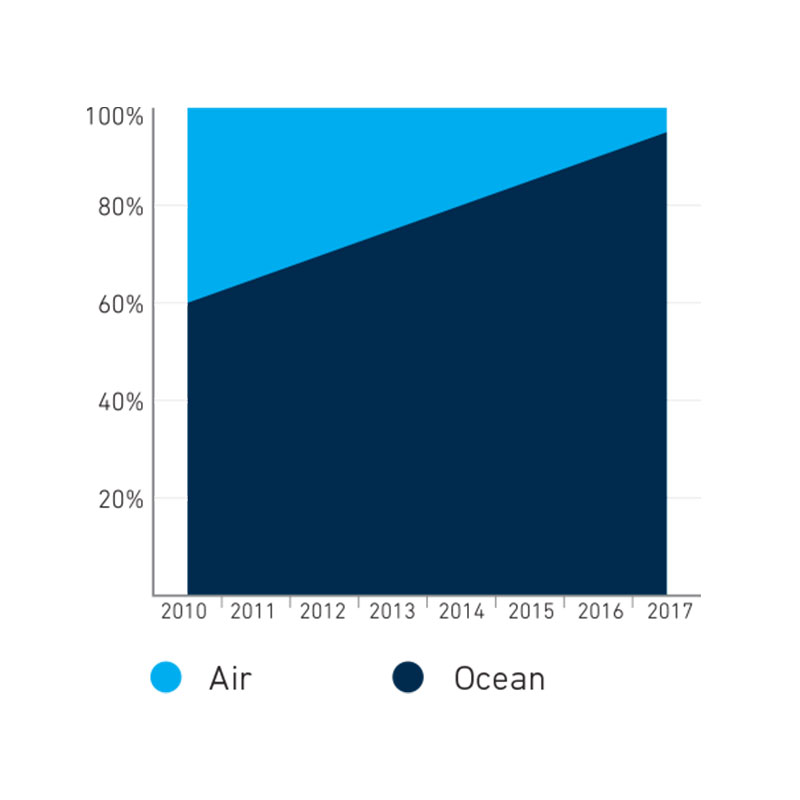 Product Transportation 2010 to 2017
Shipping via ocean freight is the world's most carbon efficient from of transporting good
Factory to retailer direct ship program
Starting in 2017, we began direct shipping final products from the factory to REI, our biggest worldwide retailer. This program has already saved massive amounts of energy. In one year, we reduced our supply chain emissions with REI by 66% with a total reduction of 1.5 tons of CO2.

We are currently working with other large accounts (like EVO) to begin a direct shipping program as soon as possible.