Full Movie + Photo Gallery

April 7, 2020 / Gear release
Nick Russell / Photo - Clark Henarie

In May 2019, pro surfer Ian Walsh and a talented crew of shredders including Nick Russell, Forrest Shearer, Danny Davis, Harry Kearney, Jerry Mark, Nathaniel Murphy, Clark Henarie and Eric Roepke made the push into Denali basecamp. They had enough food and gear packed on their bulging sleds to spend three weeks exploring the revered peak and the surrounding region. Dubbed the "Denali Surf Team", the expedition was a raging success as they were greeted by perfect snow, amazing weather and a virtually empty mountain. The entire team summited, and between all the riders they rode every line on the mountain and then some. They even found a day toward the end of the trip to throw down some potential first descents on Black Rock Peak, a sub peak of Denali's North Summit.
THE BIG ONE by ROAM Media shares the story of the Denali Surf Team's expedition including some stunning footage of the guys ripping some iconic lines in unbelievable conditions. Check out the FULL MOVIE below and keep scrolling to see epic photos from the expedition and hear from the crew about some of their favorite memories from the trip.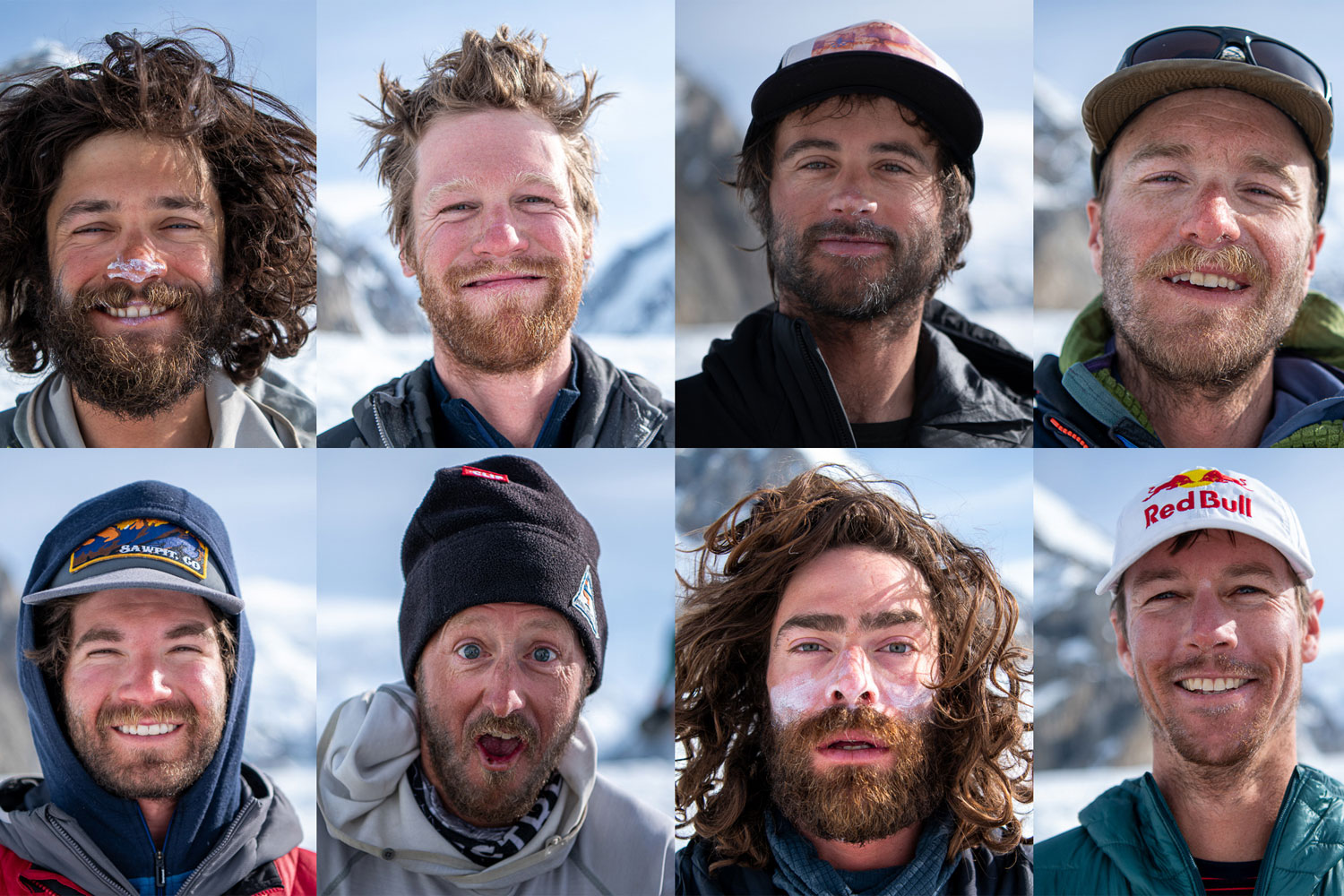 The Denali Surf Team: Nick Russell, Harry Kearney, Nathaniel Murphy, Clark Henarie, Jerry Mark, Forrest Shearer, Danny Davis, Ian Walsh. Photo - Erich Roepke

Showing up with a solid team of friends was huge. The camaraderie and stoke was unparalleled between everyone. Regardless if we got the summit bid or not, there was going to be a lot of good times.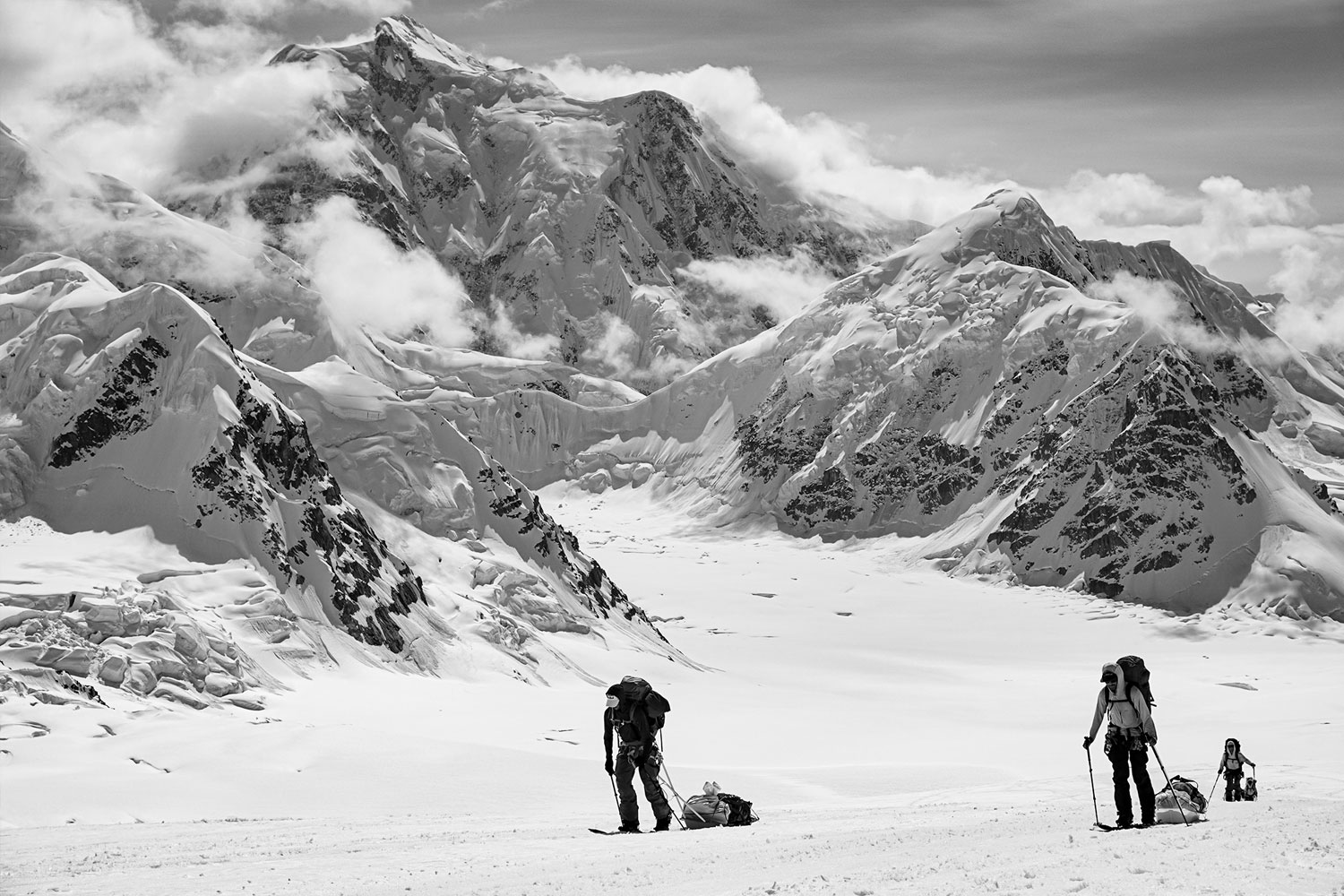 The long slog starts here. Straight off the Talkeetna Air taxi and onto the glacier. Photo - Clark Henarie

Moving camps carrying all our gear was comedy. We were all suffering dragging the sleds with so much weight. It's a long way up to base camp from where the plane drops you off on the Kahiltna Glacier.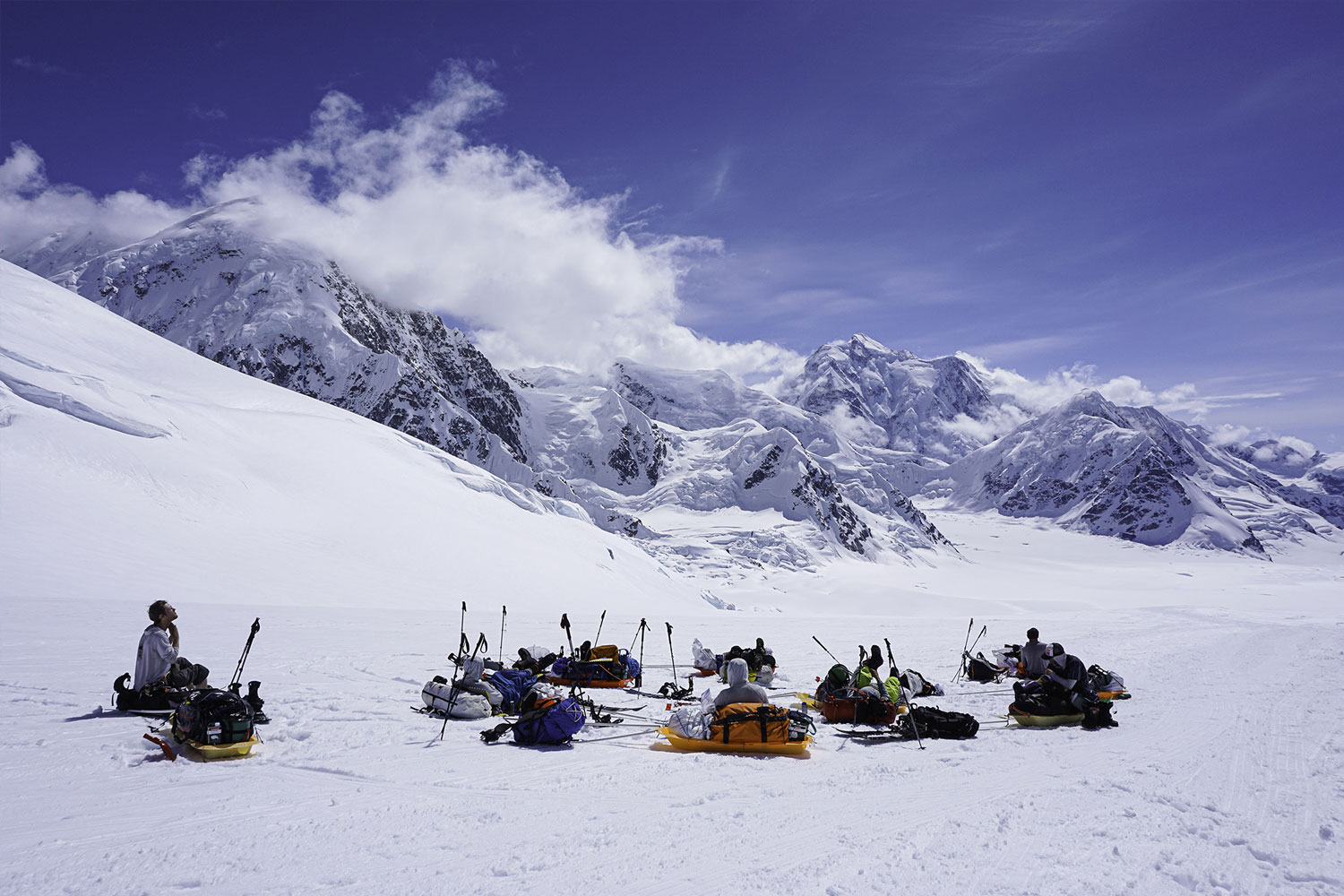 Kickin' back on the Kahiltna glacier on the way to camp one. Photo - Clark Henarie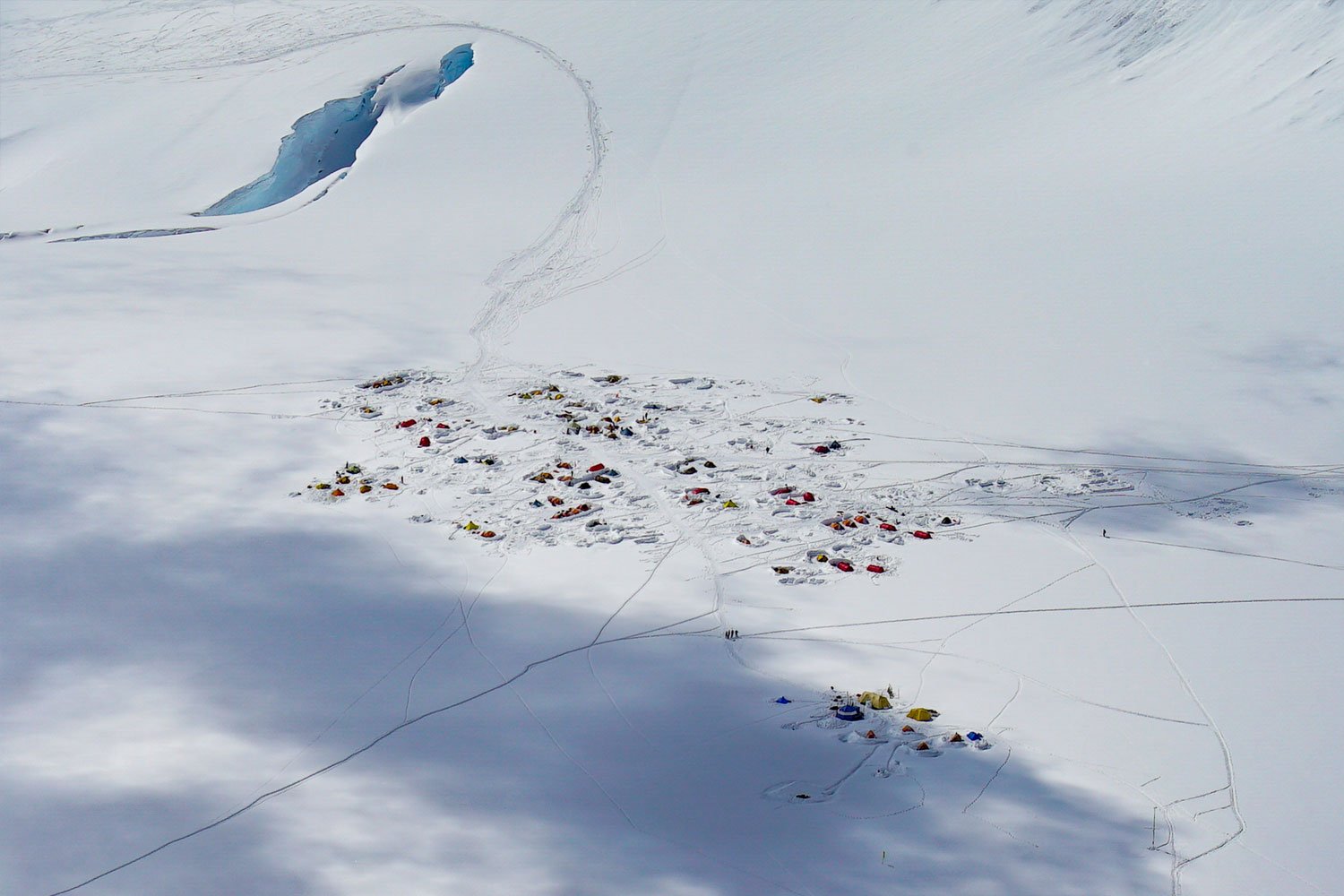 Birds eye view of camp at 14,000ft. The 14 camp is a tiny village where all the climbers, riders and rangers stage for summit and line attempts. Photo - Erich Roepke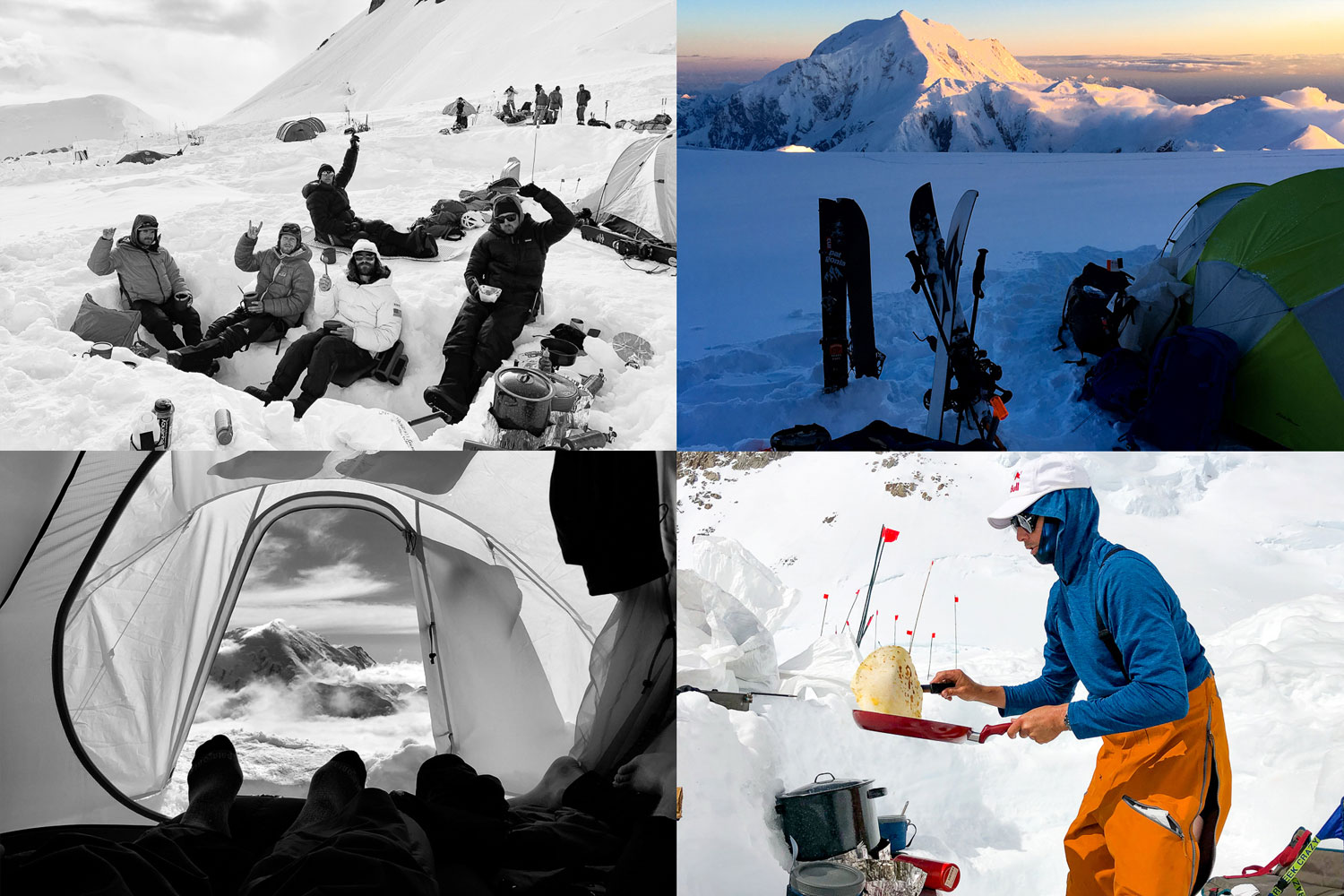 Spectacular views from the Denali Surf Team basecamp at 14,000ft.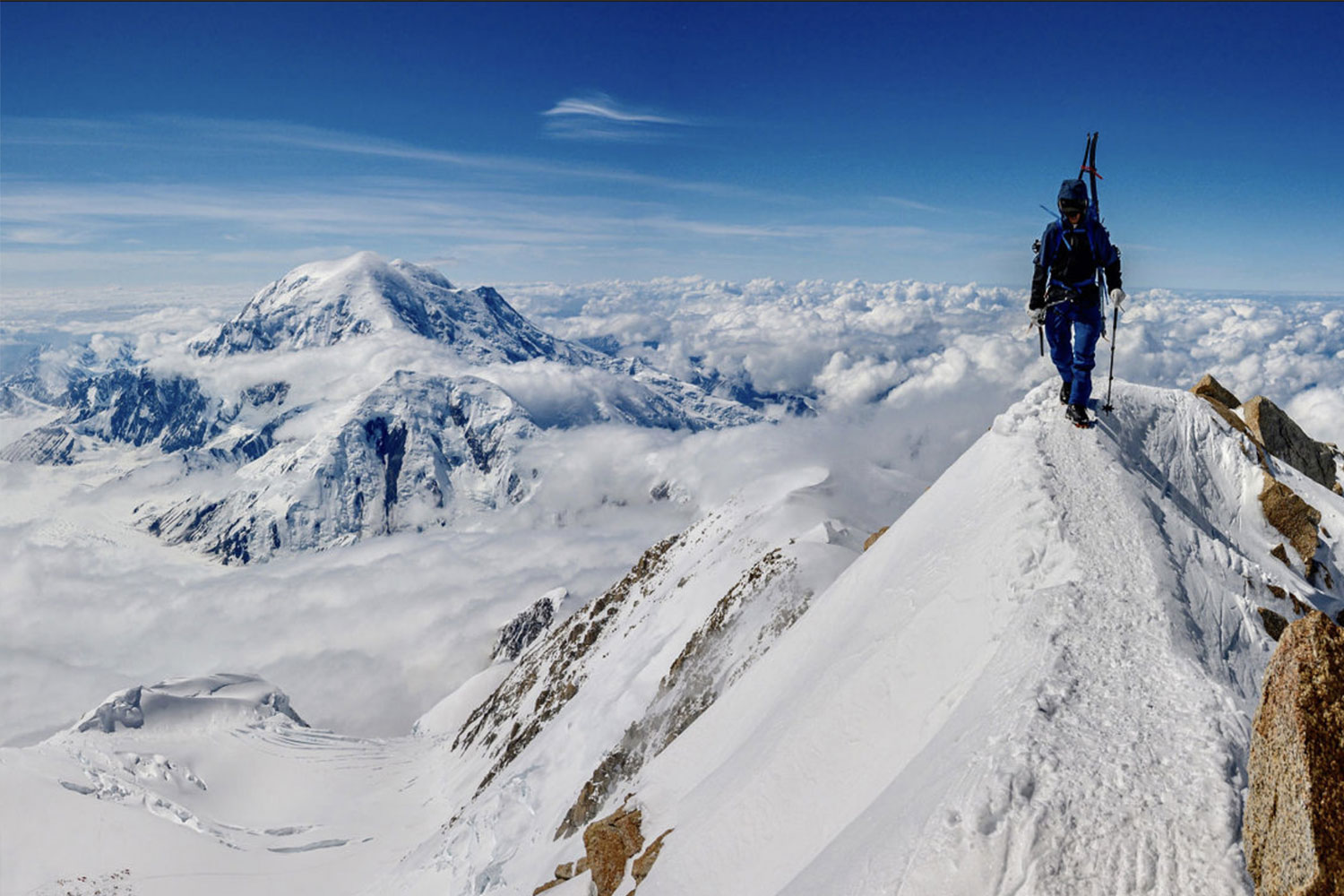 Forrest Shearer walks the plank on Denali's West Buttress. Photo - Erich Roepke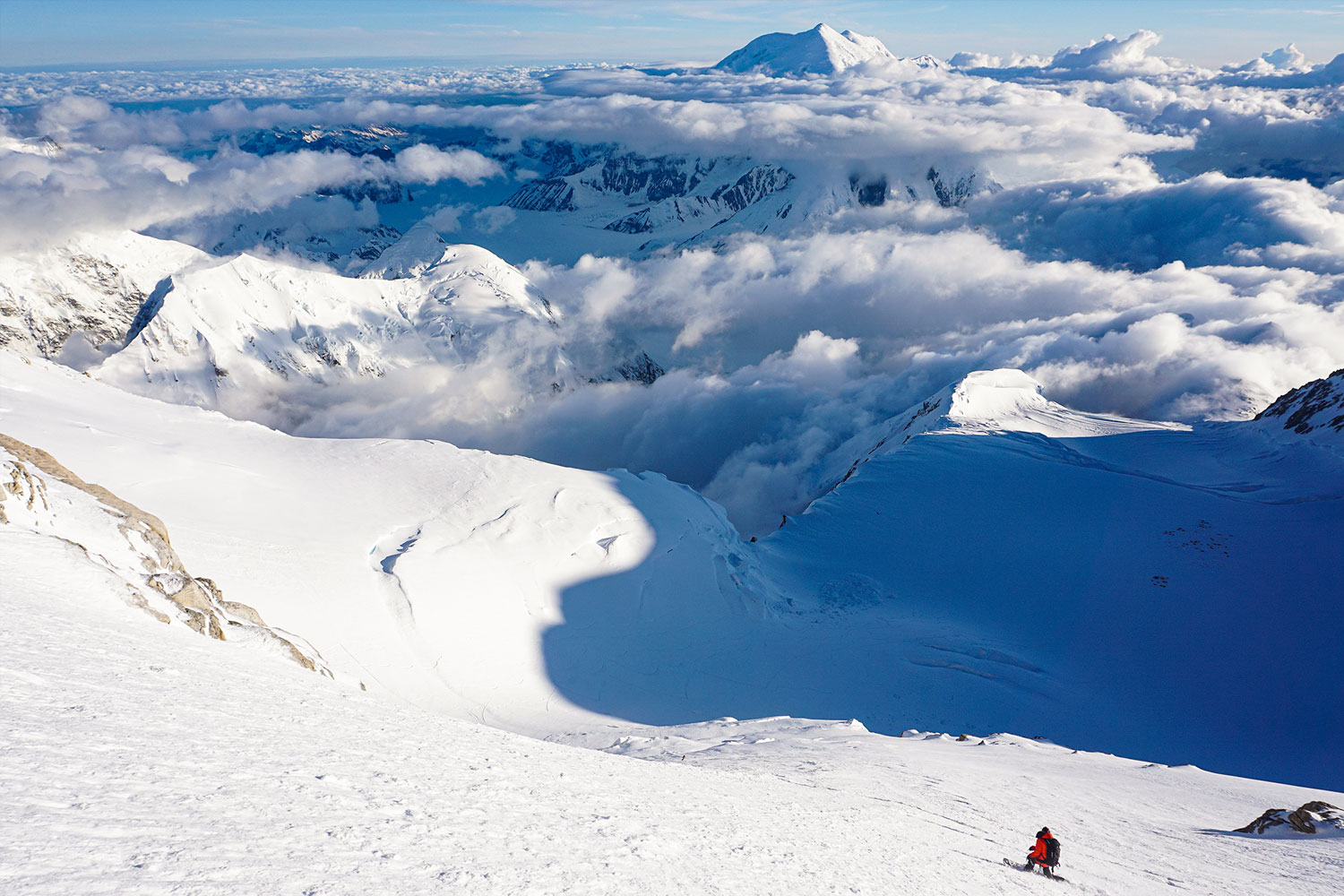 Nathaniel Murphy navigates his way down the Messner couloir with a view of 14 camp below. Photo - Clark Henarie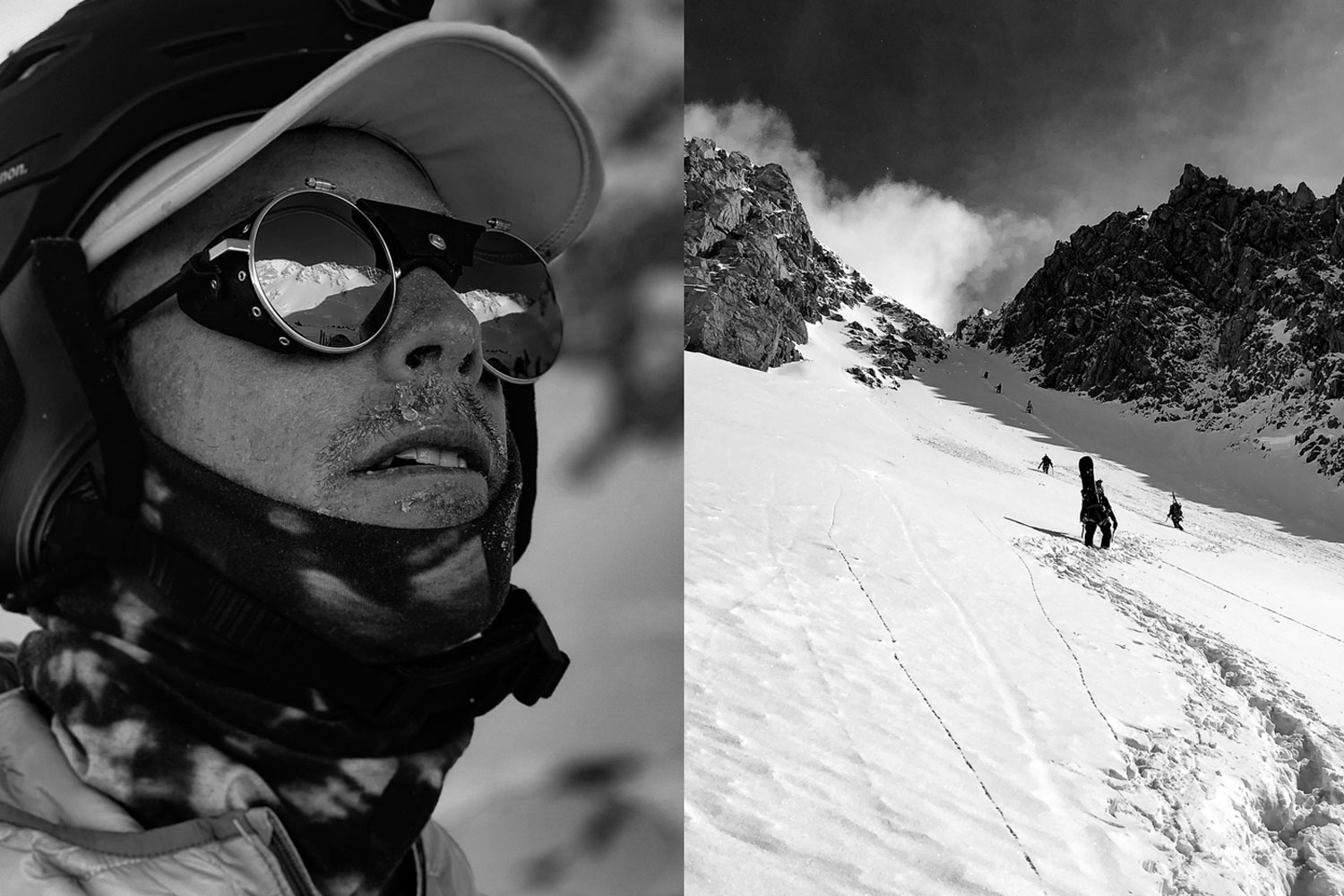 Professional big wave surfer Ian Walsh set his sights high on Denali. The expedition pushed him way out of his comfort zone. Photos - Nick Russell, Ian Walsh

All the lines above our camp at 14,000ft were so intimidating. It was like having Jaws, Mavericks, and Nazaré to stare at in front of a surf camp.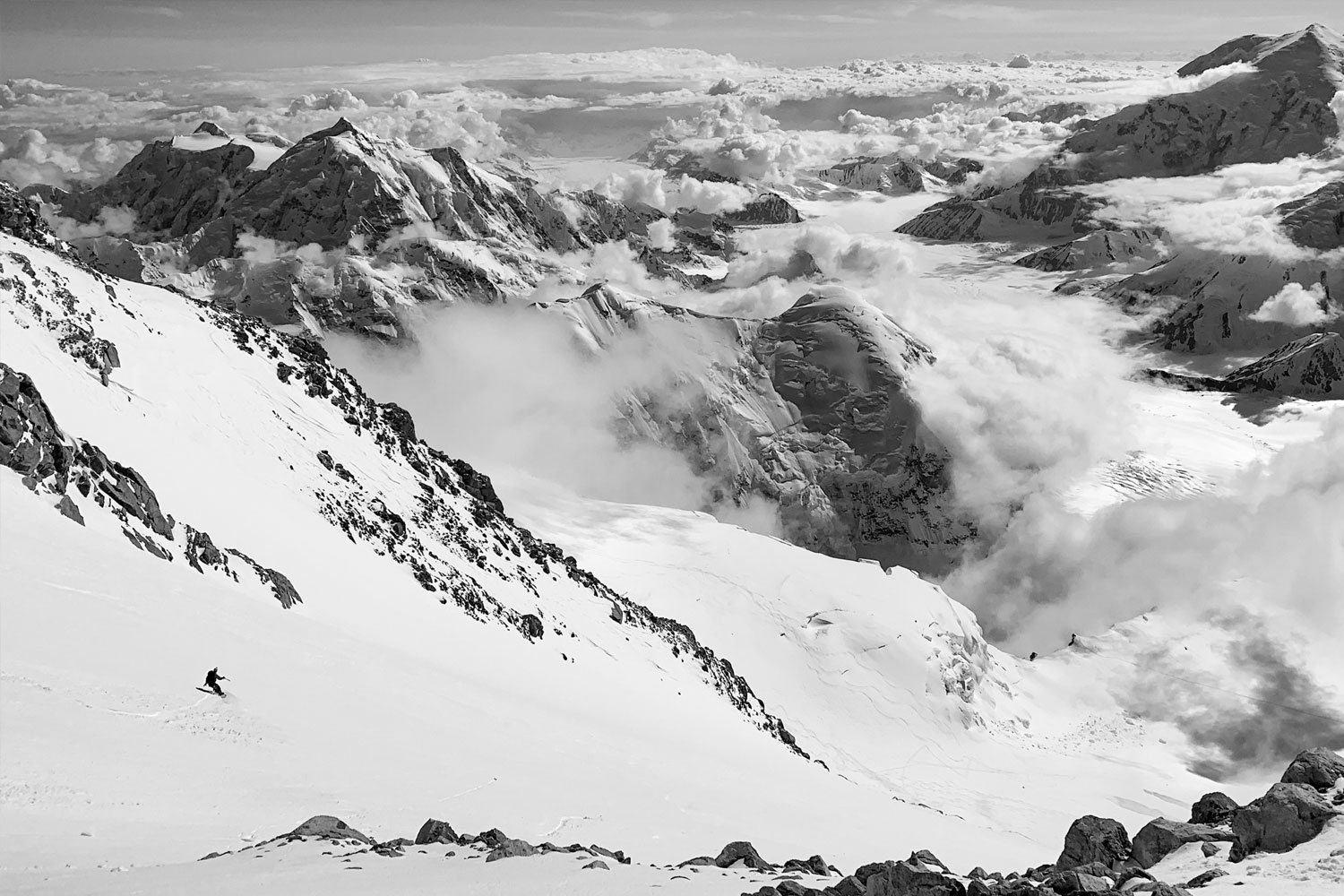 Harry Kearney making turns at 19,000ft in fantastic conditions. Photo - Clark Henarie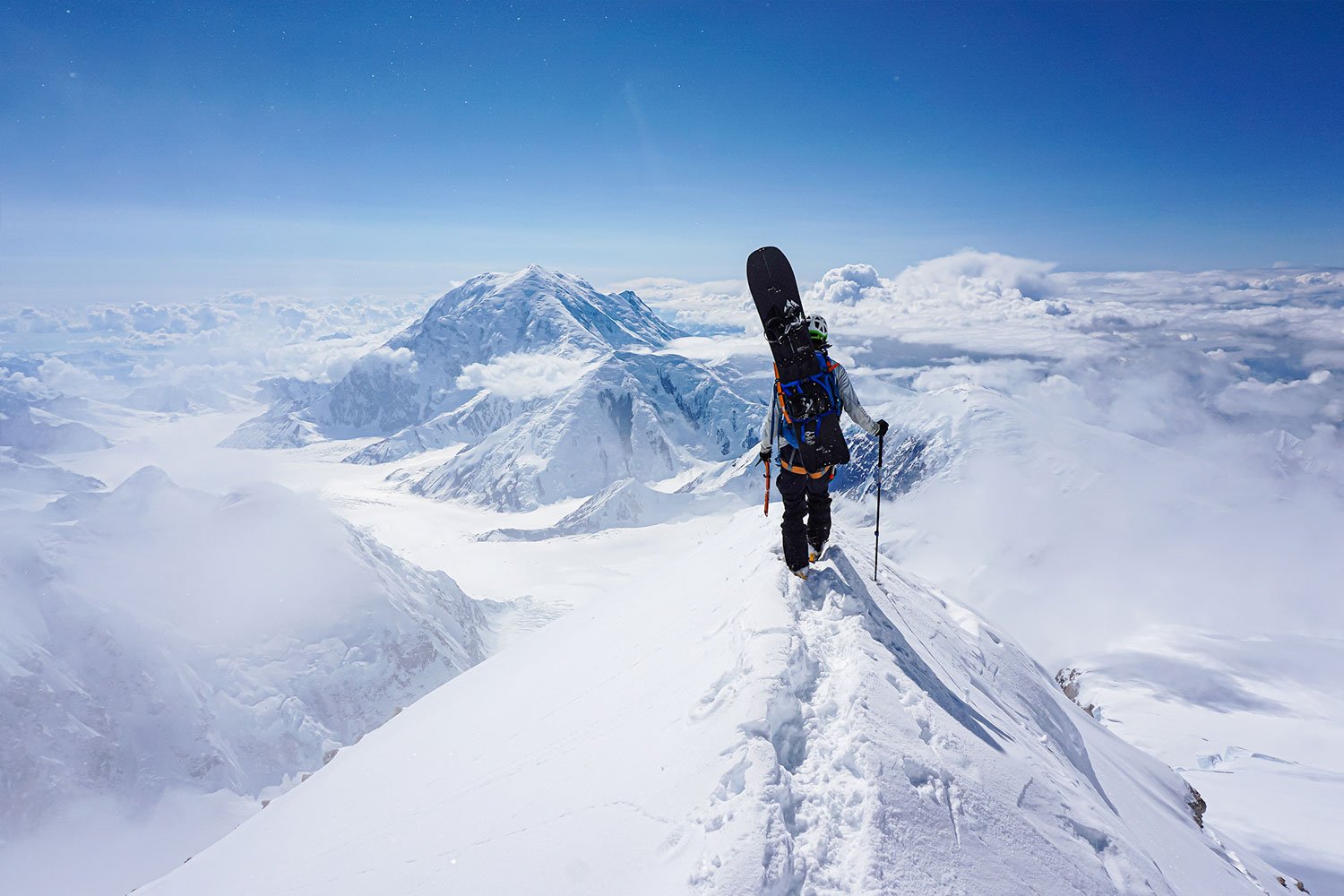 Jerry Mark was the only person on the team who had been on the mountain before. This trip was a very stark contrast from his first time on Denali a few years before where the entire mountain was a massive sheet of blue ice the entire trip. Luckily, this time around the crew scored about as perfect conditions as you can get up there. Photo - Clark Henarie

Rangers said it was the best snow conditions in nearly two decades. We had 18 days of perfect weather. Didn't have to build a single wind wall around our tents which is unheard of. Once we were acclimatized the climbing and riding didn't stop! As cliche as it sounds it felt like we got away with murder, It was a dream trip that I will never forget!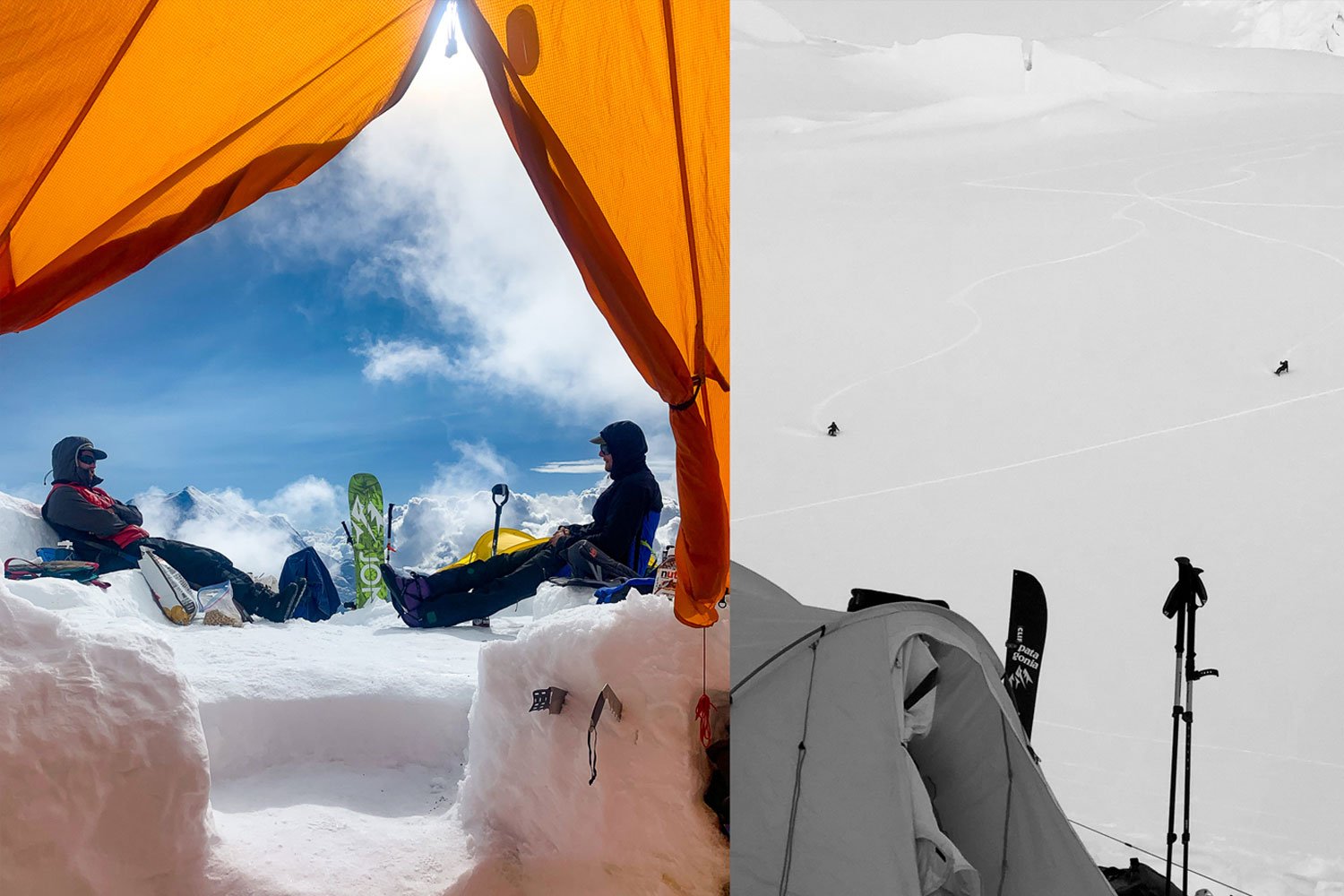 Clark Henarie and Jerry Mark hours deep in the softboot vs. hard boot debate, followed by some fun turns right above camp. Photos - Forrest Shearer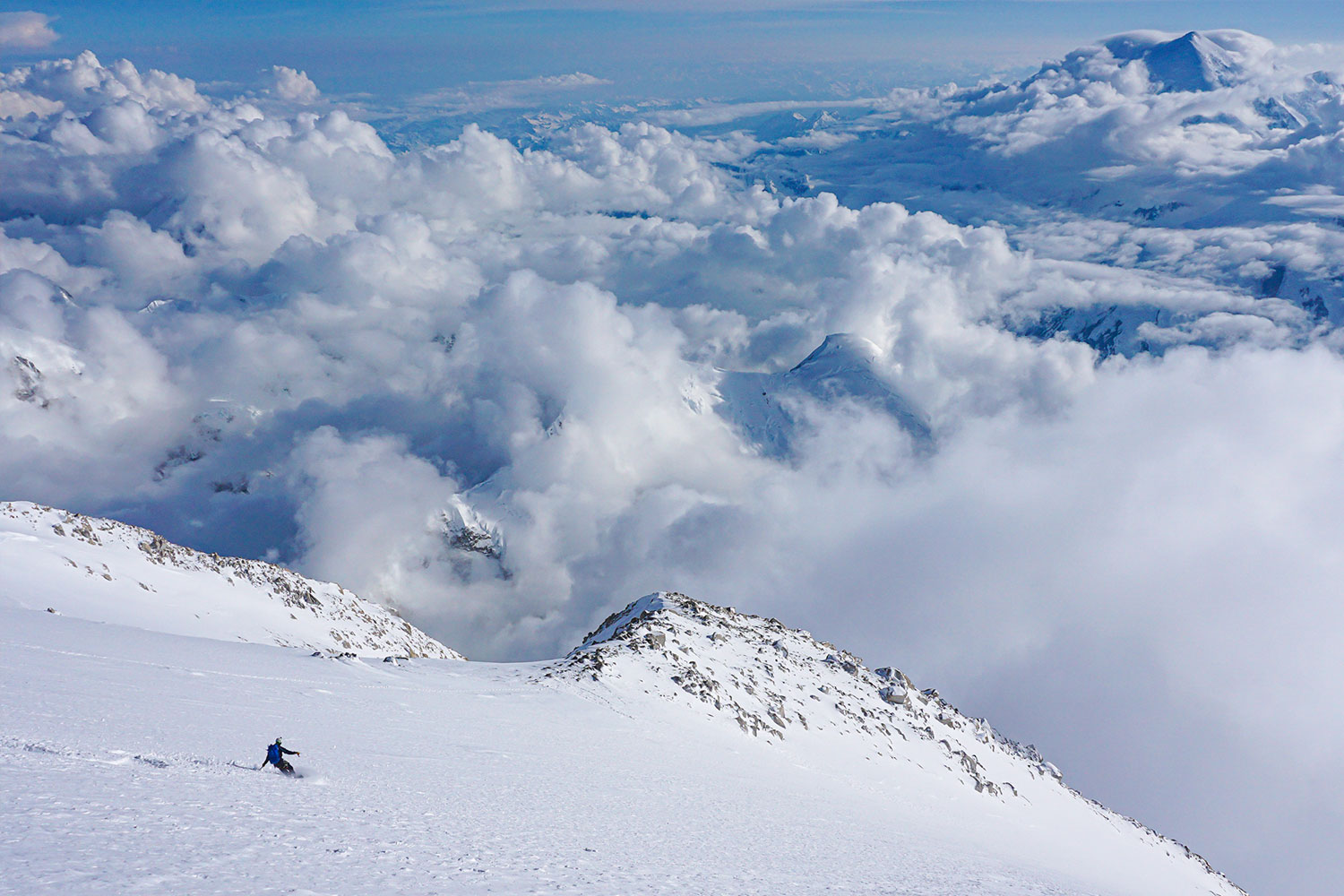 Jerry Mark cloud surfing down the upper Orient Express on his Hovercraft Split 156. Photo - Clark Henarie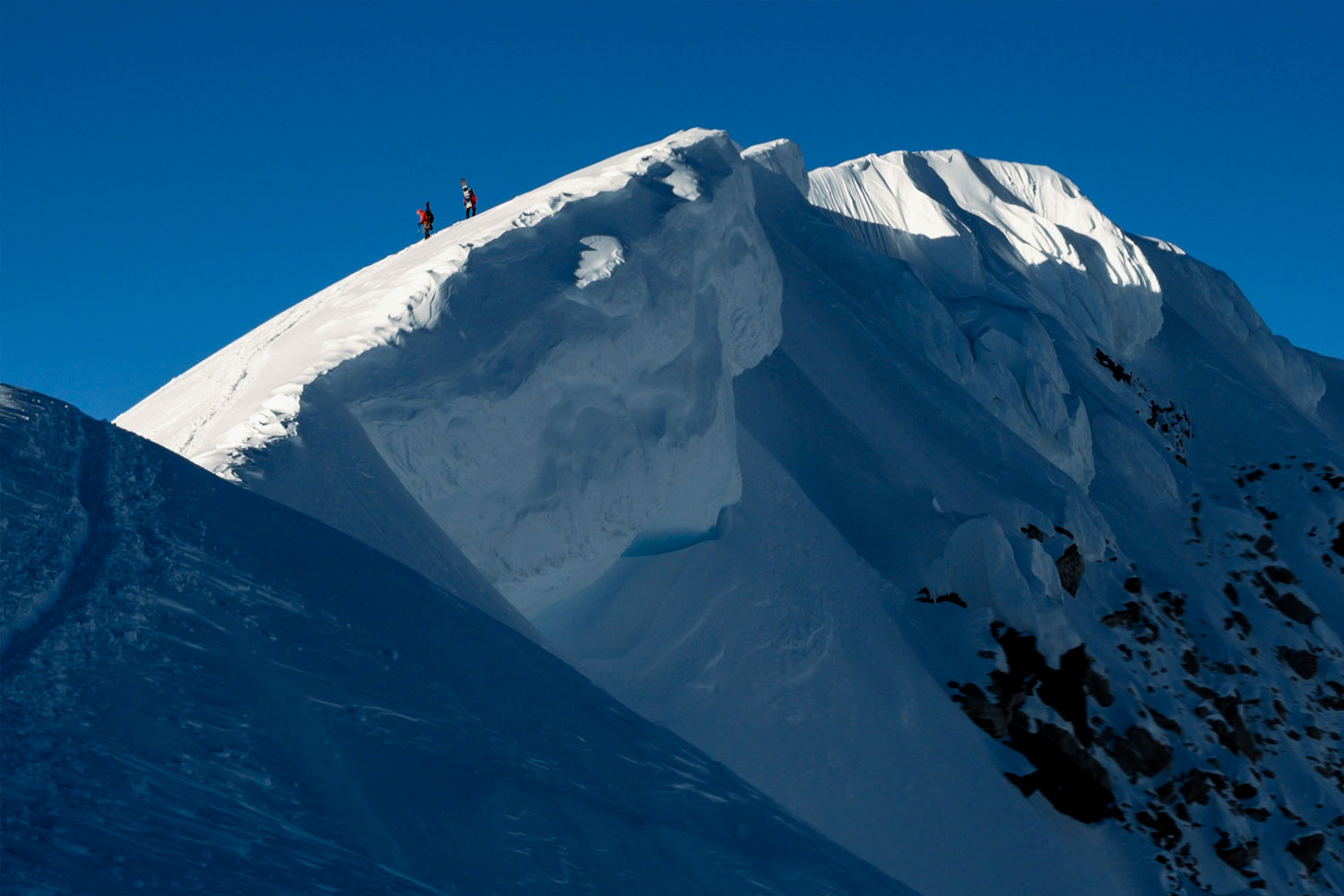 Harry Kearney and Jerry Mark nearing the summit of Denali - 20,310 feet. Photo - Forrest Shearer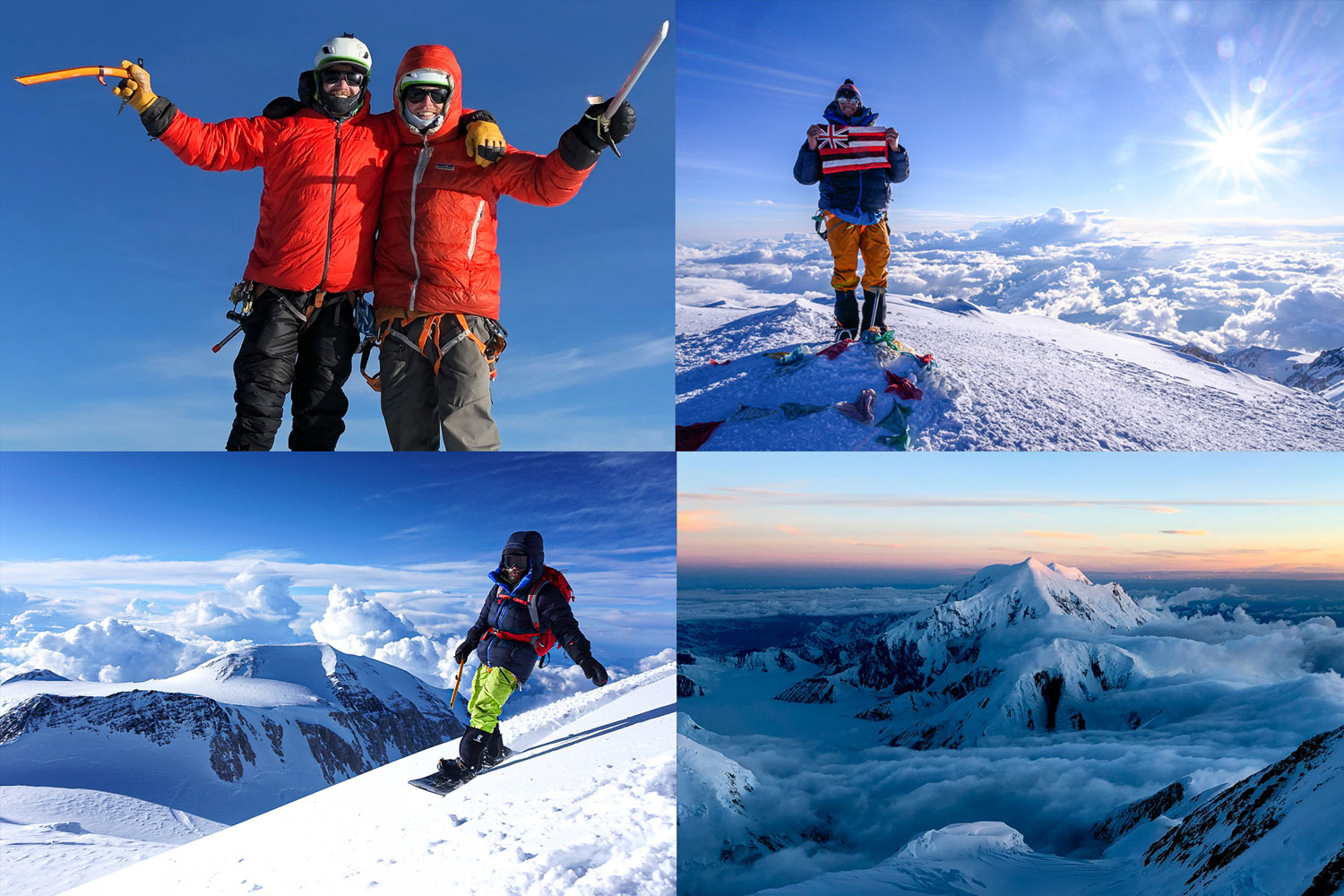 Summit vibes at 9pm on June 20th. (Clockwise from top right) Colorado buds Harry and Jerry stoked! Maui native Ian Walsh celebrated with a camp-made Hawaii state flag. Nick Russell nothing but smiles dropping in off the top.

It was incredibly inspiring to see how these guys each read and listen to the mountains while they adapt to the ever-changing conditions. Getting to witness their approach first hand gave me so many things I can borrow that directly correlate to the ocean. Being able to follow them up and down while quietly having the mental notebook out and absorbing any info they shared was one of my biggest take aways from this experience. Their ability to cohesively work together is unmatched in anything I have ever been apart of. Big respect for the DST!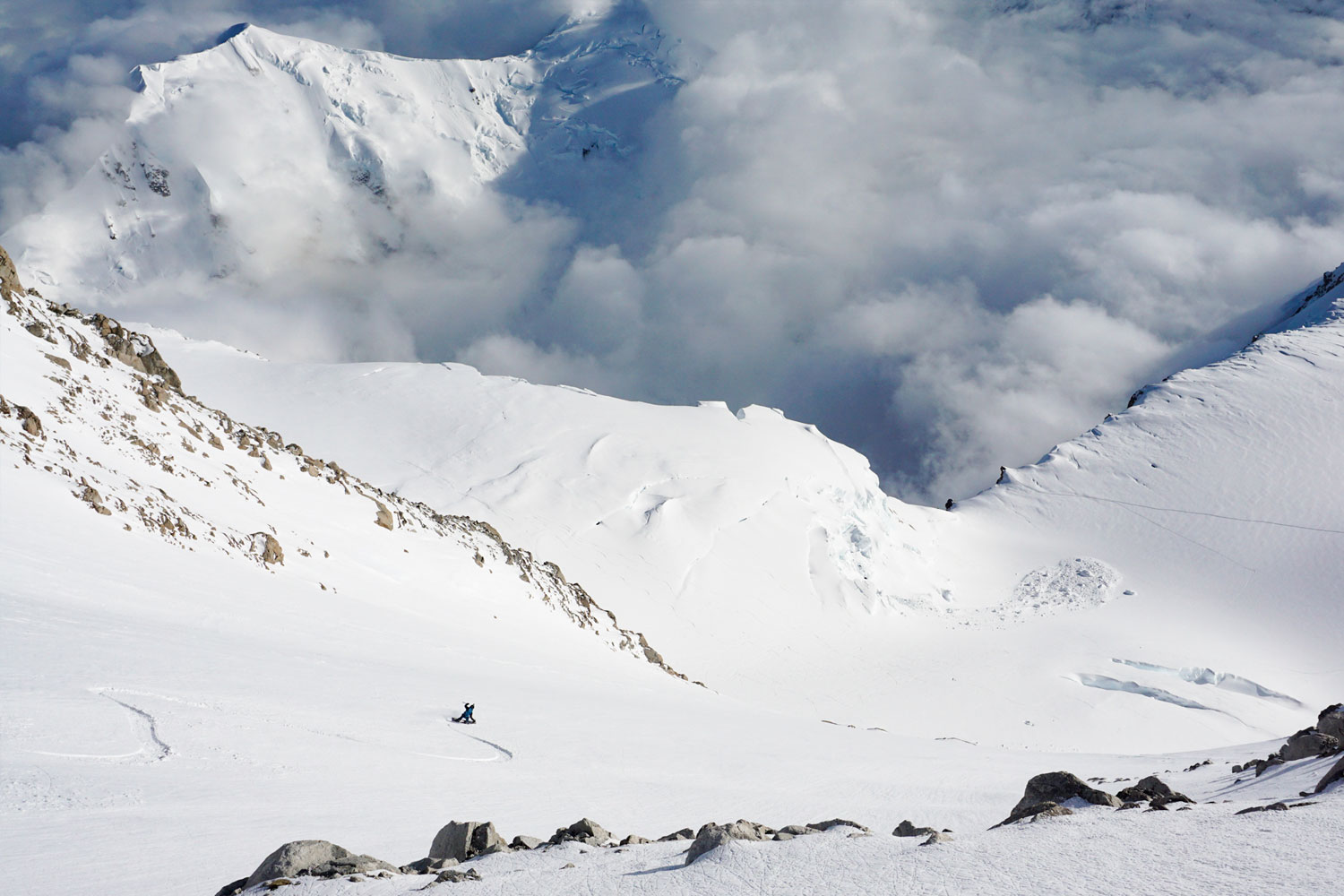 Forrest Shearer ripping into Denali's sunshine face. Photo - Clark Henarie

The Mountain Gods were certainly shining their light down on us. There is so much room for error on expeditions like this that could have easily given us an outcome far less favorable than what occurred. The Messner couloir held ideal steep powder conditions from the start of the headwall down through the apron, over 5,500' of sustained fall line snowboarding back to camp. We leapfrogged our way down from one island of safety to the next until my legs burnt and cheeks were sore from a permanent grin of happiness.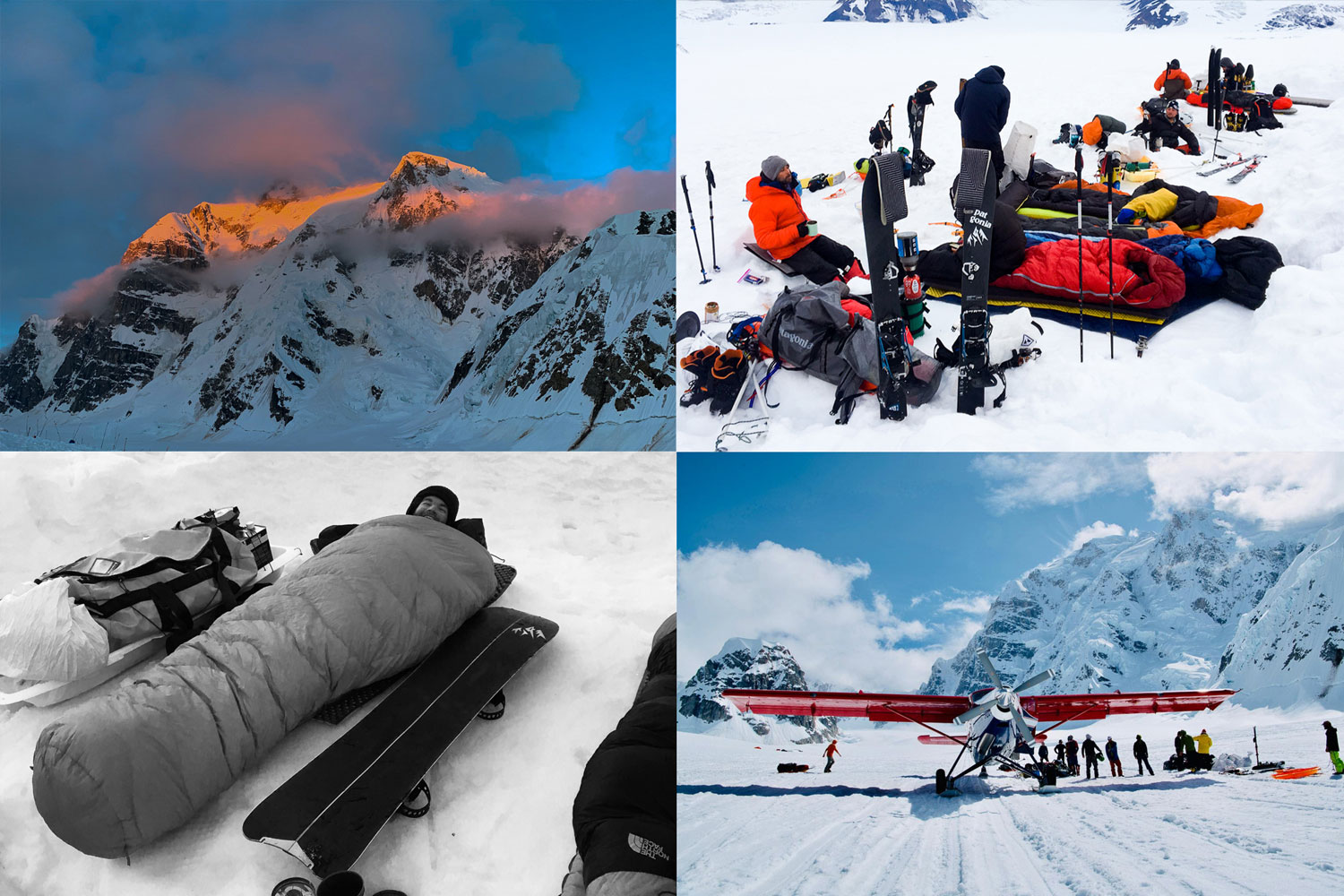 The long road home. After an epic 18 days on the mountain the crew enjoys one last bivy on the glacier airstrip before entering back into the real world the next day.

The night we got back to basecamp at the end of the trip was a funny one. We knew that we had just gotten away with one of the biggest scores of our lives, but the reality hadn't quite set in yet. There was an overwhelmingly sense of joy that permeated the whole group. I remember half of us laying in our sleeping bags, but not yet sleeping, while the other half finished off the last desserts and liquor. We all inhaled the deepest breaths we'd taken in weeks. Then came an endless stream of laughter and jokes from the group grubbing on the chocolate and booze and eventually from everyone in their bags. It took awhile for the gravity of our huge experience to sink in for me after that, but to this day the awe and gratitude haven't faded.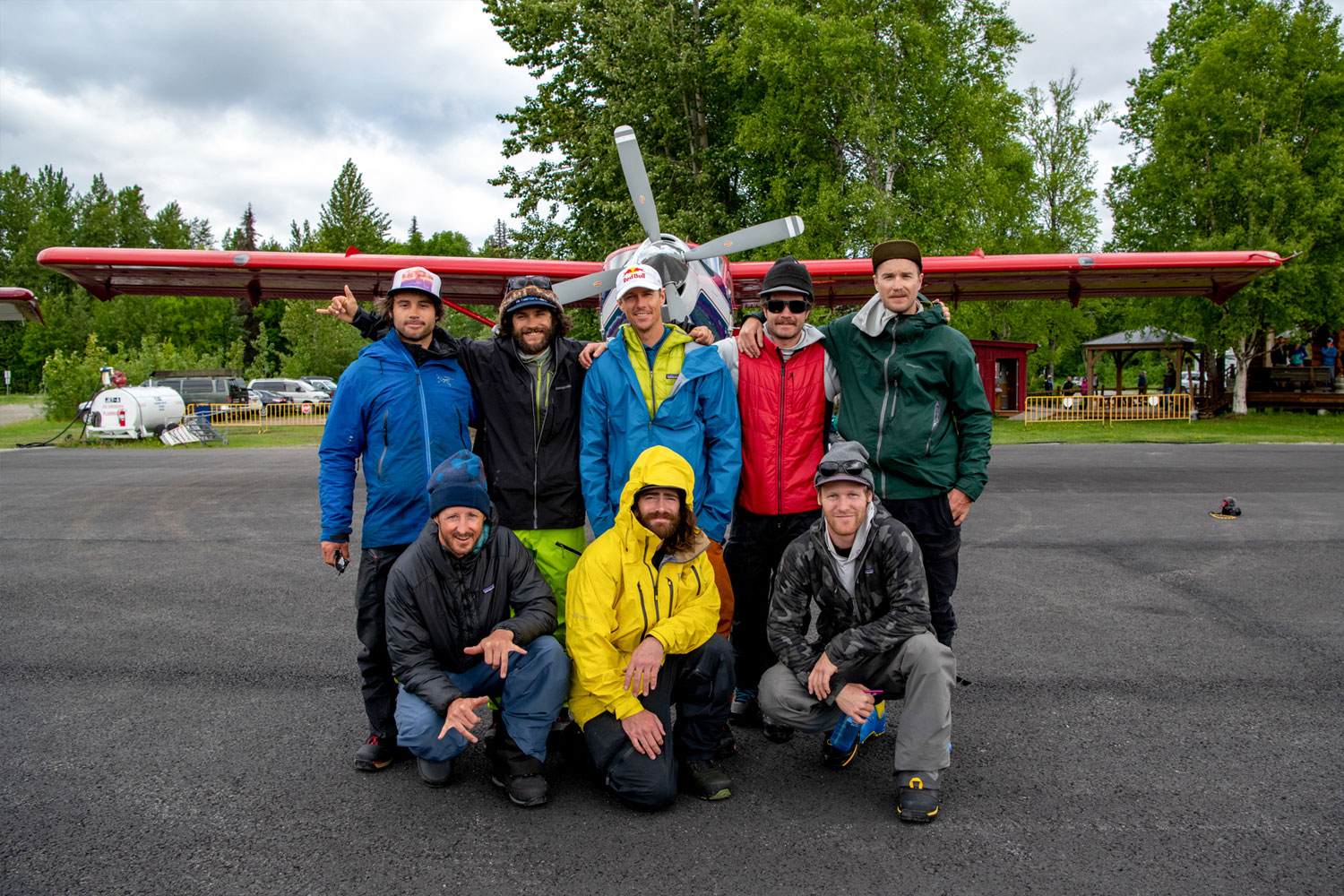 D.S.T. crew yearbook shot. Photo - Erich Roepke

To say we got lucky would be an understatement. Why some expeditions exceed expectations and others end in failure may forever remain a mystery. In an endless pursuit of high aspirations, simply showing up and putting in the time is the first step. And ultimately, if you play the game enough, these efforts will be rewarded by a magical alignment of the stars, allowing for the best lines of your life.