Jeremy Jones' "Pre-Game" avalanche protocols
The most important decisions you make in the backcountry are the decisions you make before you even leave the house. Just like "on-the-mountain" protocols, you should build a list of "pre-game" protocols. The goal of your pre-game protocols is to help you rule out specific aspects and slopes that are clearly dangerous. Here are a few of my protocols that I use when I have concerns in the snowpack. I have been using these a lot more in the last few years and I find it greatly helps my decision making in the mountains.
Make it a nightly routine to check the local avalanche center's website. Specifically check for recent avalanche activity. This is critical information. What aspect and elevation is sliding? For example, if there have been reports of multiple avalanches on NE aspects between 8 and 10 thousand feet you'll know to avoid those aspects at those elevations on your tour the next day.
Also look at the photos of the slides. What do the fracture lines look like? Are they in obvious start zones? How far are the slides propagating and running? Wide, propagating fractures, especially if they propagate up hill, should be taken very seriously. Deep fractures are another one. A four foot deep crown does not need to be very wide to kill you. Too many times I have looked at an accident report and the report shows avalanche images from the exact same elevation, aspect and terrain that was posted on the avy center website prior to the incident. Ideally avalanche centers would highlight these images front and center with the daily forecast.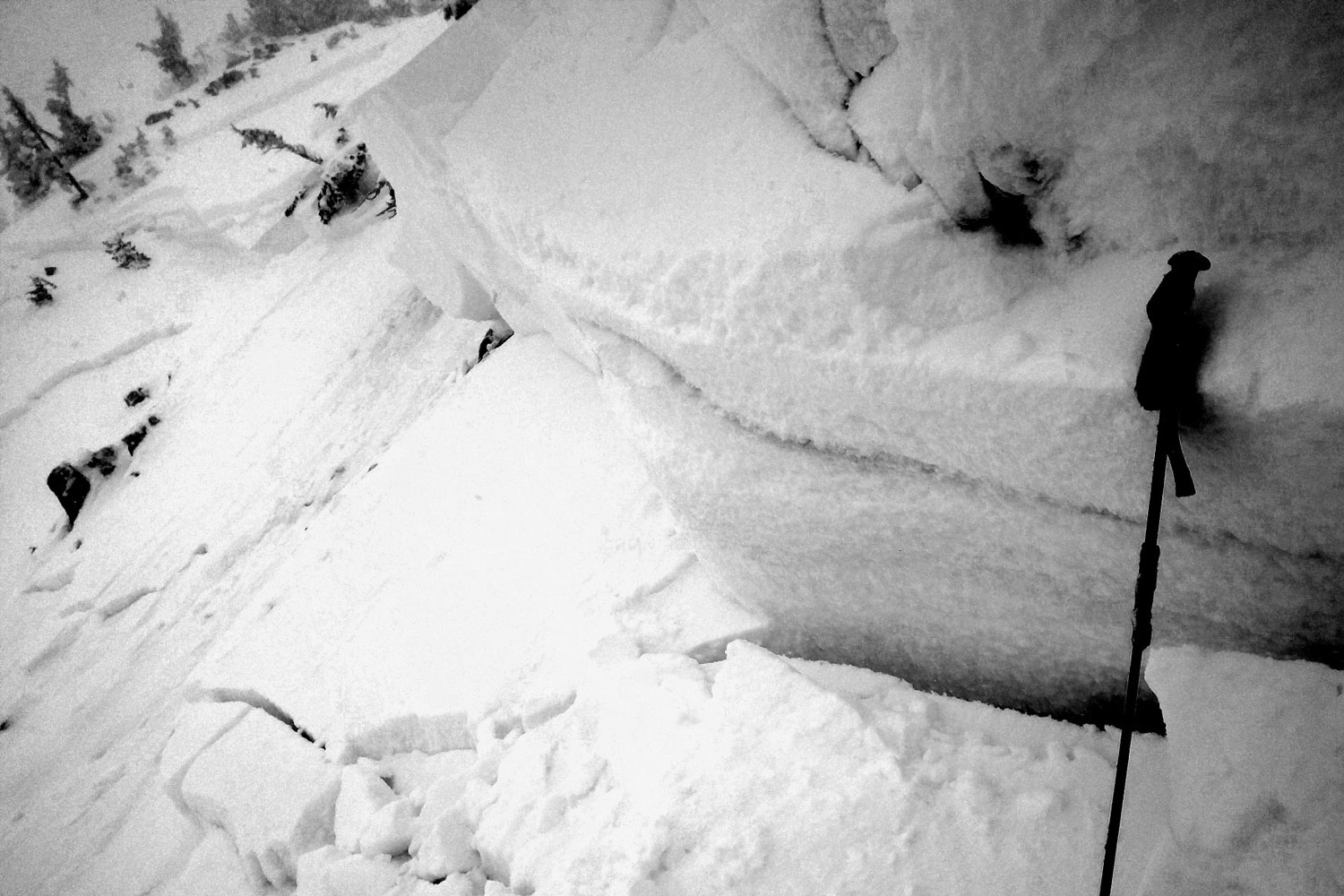 Crown photo from Sierra Avalanche Center accident report. First skier that dropped into the zone triggered a surface slab that stepped down onto a persistent weak layer. The skier did not survive the slide.

Before I get out of bed I think about the plan for the day. What are the cruxes? I run through my concerns…
"Wind loading at the top of the chute, line ends in a terrain trap, line is exposed to cornices, bad sluff potential in exposed terrain, wind slabs, deep slabs, ice…"
I start prepping my mind for things that could make me back off the line. I am preparing myself for saying, "No."
Now I look out the window at the trees for wind and my deck railing for new snow. Is there more or less snow then forecasted? Has anything changed from the day before that will make the snowpack more dangerous? New snow is the obvious one, but what about wind or temperature? Did I under estimate the weather?
This is also the time to evaluate the group your going out with that day. Is the group big? Are you with unfamiliar people? Are you trying to impress someone? Is it a bunch of experts? I consider all these situations red flags.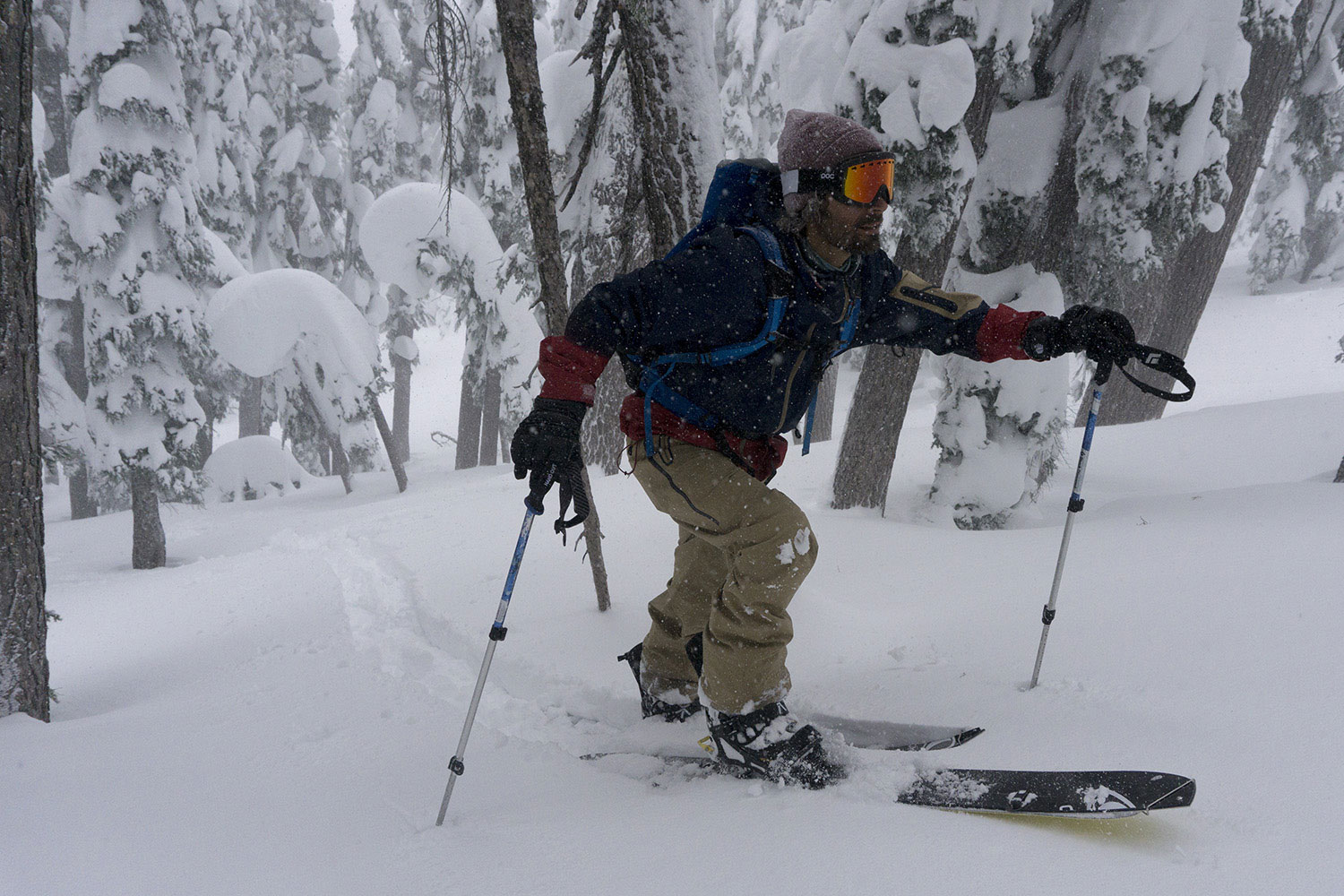 Make a plan and stick with it. I lapped low angle trees on this considerable day in the Tahoe backcountry.

Check the avalanche forecast
Check the forecast again. Has anything changed? This can be done in seconds because you're already up to speed on the current state of the avalanche situation. After checking the forecast you can start ruling out which aspects and elevations are off limits for the day. It's crucial to talk about these decisions with your partner if you are truly concerned. It is amazing how many times I semi-rule out an aspect prior to a tour, only to find myself standing on top of it drooling later that day. And then before long we start trying to talk ourselves into it. If you talk about pre-game protocols before you leave the trailhead it's much harder to rationalize changing your mind in the mountains.
Not all moderates are created equals
More experts have died with the forecast "moderate" then any other danger rating. Especially look for "Spooky Moderate." Beware of the words DEEP SLAB INSTABILITY or PERSISTENT DEEP SLAB. This means a slide is unlikely, but if it does slide it will slide huge and kill you. I treat this with major concern.
Don't try and outsmart the avy forecast with snow pits or science. A considerable rating pretty much takes me out of avalanche terrain. If you often find yourself leading the charge in the backcountry and opening up new lines in considerable conditions you are playing a dangerous game. One benefit of a crowded backcountry is there are plenty of test monkeys out there. Let them do the testing. Being a day late to the backcountry is not a bad thing.
Walking into the mountains is special. I consider it walking through a portal into a world that operates by different rules and does not care who you are, who you are with, that it is the last day of your trip, or how awesome your transceiver and airbag is. Take a few seconds to acknowledge this. Shed the world on the other side of the trail head and embrace the world you are walking into. I think of the Muir quote, "Mountains speak, wise men listen." Am I listening?
Assumptions are dangerous
As I make my way up the mountains I ask, "Is the forecast correct?" You are an investigator and the snowpack is guilty until proven innocent. Avy reports are an amazing tool, but they should never replace using your own decision making. Rarely do I ever change a rating from bad to good (Considerable to Moderate), but frequently I consider the avalanche danger greater then the report says. Being too cautious in the mountains is a wonderful mistake to make. At the end of the day I often find myself looking back on a line I passed up and thinking with a smile, "That was probably rideable today, but happy I stuck with the plan."
The Solution Series includes four models - Solution, Women's Solution, Ultra Solution and Youth Solution. All four models feature a 3D Contour Base and a new shape. Inspired by the rounded bottom contours of surfboards, 3D Contour Bases have the tip and tail edges rounded up like a spoon. Adding this beveling makes every run smoother and every turn more effortless by reducing the drag of the board tips. The Solution, Women's Solution and Ultra Solution feature our most advanced 3D Contour Base 3.0 with 7mm of bevel in the nose and tail. The Youth Solution features our 3D Contour Base 1.0 with 2mm of bevel in the nose and tail.