2019 Jones Live Like Liz Award trip report
100% human powered ascent of Mount Baker by Shawna Wianecki-Paoli.

October 2, 2020 / Adventure Grants
Thrilled to present a trip report from the 2019 Jones Live Like Liz Award winner - Shawna Wianecki-Paoli of Glacier, WA.
In May 2019, Shawna and a crew of friends used the grant to help fund a 100% human powered ascent of Mount Baker. They rode their bikes to the trailhead from Shawna's home on wheels at the Mount Baker RV park and started the hike up from there. Initial plans were to circumnavigate the peak, but incoming weather and a sick partner kept them focused on shredding sweet spring snow on the Roman Wall and Coleman Glacier.
Check out Shawna's lively journal entries and rad photos from Calvin Shillington below and get inspired to start working on your application for the 2020 Jones Adventure Grants.
Journal entries by Shawna Wianecki-Paoli
Photos by Calvin Shillington
Calvin biked up from Bellingham yesterday. He wanted to make this trip a truly 100% human powered endeavor - which I think is so admirable.
Today, Blaine, Calvin and I got a bit of a late start biking up Glacier Creek road to the Heliotrope trailhead. Maria will meet us here tomorrow morning – she was feeling sick and needed a little more rest before the trip.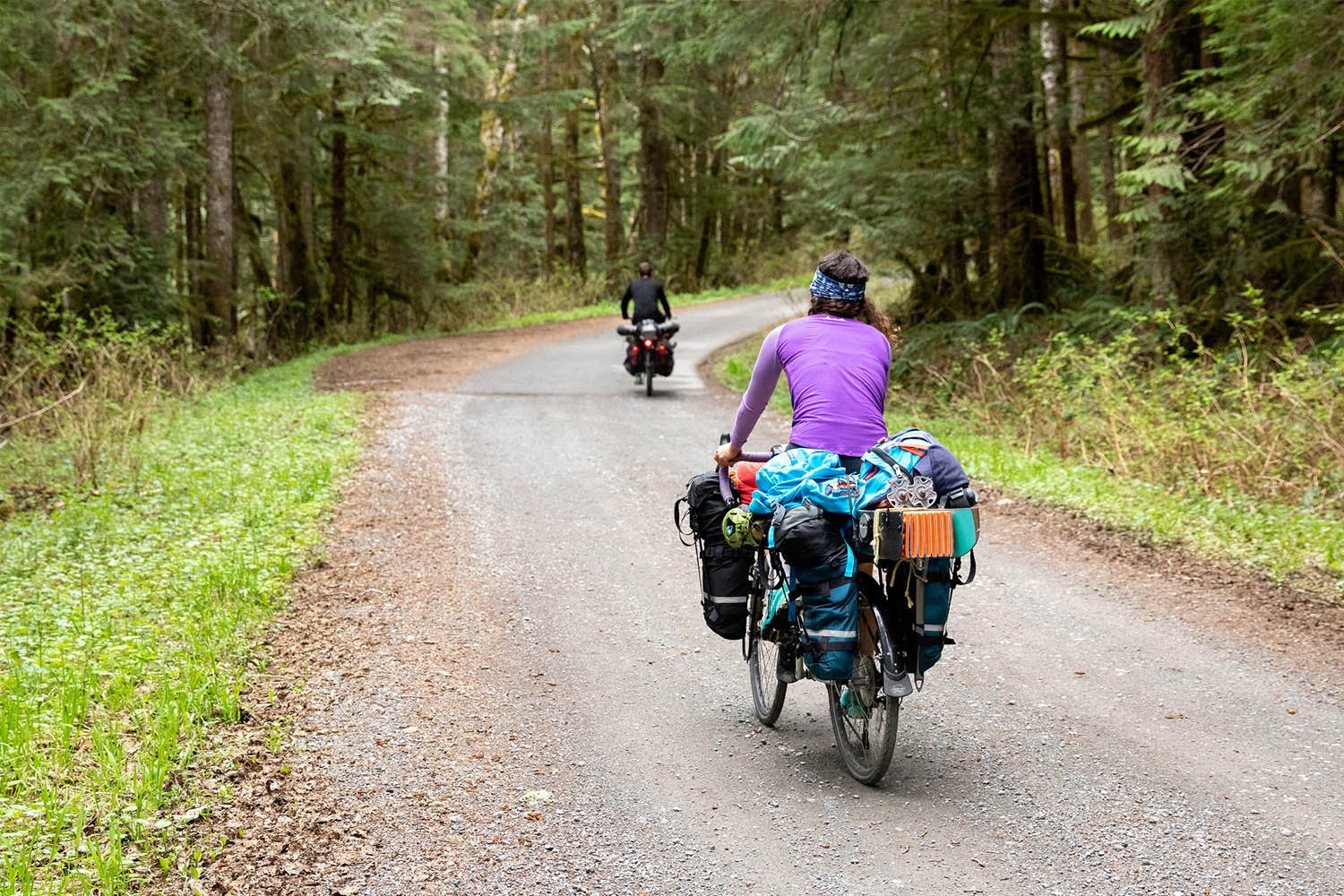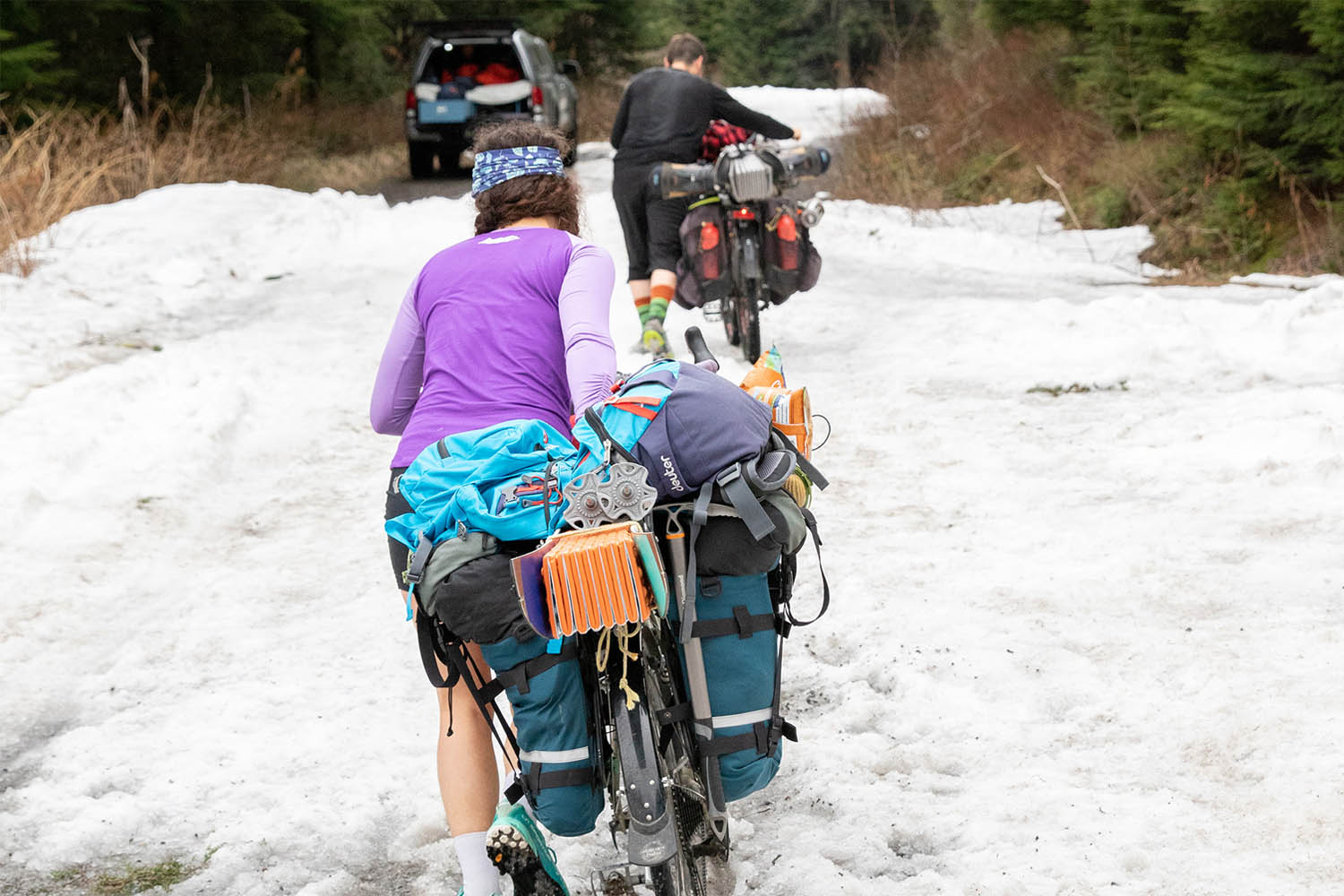 We pedaled up to the Heliotrope trailhead in 3.5 hours. We decided that our loaded bikes were the heaviest they've ever been in any of our lives. We had our mountaineering and glacier travel gear, splitboard and backcountry gear, plus winter camping gear. After walking our bikes through the snow for a bit, we made a camp right before the last bridge before the trailhead. We later concluded that freeze dried dinners were actually pretty legit.
A nice French man named David walked up from where the snow started and talked to us for a while. Another guy in a pick up stopped us on the way up to say hi and ask what we were up to. He told us he was attempting the North Ridge, but we weren't impressed cause' he was driving - hehe.
We were the only ones in this spot, but everyone and their mother with a Toyota 4Runner is getting stuck trying to rally past the spot where the cars are parked at the end of the snow. Just to avoid walking an extra 200 ft!
To get to our first camp we biked 8.3 miles, gained about 2,500 feet of elevation, and our bikes weighed about 70 thousand pounds.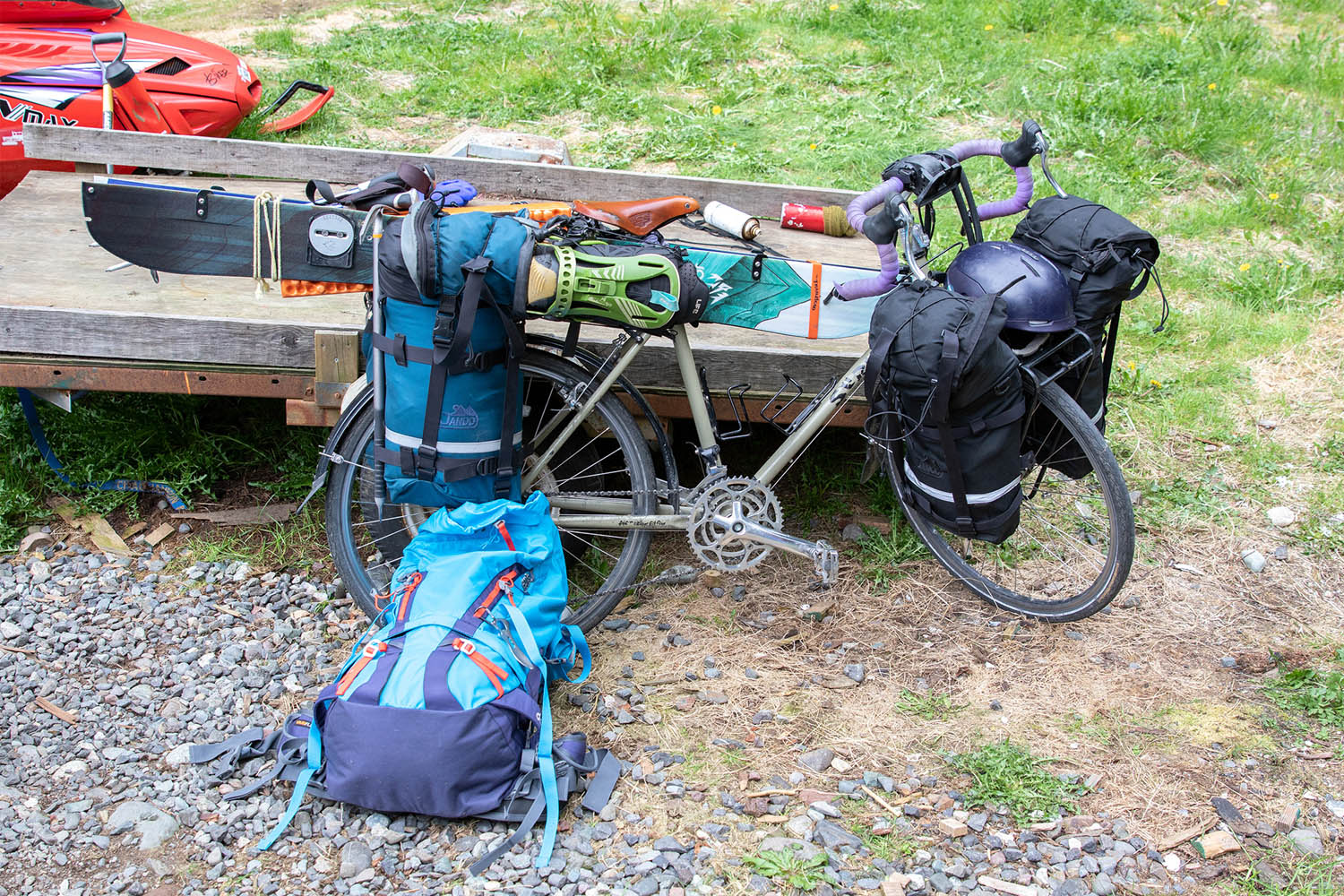 Maria met us this morning at our campsite. We opted to head up to Heliotrope Ridge via Grouse Creek. There was some bushwacking and a small creek crossing followed by a consistently steep gulley climb. On the way up, I got to chatting with another skier. Turned out he was Jason Hummel – a ski mountaineer and blog writer whose blog entries I had been sifting through to find beta on a Baker circumnavigation. With essentially no information found on a circumnavigation online, it was ironic to run into Jason in person today. He thought that a circumnavigation could be completed in one day, but he is on another level and has a lifetime of glacier travel experience under his belt.
With the threat of incoming weather we have written off an attempt at circumnavigation. We were also not feeling great. I felt slow and my pack felt heavy – definitely not feeling 100%. Calvin gave me his marshmallows for my hot chocolate because he's vegetarian and they have gelatin, so that made up for all the pain and suffering. Maria is sick, but could still skin circles around me all day. She's an animal.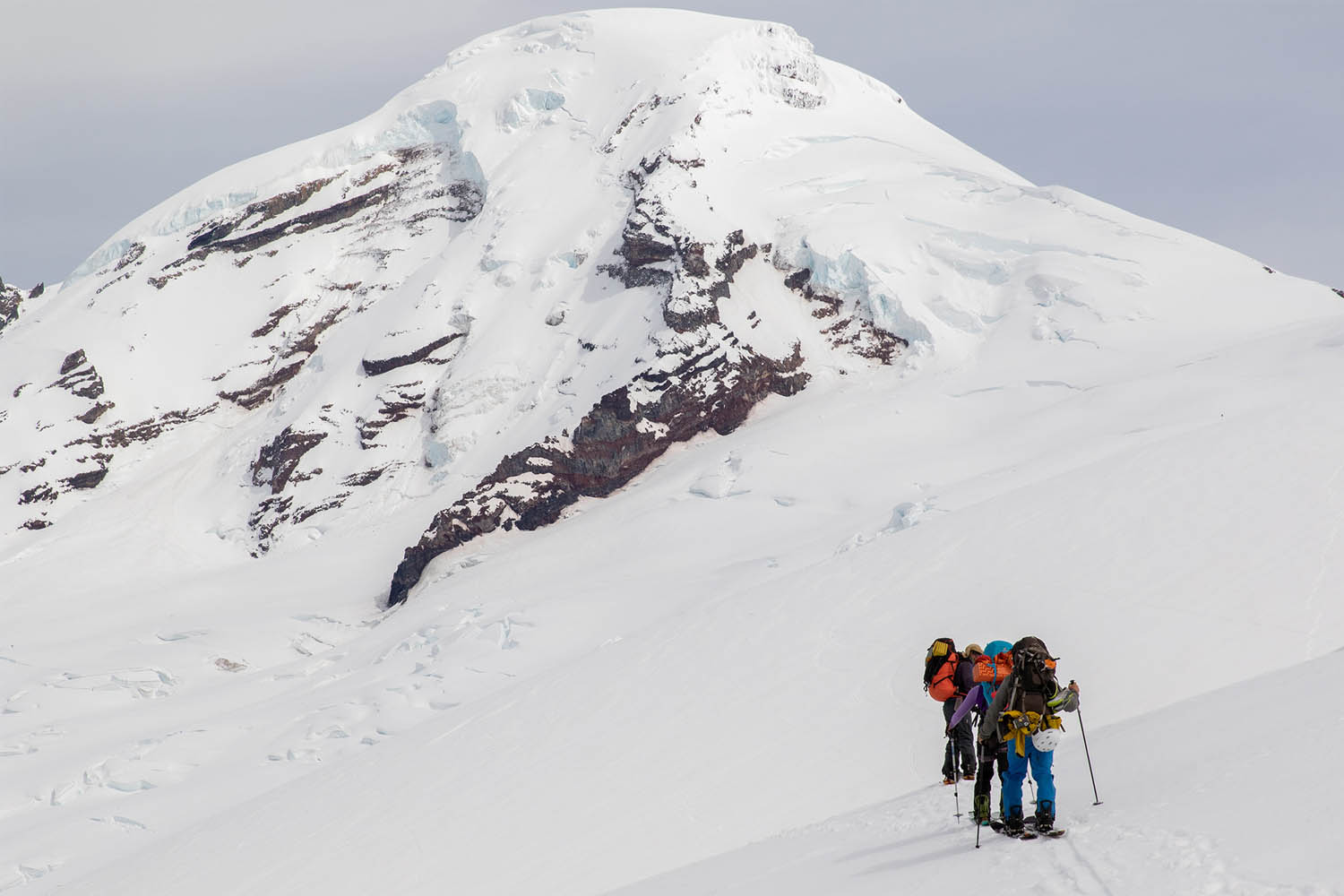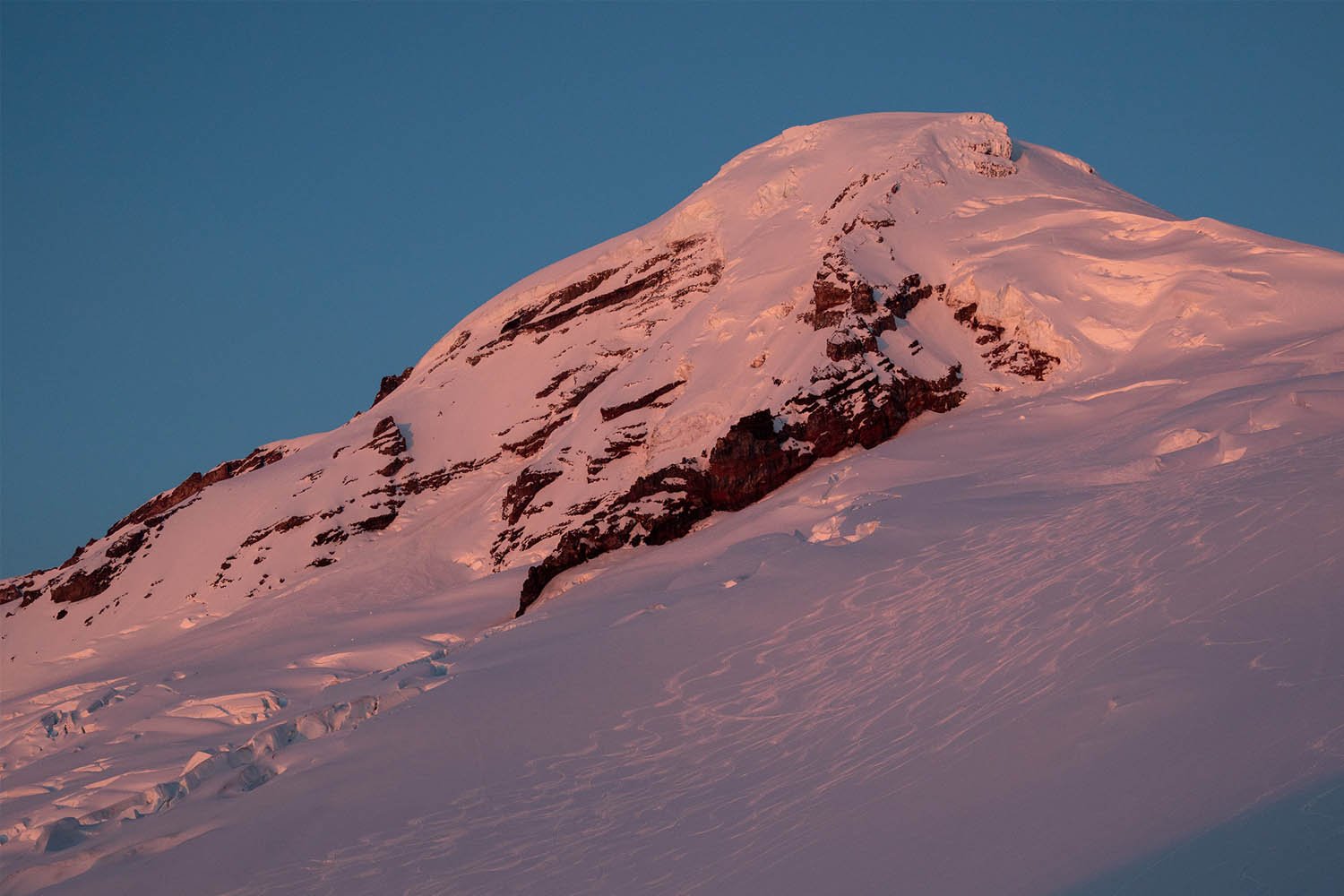 We found a super sweet camping spot near the Black Buttes and just watched the alpenglow fade on Baker. We have really cool tent neighbors.
Tomorrow we summit.
Goodnight.
Cinco de Mayo!
We woke around 6:30 am and had a casual start. We didn't start skinning till 9:30 so things would soften up for us by the time we came back down. Everyone was feeling a little rough this morning, except for Blaine, who seemingly never really feels rough.
We skinned up the Coleman glacier and put on our crampons at the bottom of the Pumice Ridge. The skin up was firm, but improved as we ascended. We ascended the Pumice Ridge in beautiful sunny conditions and ran into the 4Runner crew from two nights ago. They reminded us that today was Cinco de Mayo - which reminded us that we had coincidentally brought a little tequila with us on the trip!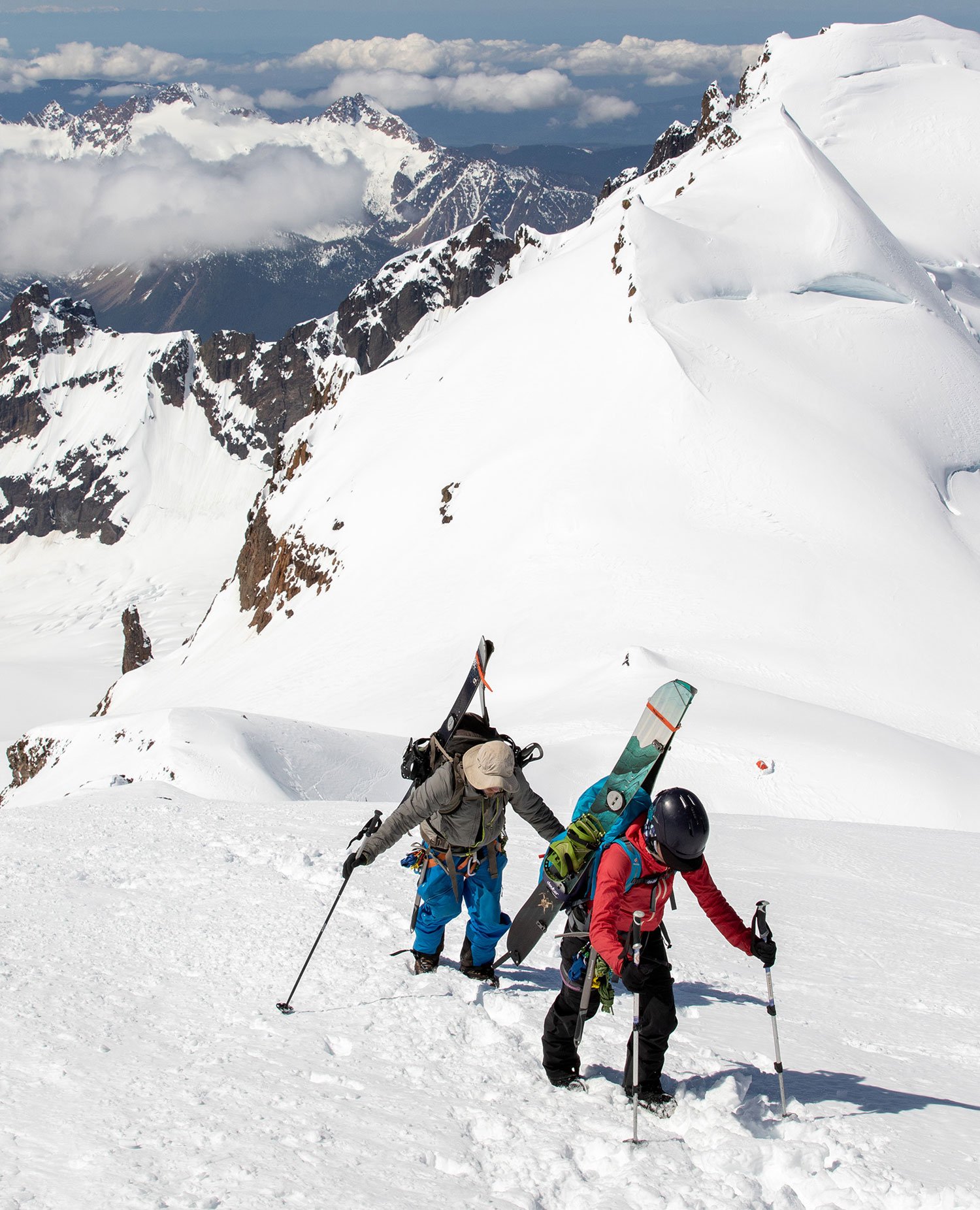 We made it to the top of the Roman Wall in 4.5 hours from camp. Maria felt horrible, so she descended the Roman Wall and headed to pack up her camp and go back to her car. We decided this was safe for her to drop alone because today was so busy on the mountain, and it was great weather. There were people all over the Roman Wall - which is a mellow descent anyway. Meanwhile, we made our way to Grant Peak – Mt. Baker's true summit. There we ran into Jason and his friends again – we saw them here and there on the ascent – and I drilled him about everything we were looking at; what's that, what's this, where does that spit you out, does that go? It was super cool and ironic to catch him right on the tippy top of Baker.
The altitude was starting to affect us. We decided that our initial plan to drop down the Easton Route from the top was dangerous considering everyone's condition and the clouds just started to roll in.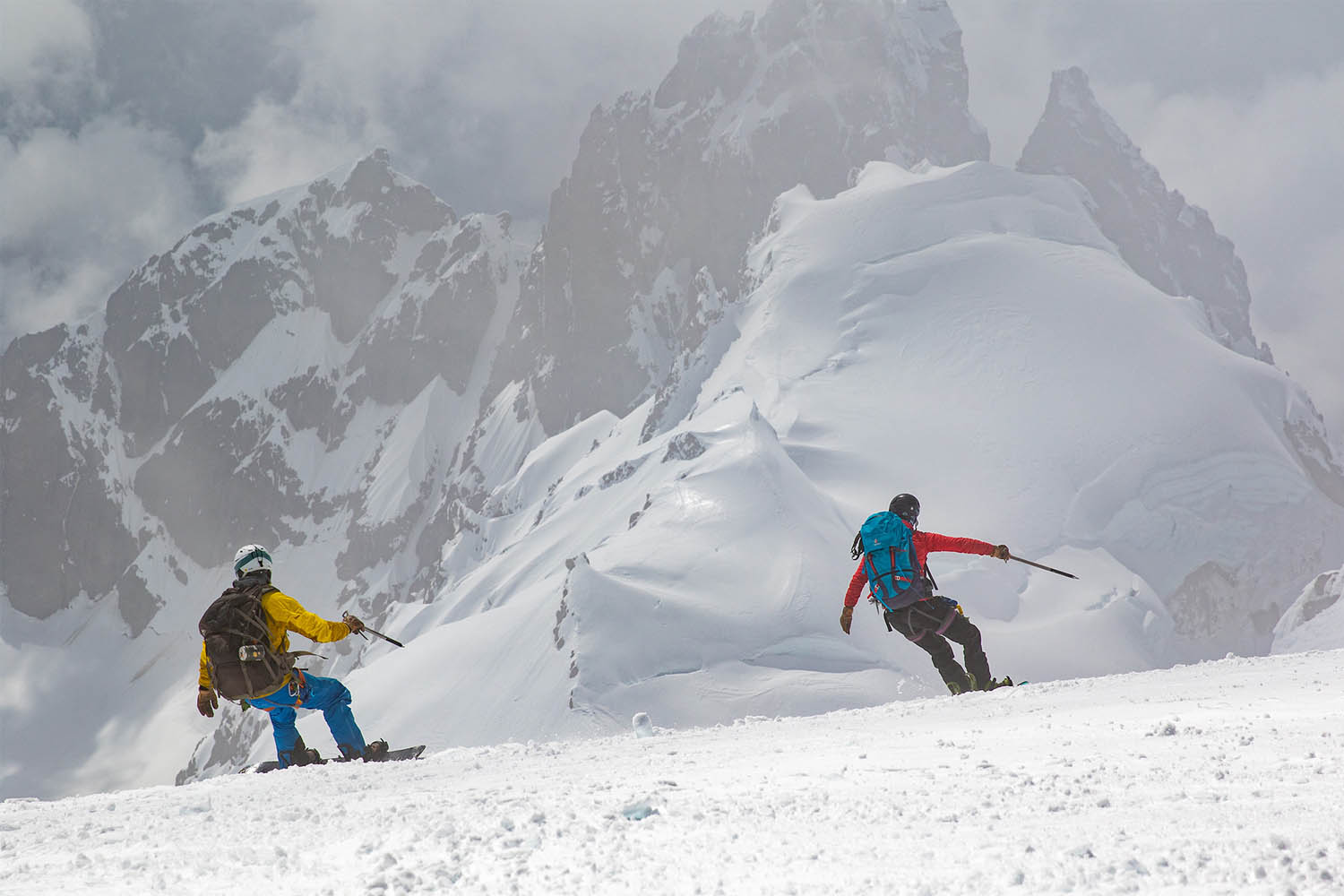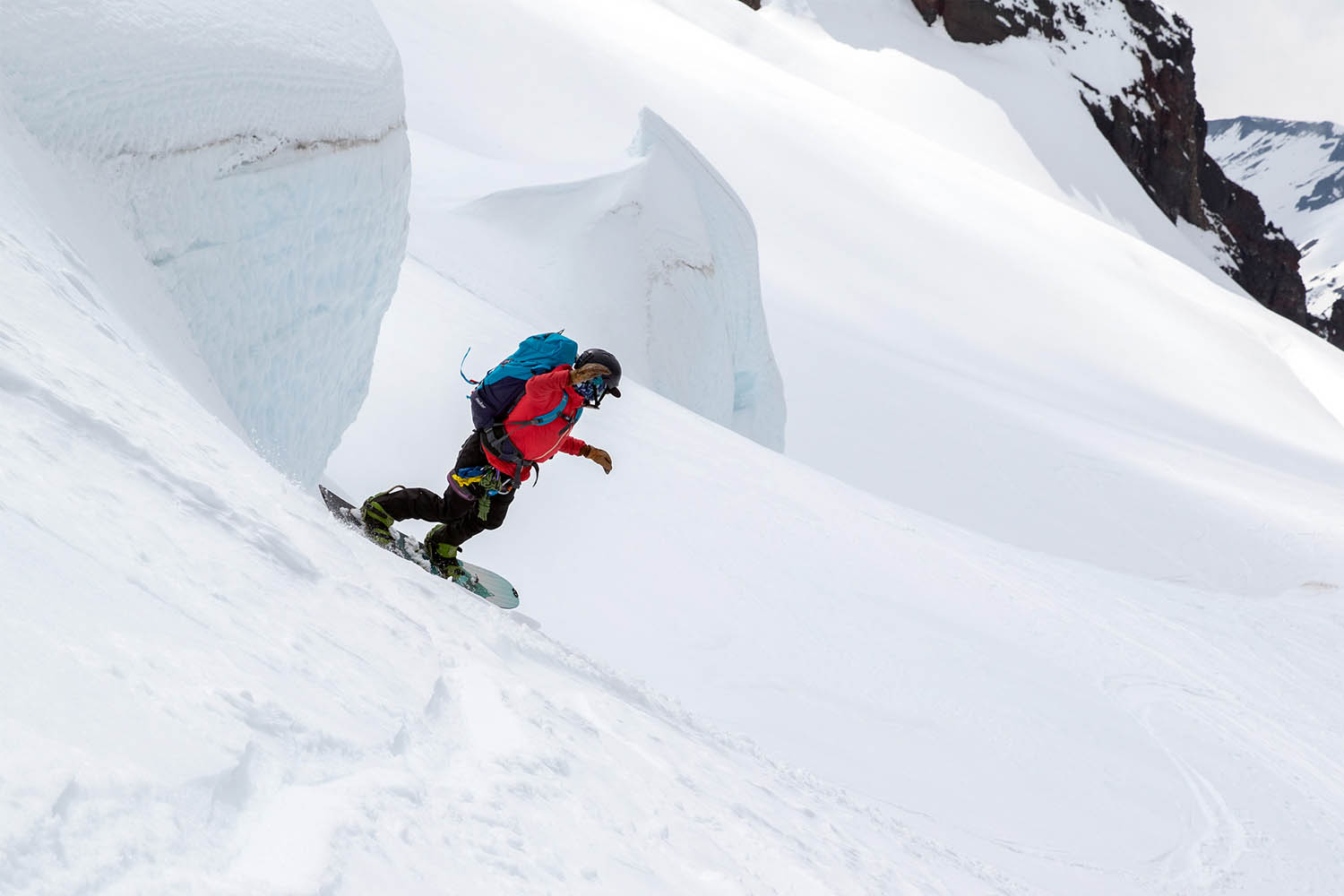 We descended the Roman Wall in perfect slush – we were concerned our descent might be firm. We made it back to camp and ate plenty of cheesepuffs plus two freeze dried dinners each. Then we took some laps above our camp, catching last light from atop Heliotrope ridge before dropping in on a firm descent back to camp.
We didn't crawl into our bags until well after dark, relishing in the day. I hope Maria is feeling better now. We missed her company tonight.
Blaine and Calvin's first Baker summit; my first look down the Park Headwall and the Cockscomb. I want to come back and ride the Cockscomb to the Boulder Cleaver.
We had a very casual morning. We got going in the heat. We didn't have to skin once to get off Heliotrope ridge. We only boot packed a tiny bit above camp and strapped in. Strapping in with these heavy packs made all of the blood vessels in my face feel like they were going to burst. Riding with the heavy packs was easier than we thought, except for Calvin, who was stopping often to get photos and who's heelstrap – as we found out later- kept coming loose as he was trying to keep his cool (he did a really good job).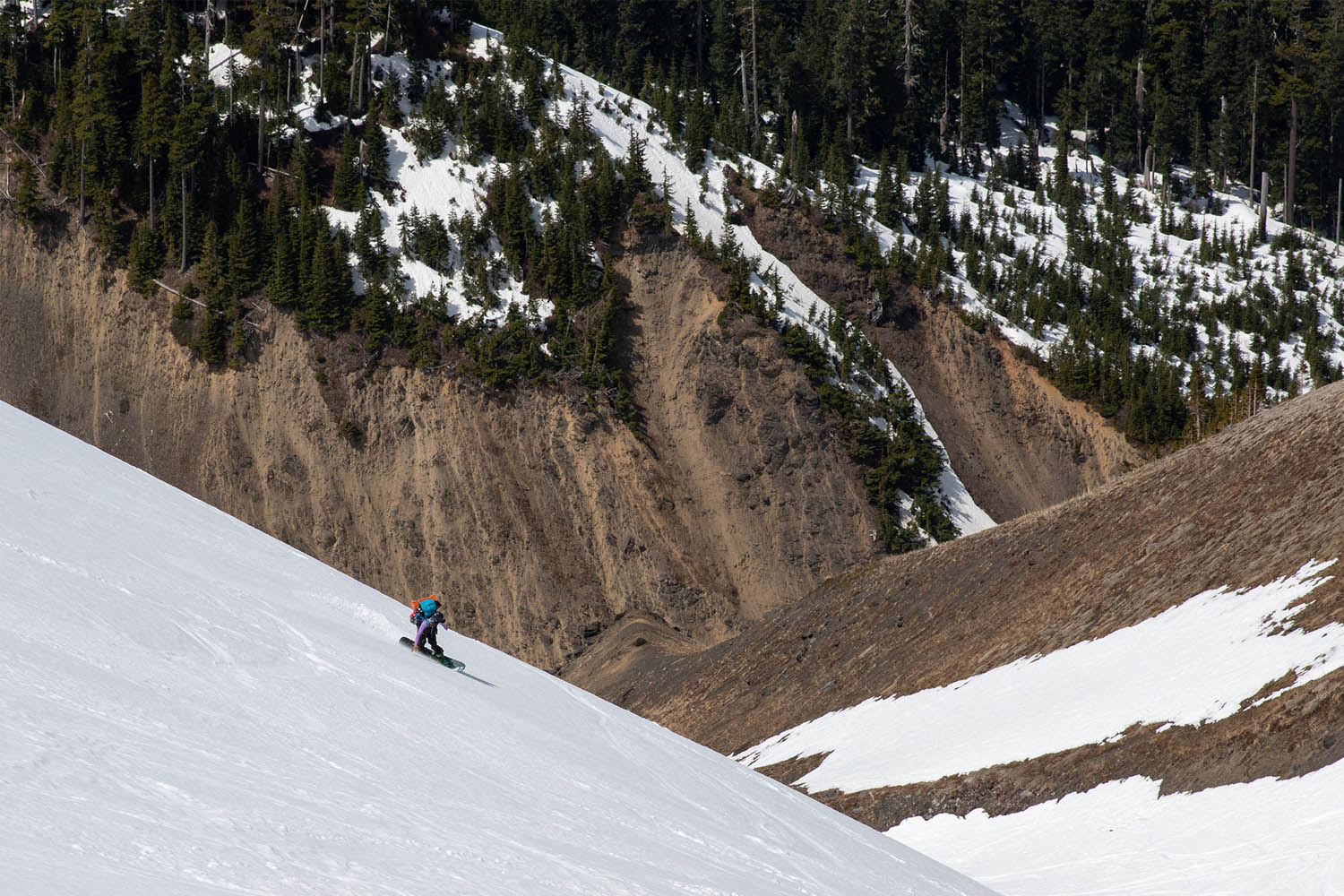 We reached the end of the snow and started the bushwack through the downed trees. It felt like that's all there was in that section of forest - a hundred billion downed logs. Descending was difficult with the heavy pack – I cursed a few logs.
Calvin found the trail and we made it out to our bikes – untouched in the woods - except by the critters that left little teeth marks in some forgotten pannier snacks. We unpacked our packs and repacked our bikes for the long and bumpy downhill.
I ate 1 ½ freeze dried ice cream sandwiches for lunch and then we started our ride downhill. We were hoping the biffy bags in tow continued to cooperate and keep 3 days worth of poo in its respected, designated quarters.
A little ways down I lost a pannier. Good thing though because unbeknownst to me, my ice axe which was attached to one of my front panniers, was about to be thrusted into the spokes of my front wheel on the next good bump.
It's hard to say how much these bikes weighed, but it was a group effort to keep my bike from continuing to roll in any which direction while I reattached my pannier.
The rest of the way down was a cakewalk, as long as we didn't hit any of the foot-deep potholes. We stopped often to let our brakes cool off. As we rolled down onto Mt Baker highway, the reality of what we just did hit us like a hunger only two large Chair 9 pizzas and 2 six packs would satisfy.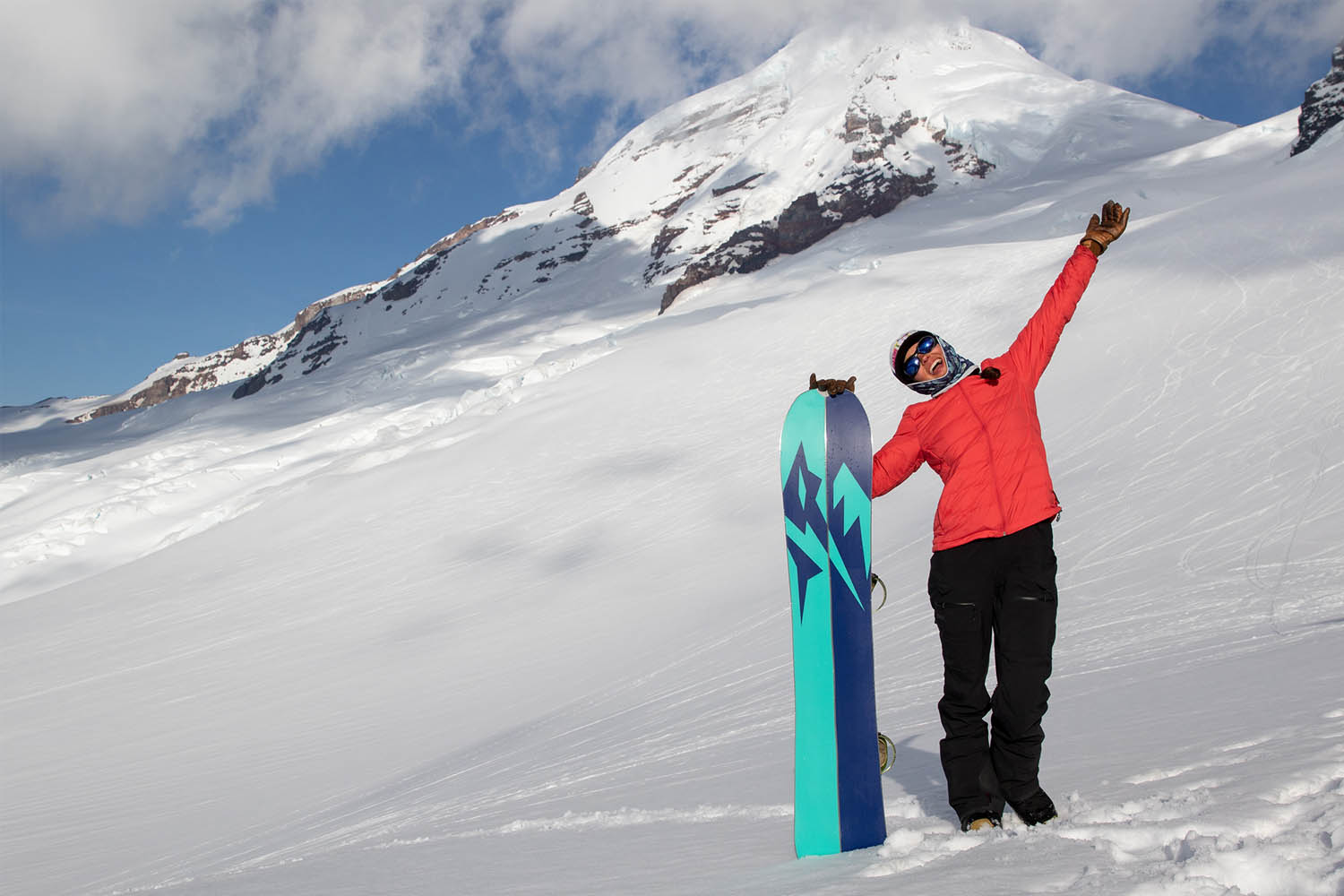 We did it, kind of. We did something, and it felt good! We stayed up late that night watching POV videos of more lines we now feel inspired to bike to. I'm going to bed tonight feeling like I earned a good rest. The heavy pack really got me. I'll have to put more rocks in my pack next time I'm preparing for a mission like this.
Can't wait to drop into one of the lines I looked down off the summit next spring.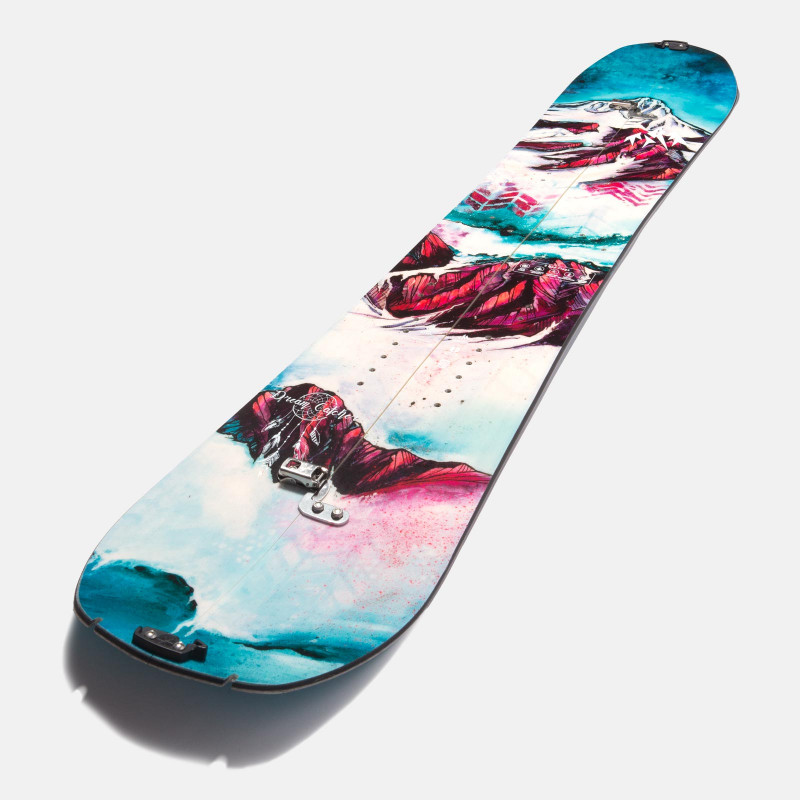 The playful backcountry charger