2020 Jones BC Adventure Grant Trip Report
Splitboarding in the Elk Mountains with Whitney Gilliam

October 1, 2020 / Adventure Grants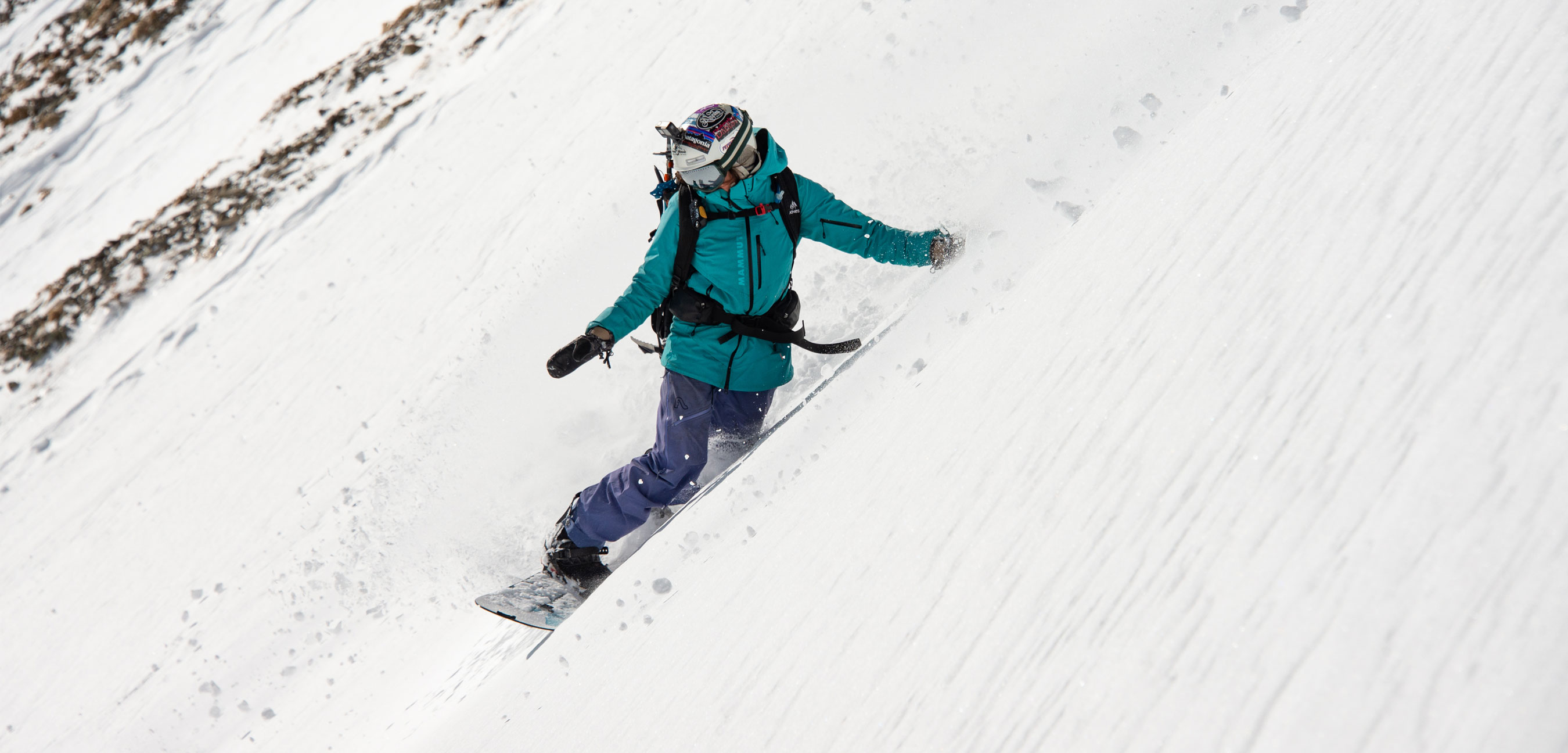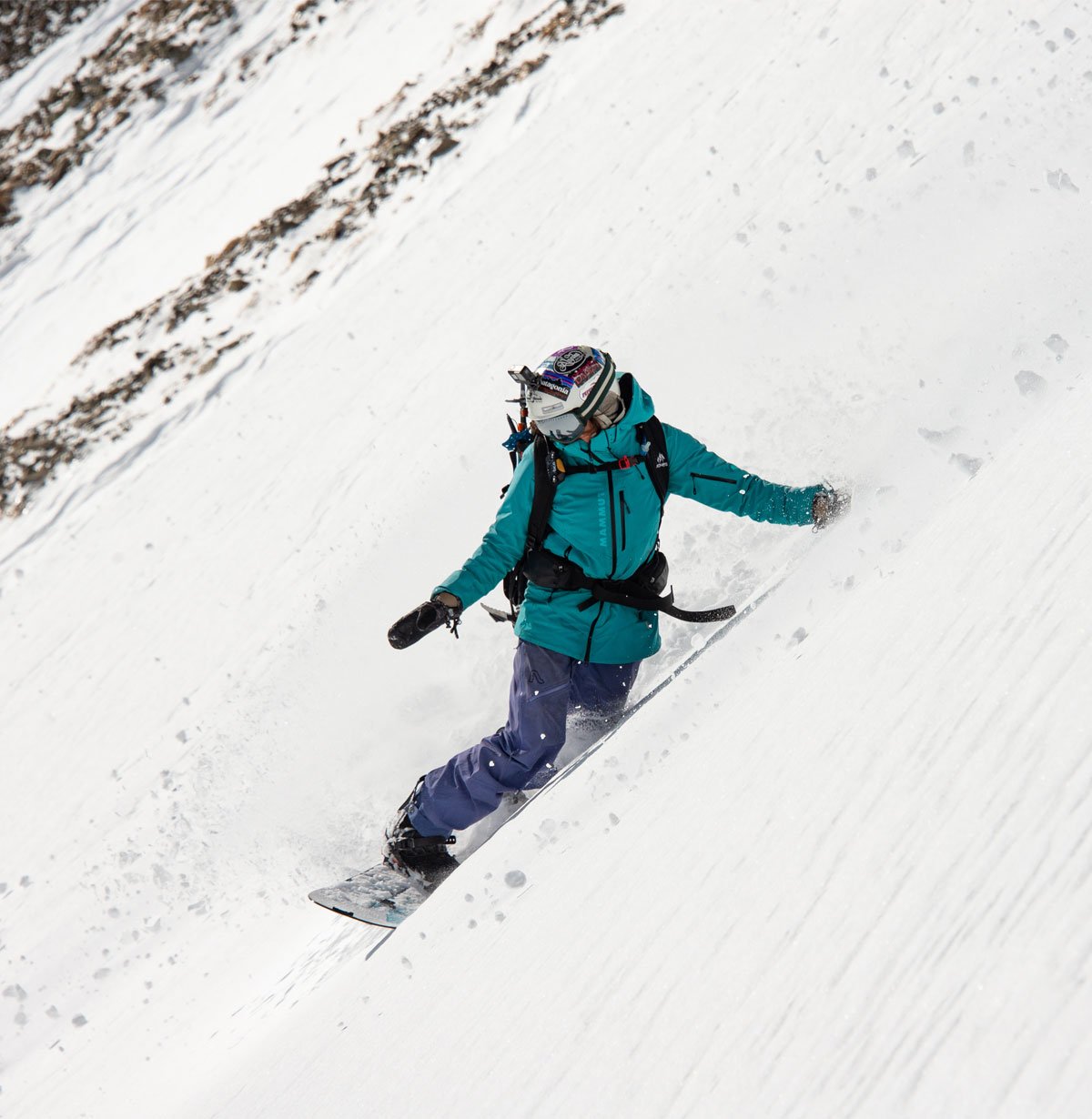 Excited to present a trip report from the 2020 Jones Backcountry Adventure Grant winner - Whitney Gilliam of Crested Butte, Colorado.

In April 2020, Whitney and a crew of friends used the grant to help fund a five-day base camp trip to the Democrat Basin, a wilderness area in the Elk Mountains near her home in Crested Butte. Their goal was to climb and ride nine major peaks in the basin - Afley, Oh Be Joyful, Hancock, Owen, Ruby, Augusta, Purple Peak, Richmond and Purple Mountain.

Watching the weather, and respectful of her communities' temporary 'stay-at-home' order, Whitney chose a spectacular week for the spring tour and was met with stellar conditions. They rode lines on eight peaks and saw no one. Social distancing in the wilderness at it's finest!

Check out Whitney's trip report and video to get inspired to start working on your application for the 2021 Jones Adventure Grants.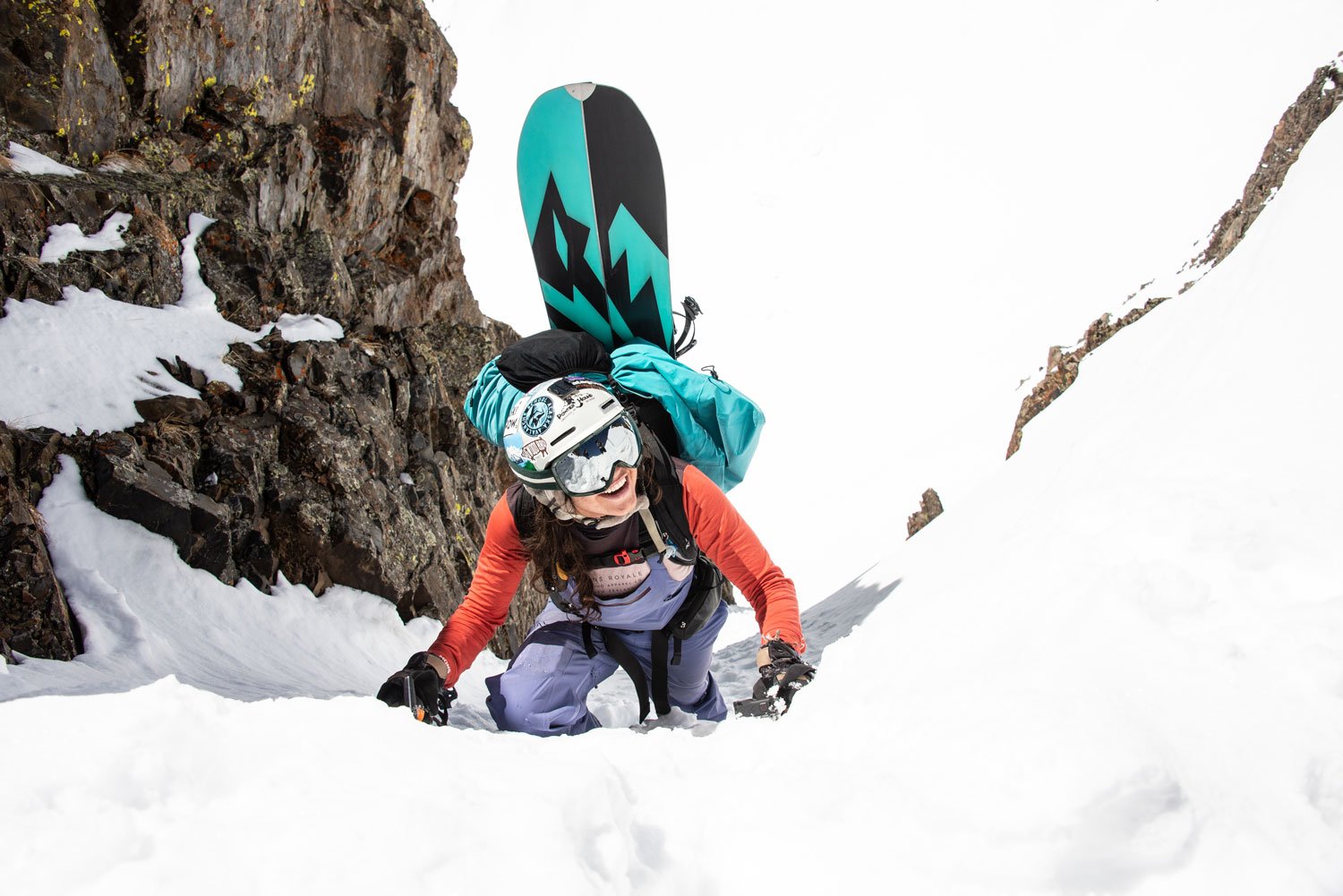 Hello! My name is Whitney, but most call me Whit. I am 26 years old, and I live in the tiny mountain town that is Crested Butte, Colorado.  I moved to Crested Butte after college and fell in love with splitboarding. Winning the adventure grant was a huge honor and I was excited to use it to explore even deeper in my backyard and ride some peaks that I have been staring at for the past four years!

When the pandemic first started in March it was looking like we might have to cancel our tour plans. Thankfully, Crested Butte encouraged "socially distanced" outdoor recreation after the initial stay-at-home order. We were very careful in the planning and preparation to abide by the quarantine rules and pushed the trip back by three weeks to make sure there would not be another stay-at-home order that would close the wilderness again. To respect social distancing rules on the tour, we also brought individual tents and stoves to our base camp.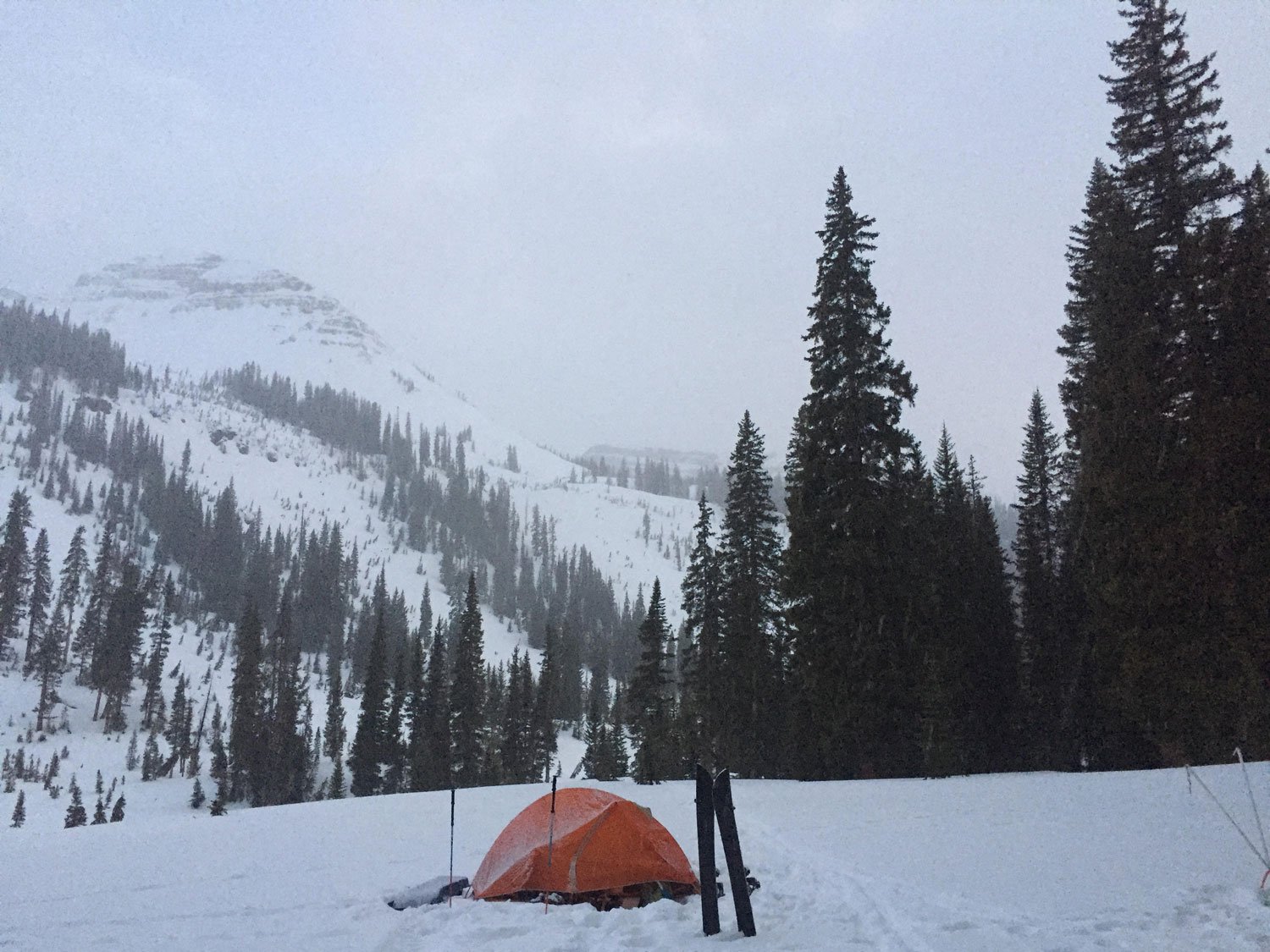 Since we had heaps of gear and the approach to our proposed base camp was relatively straight forward, we decided to haul our gear on plastic sleds attached to our day packs. Using sleds was a good idea in theory, but we had many moments of regret on our six mile approach to camp. The terrain was not quite as flat as we had expected.

Our base camp was in Democrat Basin, a beautiful valley in a wilderness area that sees very little traffic in winter. As we headed up the valley and rounded a bend, the mountains that we intended to ride came into view. The peaks were even more magnificent and massive than I remembered! Seeing this view flooded my mind with nervous excitement that lasted for the next few days.
We camped near the center of the valley, midway between the nine peaks we intended to ride - Afley, Oh Be Joyful, Hancock, Owen, Ruby, Augusta, Purple Peak, Richmond and Purple Mountain. We attempted to place our tents so that each day, no matter which peaks we skied, our day would end in a short downhill run. Again, another great idea in theory, but inevitably, each day ended in a small split ski. Oh well!

Our first touring day began with a 430am wake-up and a much different morning than expected. Our plan was to climb over the ridge of the last peak for the day and start at the end of the Ruby range with Ruby Mountain. We planned an hour for the approach to Ruby, but it ended up taking nearly two and a half hours. The climb was much steeper than expected and a small layer of graupel had fallen the night before which made skinning nearly impossible. After much frustration, we took the skis off and booted up. I was frustrated being behind schedule on the first day, but my spirits were restored as soon as we rounded the corner and got a look at our first mountain. Our proposed line on Ruby looked spectacular! My partner Elias and I summited Ruby, and rode a surfy wind-blown line down the NE face.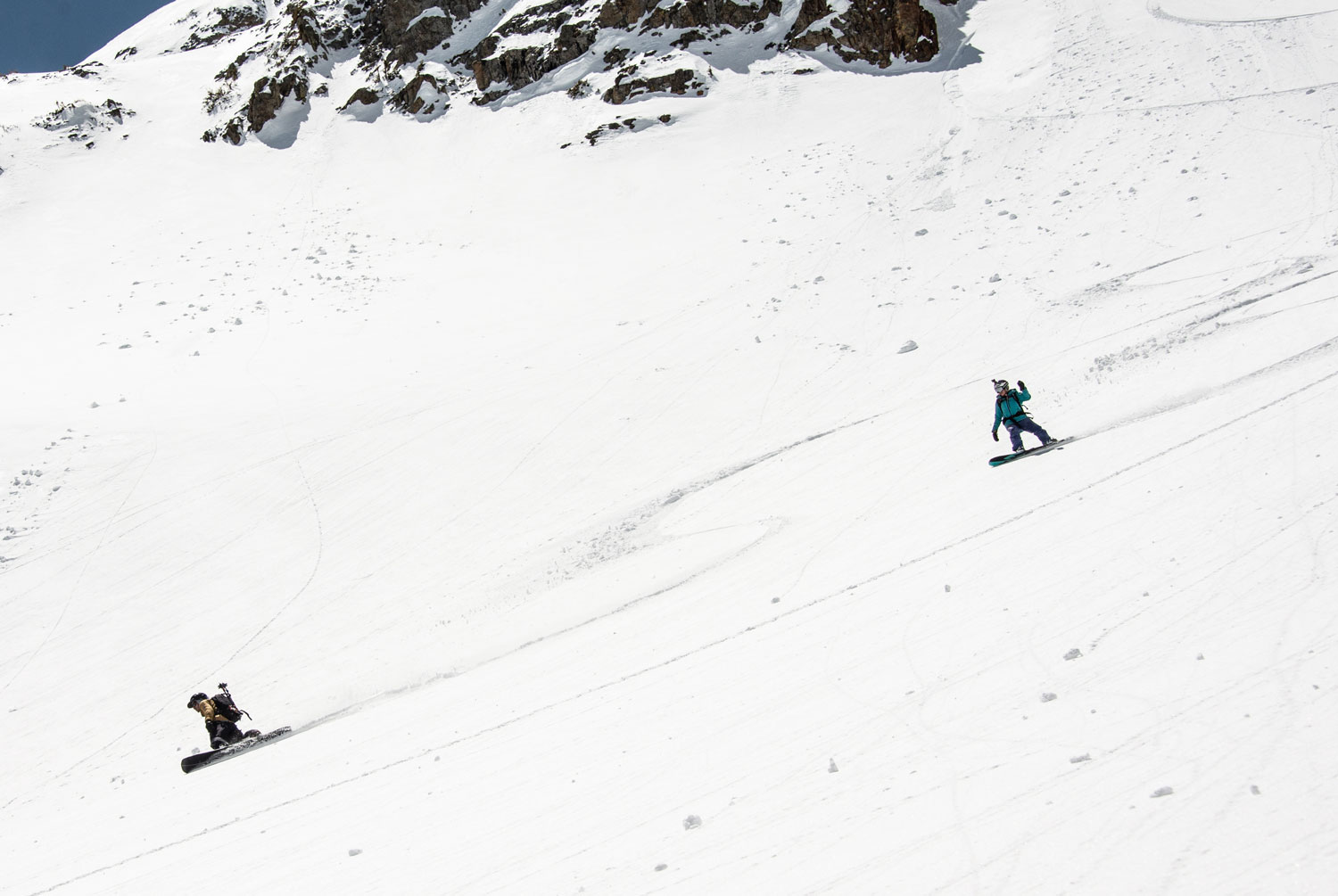 The turns on Ruby gave me a massive boost of energy! We climbed up to the saddle between Ruby and Owen, our second peak of the day, and started booting up the ridge. The climb up Owen was a bit sporty with a massive cornice on one side, and a steep rock face down the other. We reached the summit and got our first look at the line we were eyeing. It looked DREAMY. For late April, we did not expect pow, but that's what we got! Dropping the steep NE face of Owen positioned us right at the base of Purple Peak, our final peak of the day.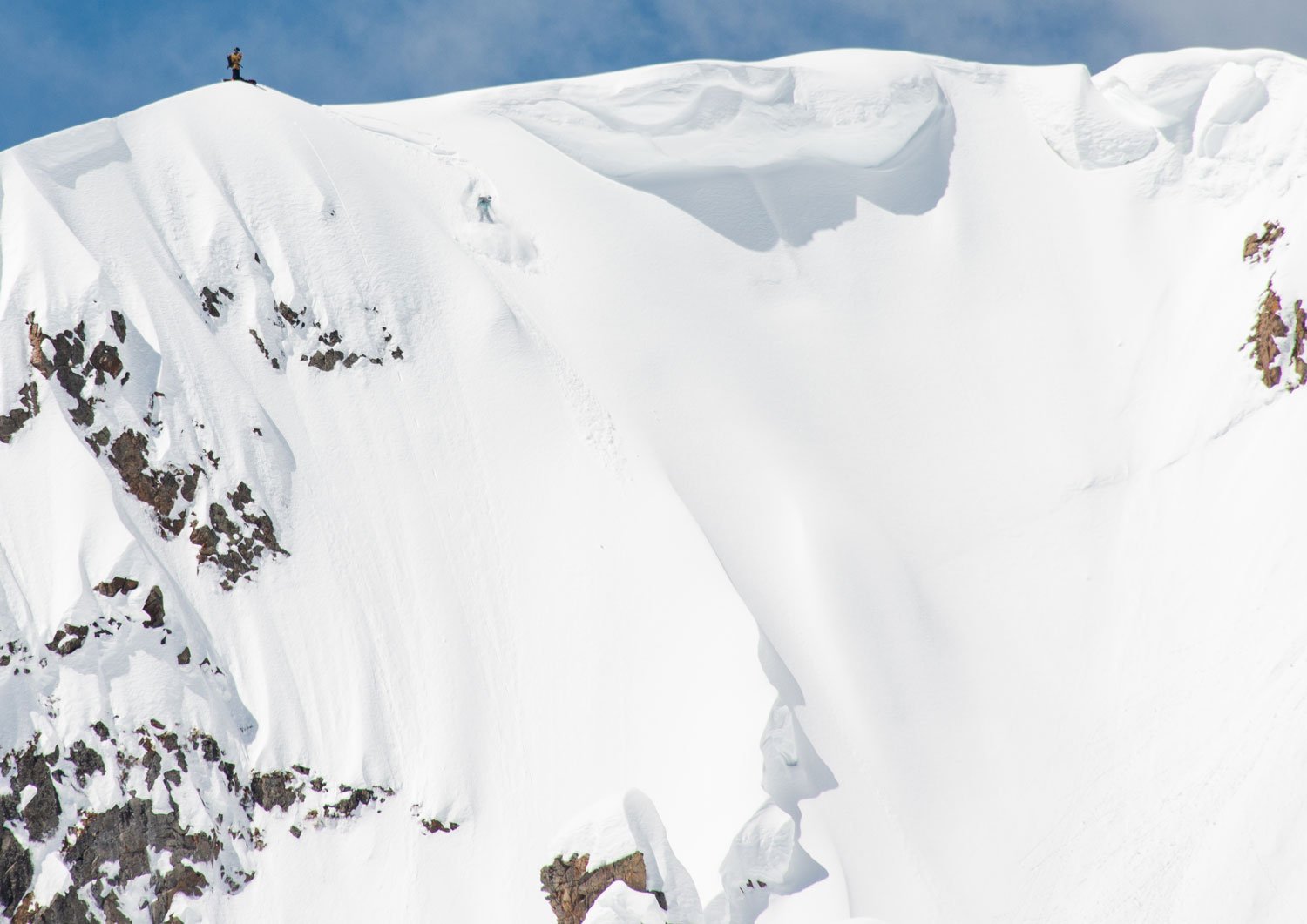 The climb up the backside of Purple looked steep and intimidating and we were already pretty tired, but it ended up being the easiest climb of the day. We topped out at the top of the S couloir, a classic Crested Butte line. Riding the S was a sweet end to an already epic day. We rode the low angle mashed potato snow back to camp and stared at our lines while we ate dinner. We were feeling a strong sense of achievement that we carried into our next day… the biggest day of the trip.

The next day began at 430am again! We noted a good freeze and got psyched for another day back in the high alpine. The tour up and out of the valley was incredible as we watched the first light touch the towering peaks. The tour up to Richmond, the first of three peaks we hoped to ride that day, got spicy as the slope was firm from the hard freeze. Once we hit the ridge we were excited to find an old boot pack. The frozen booter saved us some energy, but it also made me nervous as I felt unsteady in the slippery steps. We finally summited at 8am much to my relief.

The ride down was loud. It was the kind of frozen turns that rattled your whole body. But I had a lot to look forward to at the bottom of the run. My sweet husband had decided to join us for the day and was waiting for me down in the basin. After a nice reunion we got right back on track as we were racing the sun.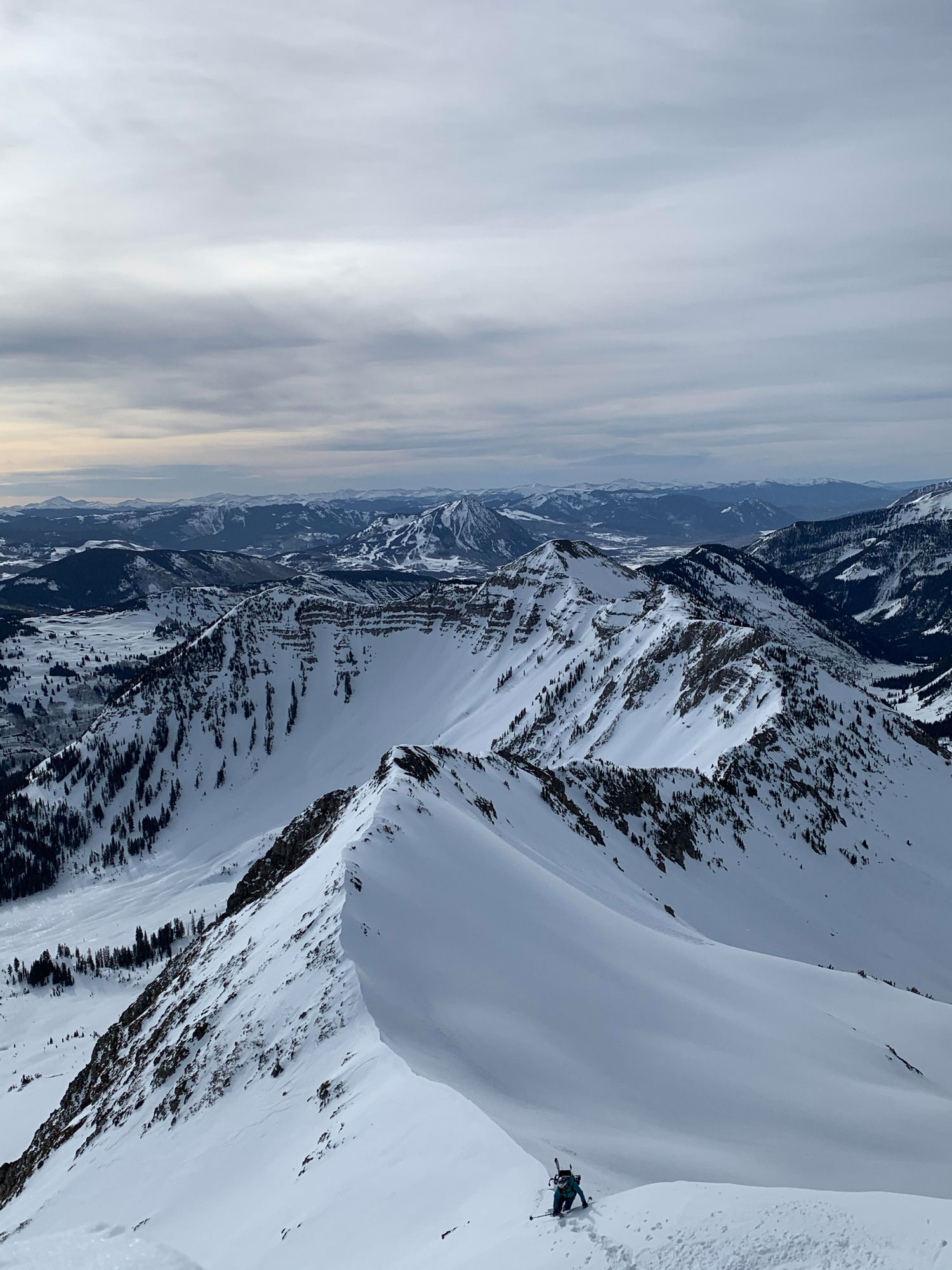 Heading up Augusta, our second peak of the day, we quickly changed our route as we noticed a cornice above us that was heating up. We booted up to the ridge, reached the summit, and were welcomed by a relentless wind.  Escaping the wind as fast as we could, we dropped the NE face and found impeccable snow!

Now in the basin between Augusta and Purple Mountain, we quickly transitioned back to climbing and started up the ridge towards Purple. We were much later than planned so we scrapped plans to ride the South face that had seen a ton of sun. We stayed on the ridge all the way back down and transitioned at the low point to begin our long trek back to camp.

To get back to camp we had to cross over the east face of Daisy Pass. We weren't thrilled about climbing the sunny slope so late in the day so we climbed as fast as we could. Reaching the top of the pass it started to snow (on a day with a perfect forecast of course) which lightened the mood as we dropped in for the long descent to camp. We got back to our tents around 6:30pm soaked, hungry, and exhausted… but stoked! We had completed our longest day yet with over 13 miles of travel and nearly 8,000ft of ascent and descent. These are the days we dream of!


The next day we took a day off to rest, eat, and dry out our gear. It was such a sweet day to simply enjoy being out in the wilderness. Hanging out at camp we watched wet slides rumble down the mountains surrounding us. The slides sounded like thunder as they plummeted down the rocks. It was a truly humbling moment and made me realize that even though I was only ten miles away from home, I was in a whole different world both physically and emotionally. Not only were we exploring a new side of our backyard, but we were exploring ourselves as well. When you're uncomfortable, hungry, exhausted, etc. you tend to see a not-so-pretty side of yourself. But it's always enthralling to see what our mind and body are capable of. The exploration never ends!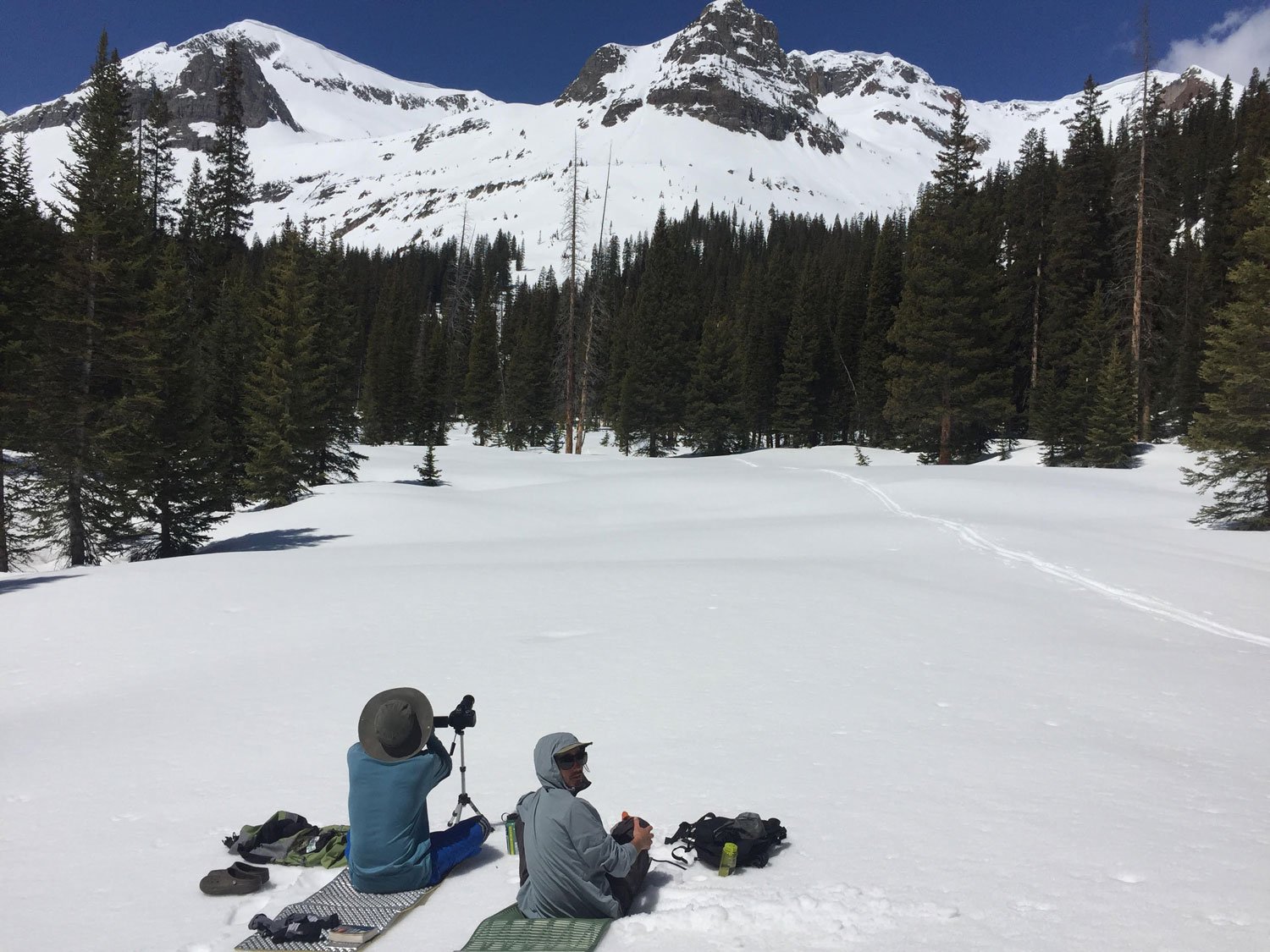 The next day we got up at 5:30am for another big tour day. I stepped out of my tent and immediately punched through the snow. It had not been a good freeze. We knew we had to be smart and get up and down the three peaks we planned to hit that day as quickly as possible.

We started up Afley feeling the toll of the tour days stacking up, but we were fueled by oats and stoke! We reached the basin that connects Afley and Oh Be Joyful and saw the ridge we intended to climb was covered in a massive cornice. Seeing that changed our ascent plan. We chose the ridge to the left of the summit, which was very steep and intimidating. Gaining the first saddle I knew I was going no further. The climb up the ridge was much too intense for me so I rode down from the saddle.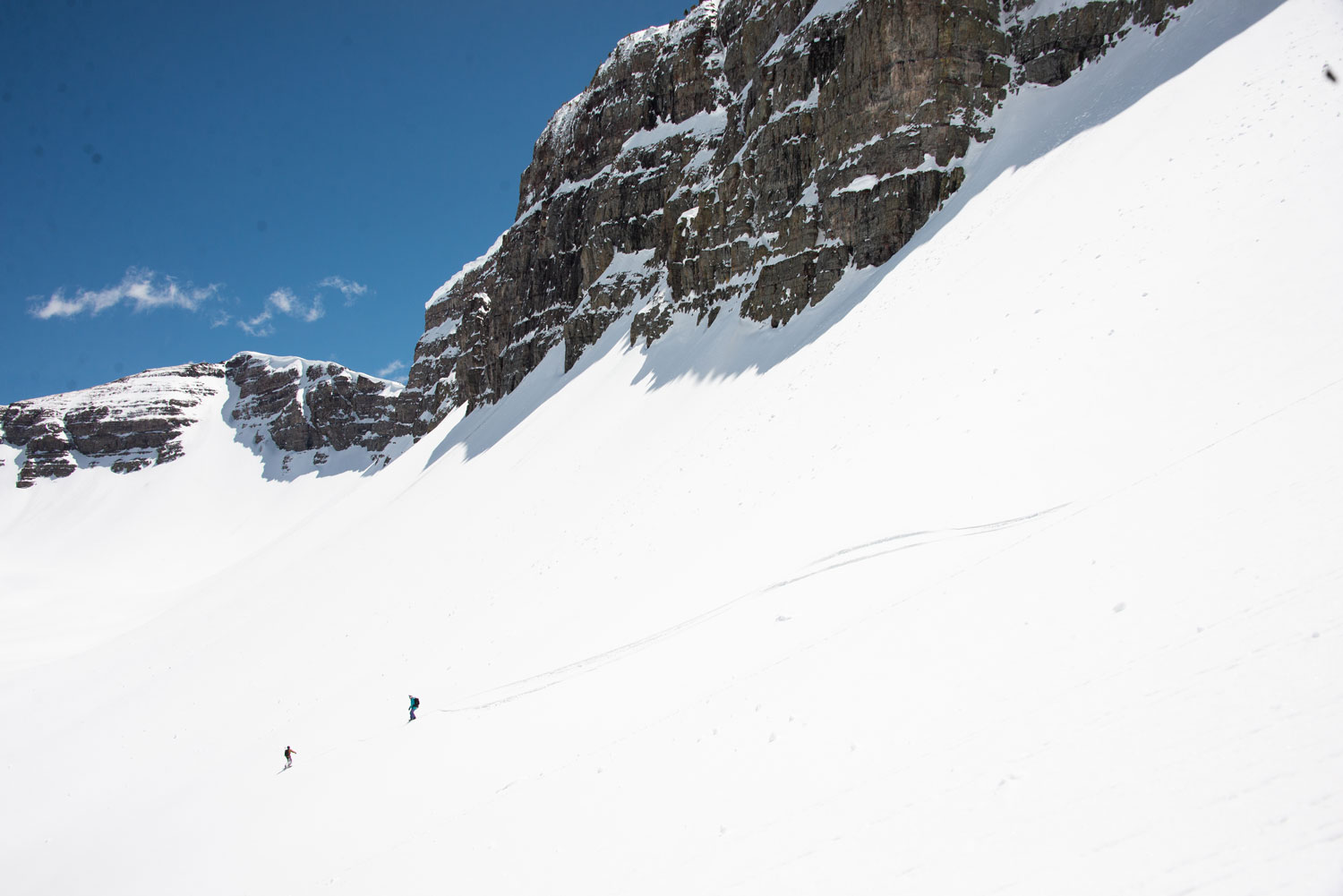 We reconvened in the bowl and headed up Oh Be Joyful Peak. On our way up Oh Be Joyful we chose not to go all the way to the summit. It was far too hot already, and there wasn't a great line. After a tricky boot pack to get past Oh Be Joyful, we headed over to Hancock, our final peak! We summited Hancock, hugged and yelled into the wind which was, of course, relentless. It was a fun, perfectly mellow, corn ride down. Starting our final transition we snacked and reminisced. It had been such an incredible and humbling few days. We did not want to leave this wild place of peace and good turns!
 
The exit proved to be more difficult than expected as much of the snow had melted, but we made it out without much drama other than some sunburn. The first news we received after getting back into town was that a friend had passed away in a wet slide in the same drainage we had been in. Re-entering normal life after a long wilderness experience is always hard, and hearing this news made the transition especially difficult. We were beyond thankful to be safe at home having had such a successful expedition. And before we were even unpacked we began talking about other lines and objectives we had scoped. This trip was only the beginning. Can't wait to keep exploring out there next season!


Turn your dream adventure into reality. Applications are open!