Video - Grego Campi / Photos - Andrew Miller

The Mountain Of Knowledge has no summit. The higher you climb the wiser you become, but you'll never top out. There is always more to learn about climbing mountains and travelling  through the backcountry.
Our latest episode of the Jones Presents video series dives into this endless journey of learning how to splitboard and safely explore the mountains with Jeremy Jones and our young Argentinian team rider Inaki Odriozola. Set in a backcountry hut deep in the mountains, Jeremy and Inaki share thoughts on memorable lines, lessons learned and the mentors + experiences that helped shape how they approach the mountains. Woven around sublime splitboarding footage, Mountain Of Knowledge is inspiration to keep earning your confidence and intelligence in the backcountry.
Always worth the cold and dark start. Jeremy and Inaki heading into first light.
To accompany the video, we sat down with Jeremy and Inaki to hear more about where their splitboard journey began and highlights from their never ending journey up the mountain of backcountry experience.
The passing of Knowledge. Jeremy and Inaki making a plan for the next clear day.
When was the first time you heard about splitboarding? Did it spark your interest?
Jeremy Jones: My first memory of splitboarding was reading a story by Eric Blehm in Transworld called 'Chameleon'.  Eric took a Nitro splitboard to all the resorts that snowboarding was not allowed at and rode the lift in ski mode and then switched over in the woods.  I definitely remember thinking, "That sounds awesome and I want one!"  Little did I know, hiking mountains was still really hard on a splitboard.

Inaki Odriozola: The first time I heard about splitboarding I was around 12. I remember being at my home resort, seeing this group of snowboarders and one of them had a strange board that was split in half. I didn't know what it was for. When I got home I asked my sister and she said it was a new way of snowboarding, being able to climb up with the same board you could ride down. That blew my mind! Even then I understood the advantage of splitboarding over hiking.

Front row parking at the Refugio.
What was your first splitboard experience?
Jeremy Jones: I got my first splitboard in 1998. I rode it a bit, but it was hard. I was living in Jackson Hole and they had just opened the boundaries so I was much more focused on hiking with a solid off the lift for a few years. I split from time to time, but the boards were heavy and did not ride that well. When Spark bindings came out it really changed things for me because the bindings were so much better. Around this time Chris Edmands was making My Own Two Feet, the first split movie. This was the first time I camped and really started firing remote lines in my home range that I previously thought were out of reach.

Inaki Odriozola: I got my first splitboard and went on my first splitboard trip when I was 14. I went to Chile to ride some volcanoes in the spring with my Uncles. It was really challenging. I remember splitboarding initially felt really strange - how you have to balance on one leg and try to glide on the other. I was so tense. It made the switchbacks especially hard as I struggled to figure out how to move my skis around the corner while not falling over. But once we reached the summit all the tension melted away and I knew exactly why splitboarding was so special. The runs we rode down volcanoes on that trp were beyond anything i'd ridden in the resort.

Jeremy Jones moving mediation.
Who have been some of your most important mountain mentors?
Jeremy Jones: There have been so many phases and people. I always looked up to people who had more experience and were better than me. My brothers have been a constant. Much of our protocol and approach came from Doug Coombs, the Hatchett brothers and Tom Burt. I had a stint with Jim Conway when he was TGR's guide that really formalized our approach and formed a TGR protocol/approach to the mountains. When I switched to foot powered riding Tom helped early on, then I reconnected with Jim Zellers and followed him a lot. He introduced me to a whole new group of hard charging, unsponsored locals that were really pushing what could be done in a day in the mountains. People like John Morrison, Glen Poulsen and Kip Garre.

Inaki Odriozola: My uncles, Damian and Willie Benegas, have been my biggest mentors. They have been taking me into the mountains and teaching me about them since I was a little kid. Also my sister, when I was 6 she took me hiking and opened my eyes to climbing mountains.

Inaki checking in from the Whiteroom.
What did you learn from one another in your time together filming Mountain Of Knowledge?
Jeremy Jones: It's funny, age means very little in the mountains. Even though I am much older than Inaki I never looked at him as a kid way younger than me. He is really dialed and experienced in the mountains so I treated him as equal and all our decisions were made together. Being younger, he definitely brings some energy and excitement to the mountains. I love this about the youth and it's why I always try to stay tapped into the younger generations of riders that are really dedicated to their craft in the mountains.

Inaki Odriozola: It was really nice to be in the mountains with Jeremy and see how he analyses lines, conditions, and the approaches. Deciding if your chosen line is possible from far away can also be really difficult. He helped me a lot with that. One of the other things he told me was that the best snowboarder is the one that rides for tomorrow. We always take risks, but no risk is worth not coming home at the end of the day.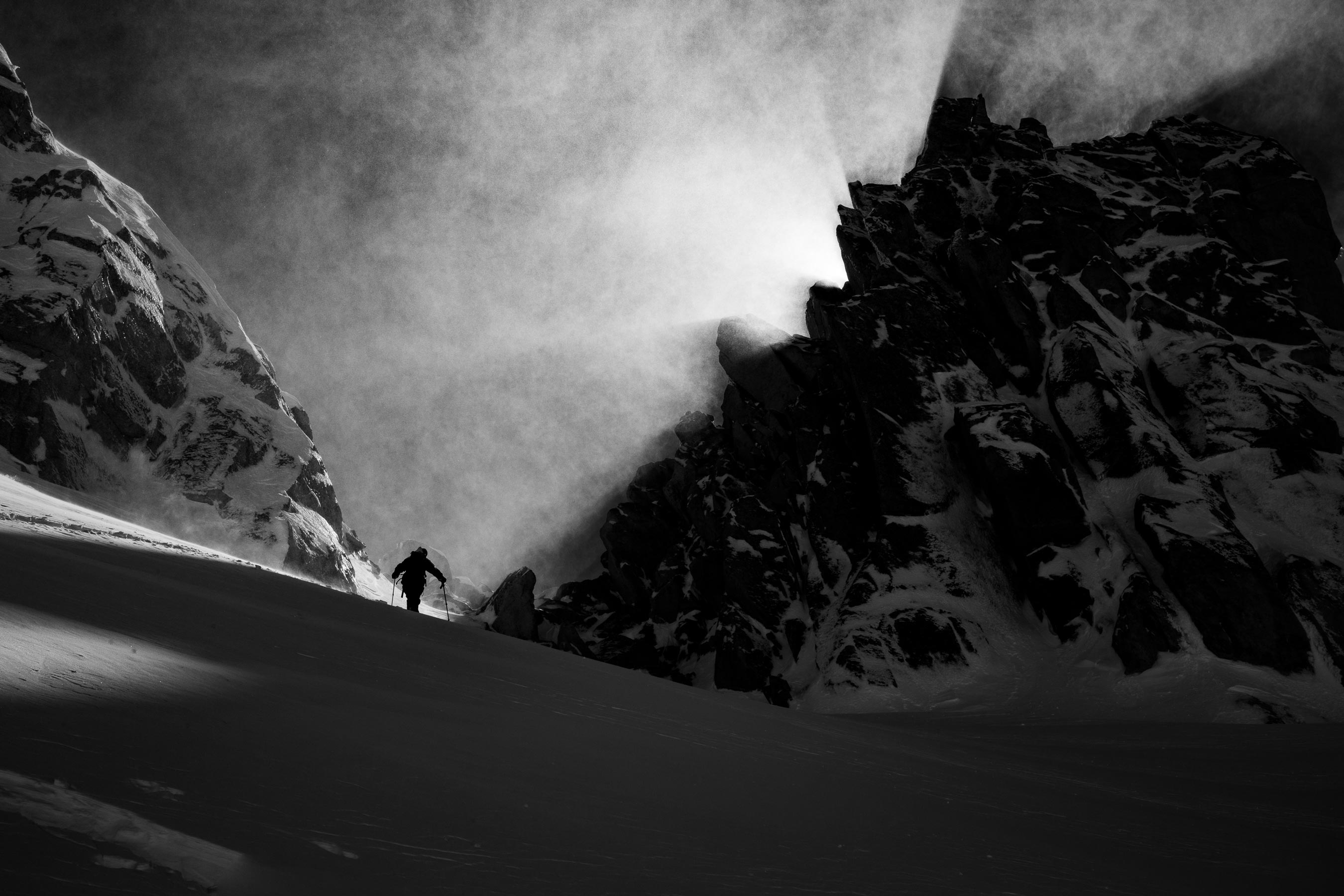 Jeremy finding a pocket of calm from the wild winds of Patagonia.
How do you balance the risk vs. reward in deciding whether to ride a big line?
Jeremy Jones: When it comes to the serious lines I have learned you cannot force the issue. The more serious a line the more things need to line up. My new mantra in zero mistake terrain is if it's not a screaming yes, it's a no. This is why 95% of the time I avoid the really heavy lines. When they do line up, I drop everything and send!

Inaki Odriozola: That decision is really hard. This is one of the things Jeremy and I spoke about. You can limit risk by understanding the snowpack and the details of the line but you can never totally eliminate it. Choosing the right lines becomes super important. Some lines are heavy, some lines are just stupid. Before you drop in you need to memorize every aspect of your line and where your safety spots are if something goes wrong. And you must listen to your instincts. You'll usually feel strongly one way or the other if it's going to work out.

Jeremy Jones #ihearthovercrafting
What is the most important lesson you've learned in the mountains?
Jeremy Jones: The ability to turn around at any point is a skill I continue to work on. I keep track of how often I turn around and celebrate backing off of lines. Failure is not failing to ride a line. Failure is ending your season or life because you made a mistake in the mountains. The art of riding serious lines is knowing when to be totally committed and push through hard situations, and when to turn around and get the hell out of there.

Inaki Odriozola: Always bring your safety gear - beacon, probe and shove - and know how to use it. Also don't just rely on avalanche safety information you've learned online. Take an avalanche education course and a mountain rescue course. Proper training is crucial for acting quickly and efficiently when a bad situation happens.

Scoping lines and talking strategy.
What is the most useful splitboard tip you've ever learned?
Jeremy Jones: It's not how fast you walk, it's how long you stop. That's the key to moving fast in the mountains. I learned that from Tom Burt.

Inaki Odriozola: I was on a splitboard trip in California and my skins got completely frozen. The glue wasn't sticking to the board at all. Jones Marketing Manager Seth Lightcap taught me how to de-ice my skins by scraping them against my ski edges. I use his tips almost every day I go splitboarding in the Andes as we usually have warm temperatures on the way up that makes your skins get wet and cold conditions on the summit that makes them freeze.

Inaki carving out the last breath of winter in his backyard of the Southern Andes.
Where will you be on your snowboard journey 20 years from now?
Jeremy Jones: My love of riding seems to be growing with time. I assume I will be doing much of the same thing I am doing now. I love to ride new things so we will see where that takes me, but it is common for me to be in the mountains with people 10, 20 even 30 years older than me and they seem to be doing just fine. I always ask the people that are older than me how to keep going and I usually get the same response, "eat light and keep going, don't stop!"

Inaki Odriozola: Enjoying the mountains with family and friends. I'm studying physical therapy so hopefully I will be able to mix my professional career with snowboarding. I would really like to help motivate younger generations to try splitboarding and explore the backcountry.

Hut life is the good life. No better way to disconnect and recharge than 5 days out at Refugio Frey.
What advice can you offer to aspiring splitboarders?
Jeremy Jones: Embrace the journey. I have a lot of envy for people just learning to ride. They will have years of progressing every run. The backcountry is the same thing. You only have one chance to walk into new terrain. Start small and work your way. There is no reason to skip steps because every step is really fun. In the mountains we call it terrain progression. There is also a knowledge progression. We are all on that never-ending journey of knowledge. There is no end game, no graduation and that is the best part!

Inaki Odriozola: Earning your turns is one of the best feelings in the world. It's an opportunity to see and ride places you never thought possible. My splitboard has helped me get through some hard times. Use your splitboard not only for the exercise but to free your mind of anything bothering you. When you are in the skintrack you can feel free and just enjoy the mountains and the people you're touring with.

Surf is where you find it. Jeremy on a frozen wave with an epic view.
Growing up in Bariloche, Inaki has spent his whole life taking trips into these amazing mountains.
The Andes are the longest continental mountain range in the world, forming a continuous highland along the western edge of South America.
The powder Stoke never fades. Jeremy enjoying the best of Bariloche.
No trip is complete without #jeremysjournal
Below: Back to reality, recharged and revived. Gracias Inaki for showing us your beautiful backyard.