Dropping in on a Blank Canvas - Interview With Elena Hight
Elena Hight has been a professional snowboarder for nearly twenty years. For seventeen of those years she was a competitive halfpipe rider. And a damn good one. She went to the Olympics on the US halfpipe team and won an X-games halfpipe gold medal, among dozens of other competitive accolades.

After a focused athletic career like that it can be incredibly challenging to break out of your mold and change direction. Not so much for Elena. In 2018, she made transitioning from professional freestyling to freeriding look as easy as ripping between frontside and backside walls in the pipe. With a stand out role in Jeremy Jones' film Ode To Muir, Elena proved her shred skills knew no boundaries and that she was ready to take on a whole new chapter of her snowboarding career - a chapter focused on filming and exploring the backcountry.
Never in her wildest dreams as a pro pipe rider did Elena ever imagine that she'd be filming a signature freeride film for Teton Gravity Research. But in 2019, that's exactly what happened. TGR offered Elena a Blank Canvas - a wide open creative opportunity to begin a two-year film project that told the story of her professional transition and showcased her taking her incredible riding talent into the backcountry for the first time.

On the eve of Blank Canvas' worldwide release we caught up with Elena to hear about highlights from the film, how the hell nine pro snowboarders ended up poaching a ski-only hotel/resort in Japan, and the snowboard quiver she rode while filming. Check out the interview and photo gallery, then go watch Blank Canvas now on iTunes or TGR TV.
What does a blank canvas mean to you as a snowboarder?
A blank canvas is the first image that comes to my head when I look at a big empty mountain.  A wide open run offers the essence of free spirited creativity. It's all up to you where you want to paint your line. That's where the title of the film came from - the blank canvas that the mountains give you. The title also represents the opportunity I've had to try something completely new and reinvent my professional snowboarding career.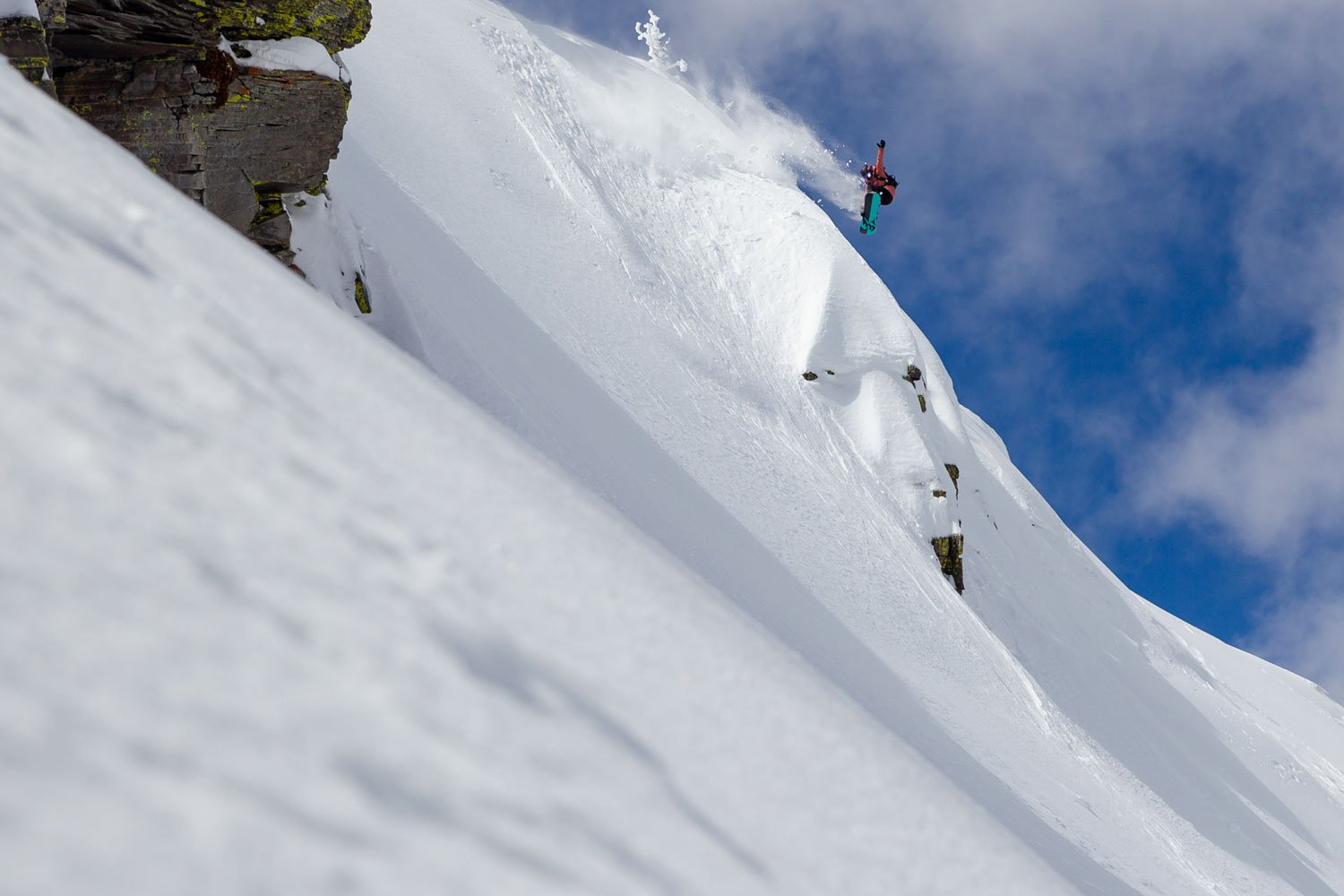 What were your goals going into the film project?
When TGR approached me about doing a film about my transition into freeriding I was pretty intimidated to share that story because I knew it was going to be really challenging, and I'm not exactly the best freerider out there. But I also knew I had to do it as I really want my riding to help inspire other riders to follow their heart and embrace the "blank canvas" opportunities they are offered in their lives. So that was the first goal, to step outside of my comfort zone, push my limits, succeed, fail and show what that journey really looks like.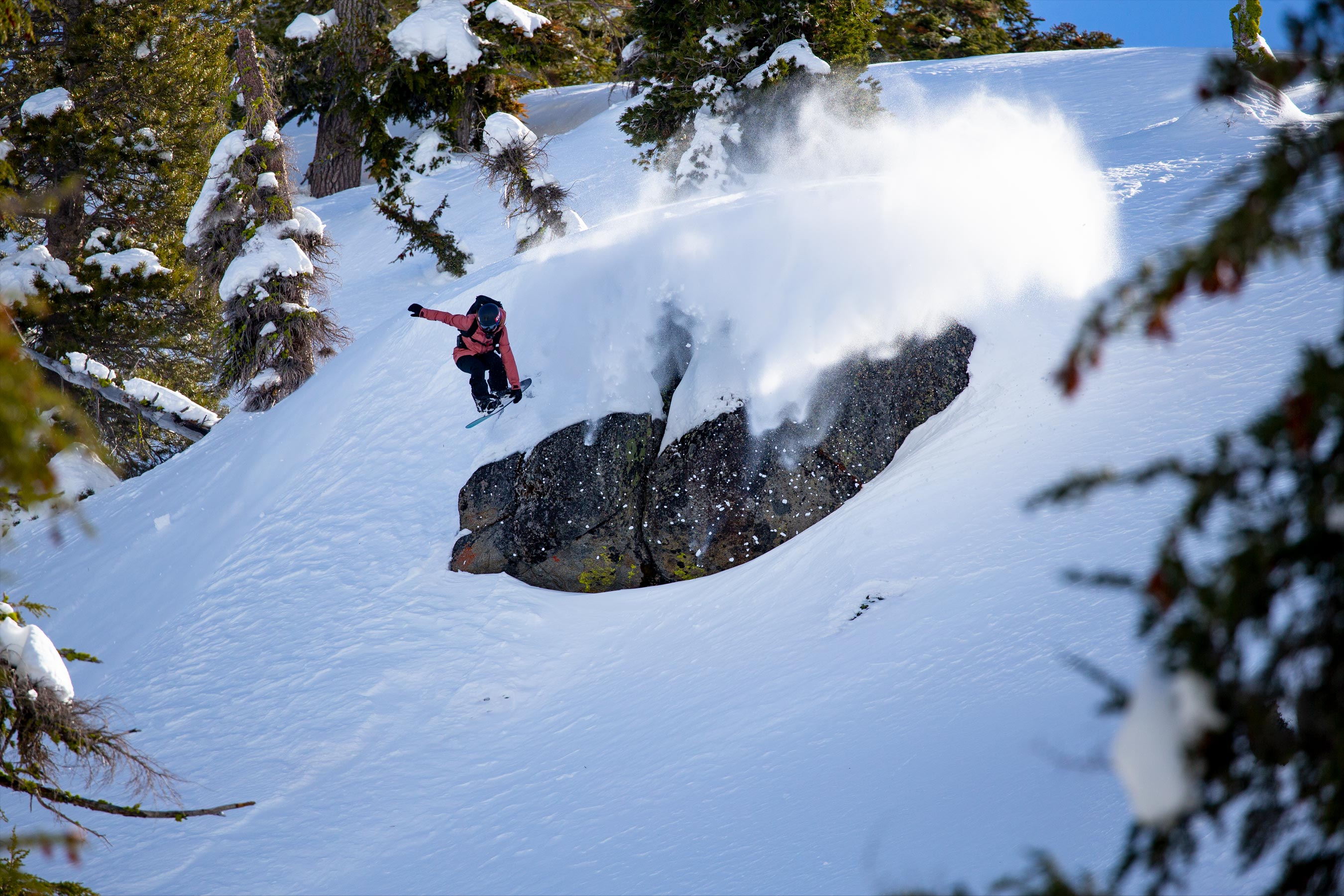 The film is set in Japan, British Columbia and Tahoe. How did you choose those locations?
One of the first questions TGR asked me was, "Where do you want to go and who do you want to ride with?" This was a pretty overwhelming question. I could think of a million places I wanted to go and a million people I wanted to snowboard with! But there were a couple places that really drew me in. I had been to Japan for halfpipe contests, but never for a freeride trip, so I really wanted to go there. It's the perfect place to find deep snow, epic terrain and fun times with your friends. British Columbia was high on the hit list because there are just so many epic huge lines in BC. And honestly, Tahoe was just a bonus. We had plans to go to Wyoming instead of Tahoe, but it was so good here at home, we just could not leave. And that was a dream come true really. As a kid I remember these huge winters, berms higher than cars, digging ourselves out of our first story, jumping off our roof, but I hadn't been here for a winter like that since I started backcountry snowboarding. I was super grateful to have a winter like that at home and be filming for a movie. Shooting in Tahoe really turned out better than any trip I could have planned. We got the snow and I got to film with Jeremy Jones, Nick Russell and Sammy Luebke, three of my favorite Tahoe riders.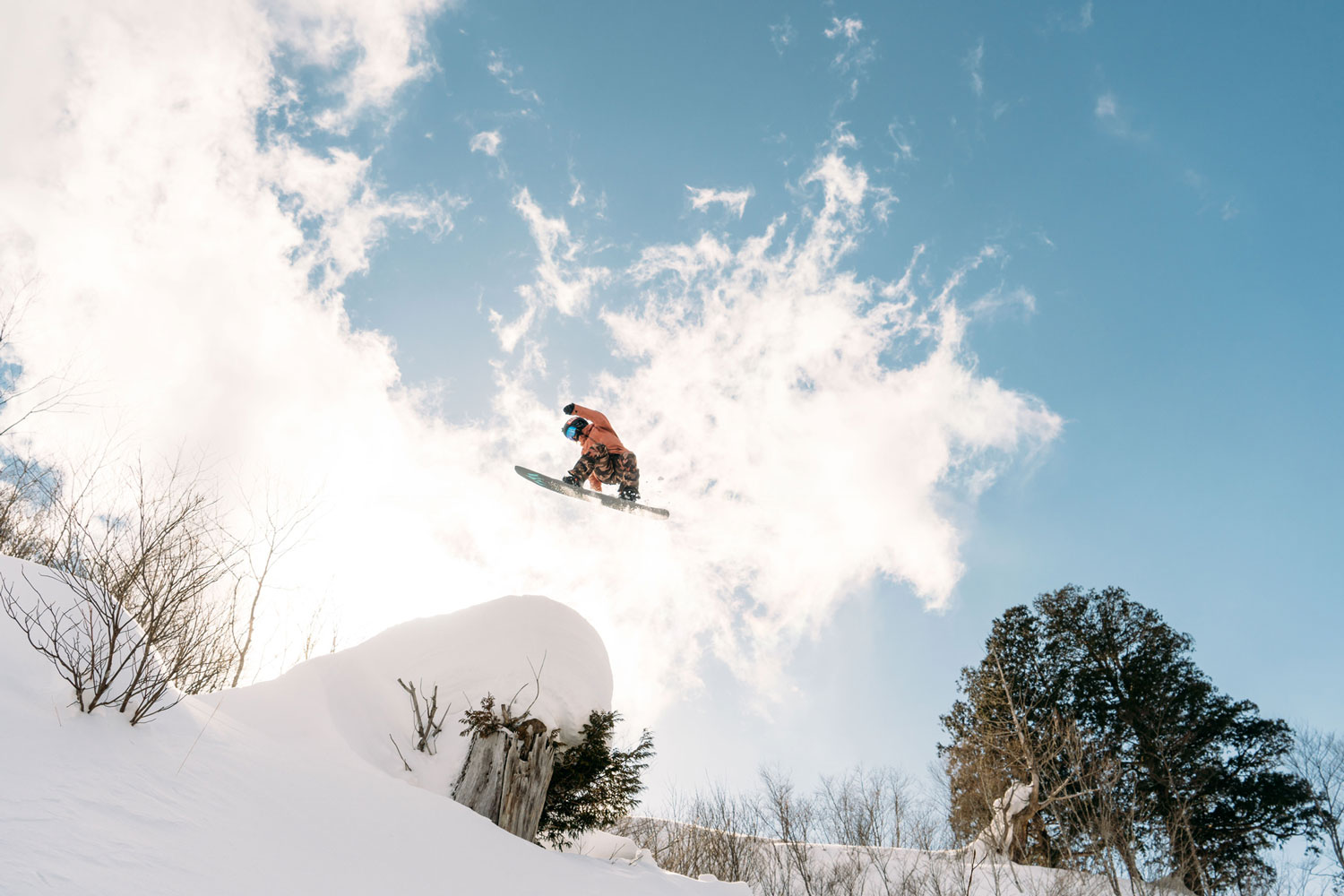 Photo - TGR/ Leslie Hittmeier

Your Japan trip was quite the hilarious adventure. Tell us about what went down on that trip.
Our first stop in Japan was Hakuba. It's an amazing place with awesome terrain, but there are a lot of riders there, and a lot of good riders. Many of the places we had hoped to shoot in Hakuba were highly sought after which made filming difficult. We were riding with Travis Rice and after about a week in Hakuba, he had the idea to go explore a mountain range to the north that he had been looking at on Google Earth. So we packed up in a huge storm and started travelling north. We only knew the general zone we wanted to be in, no one had ever been to the zone before. Shin Biyajima, our lone Japanese guide and rider, had been up there, but knew very little about the area. Between riders, filmers and photographers we were a group of nine, so we booked rooms at the only ski resort hotel we could find last minute that fit all of us.
When we showed up at the hotel we were super psyched as it was a really nice resort complex. But as soon as we started unloading our bags we started getting super weird looks? Turns out we had booked rooms at a ski-only hotel at a ski-only resort! We had no idea that even existed in Japan. Didn't even cross our minds that it was possible. And of course we were this huge crew of nine snowboarders so there was no hiding at the hotel. The poor hotel staff were like, "You don't belong here!", but almost no one spoke english so they couldn't tell us. The hotel's english translator finally let us know, but thankfully they didn't ask us to leave.
So where did you end up riding? Did you get vibed on the mountain for snowboarding?
We ended up riding at another close by resort that allowed snowboarders. Most of the terrain Travis had been scoping was in the side country at that other resort anyway. We did ride the ski-only resort one day at the end of the trip though. We bought lift tix and rode the chairs on our split-skis and then changed over in the woods at the top and rode down. We were stealthy about it though, and just rode off to the side in the trees so they didn't even really notice. We only tested it at the very end because we didn't want to piss anyone off and get kicked out of our hotel. It was a pretty awesome poach and a super fun day.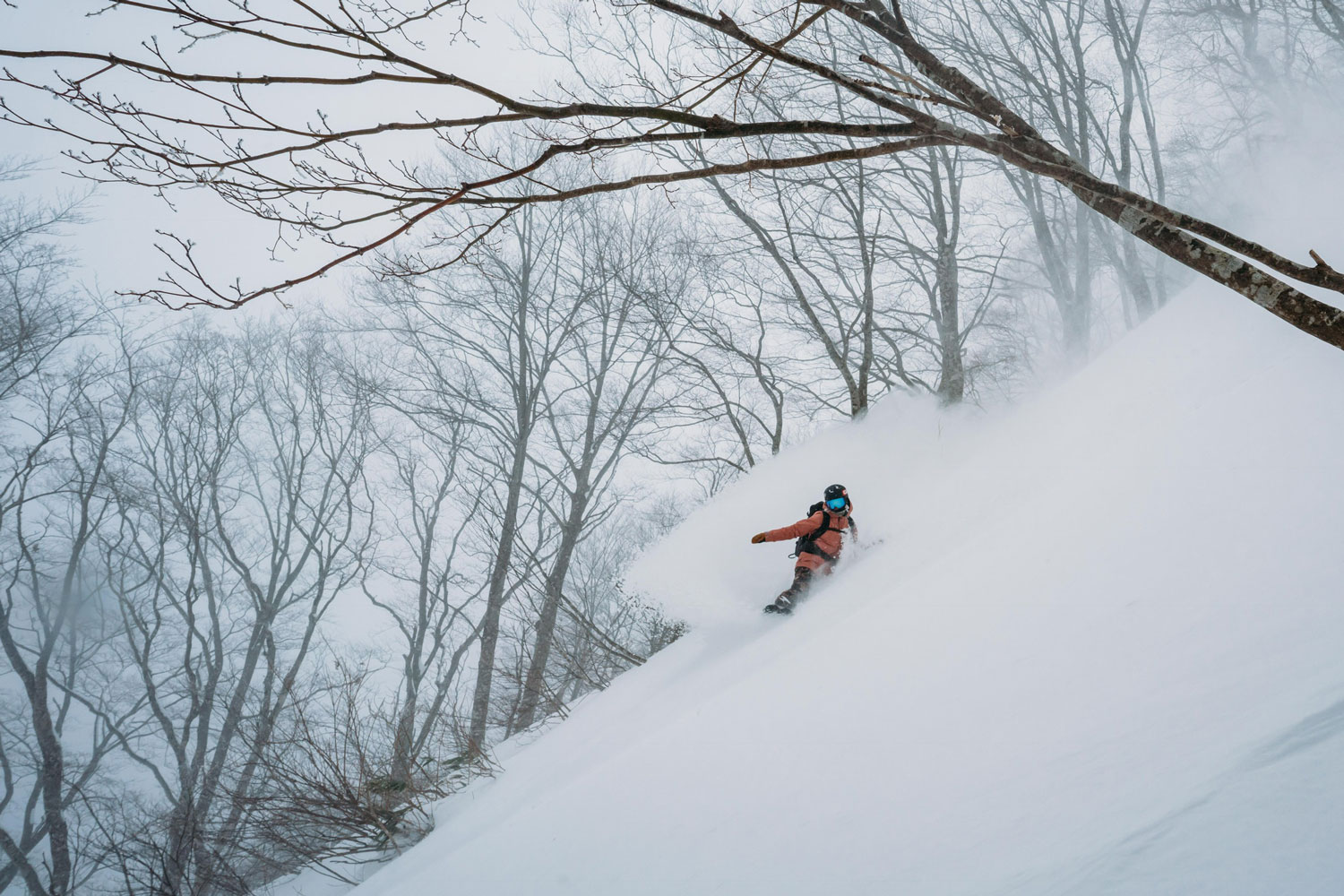 Photo - TGR/ Leslie Hittmeier

What board did you ride in Japan?
I primarily rode the Women's Mind Expander. That board was made for Japan. It has a super floaty nose, and a short tail so it's really good for weaving in and out of trees and staying on top of deep pow. It's definitely a sick Ja'Pow stick.
Photo - TGR/ Leslie Hittmeier

What did you learn filming in Tahoe that you didn't know before?
I learned so much! I grew up in Tahoe and have lived here for 30 years, but I had spent almost zero time in the Tahoe backcountry. The huge winter in 2019 made all the classic zones rideable again which was mind exploding! Every single day we were going to zones with names I had been hearing about for a decade. What stuck out to me the most was the diversity of terrain found in Tahoe. There are jumping zones, big lines, pillow gardens, kind of everything. That was really cool and unexpected. Even having lived here my whole life my backyard blew away all my expectations.
You ride some epic terrain in BC in the film. How did that segment come together?
When we started planning the film I reached out to Jake Blauvelt because I've really looked up to him and his approach to snowboarding since the very beginning. I've known him since I was a teenager. Jake was down to be a part of the film and suggested we shoot in the Coast Range outside of Pemberton, BC. He is very familiar with that area and knew exactly where he wanted to go. So I fell into a really ideal situation. He took the reins and took me to some super epic spots. Unfortunately, that was the last trip we got to do before the pandemic hit, but we made the most of it, and got to ride some really fun terrain before heading home.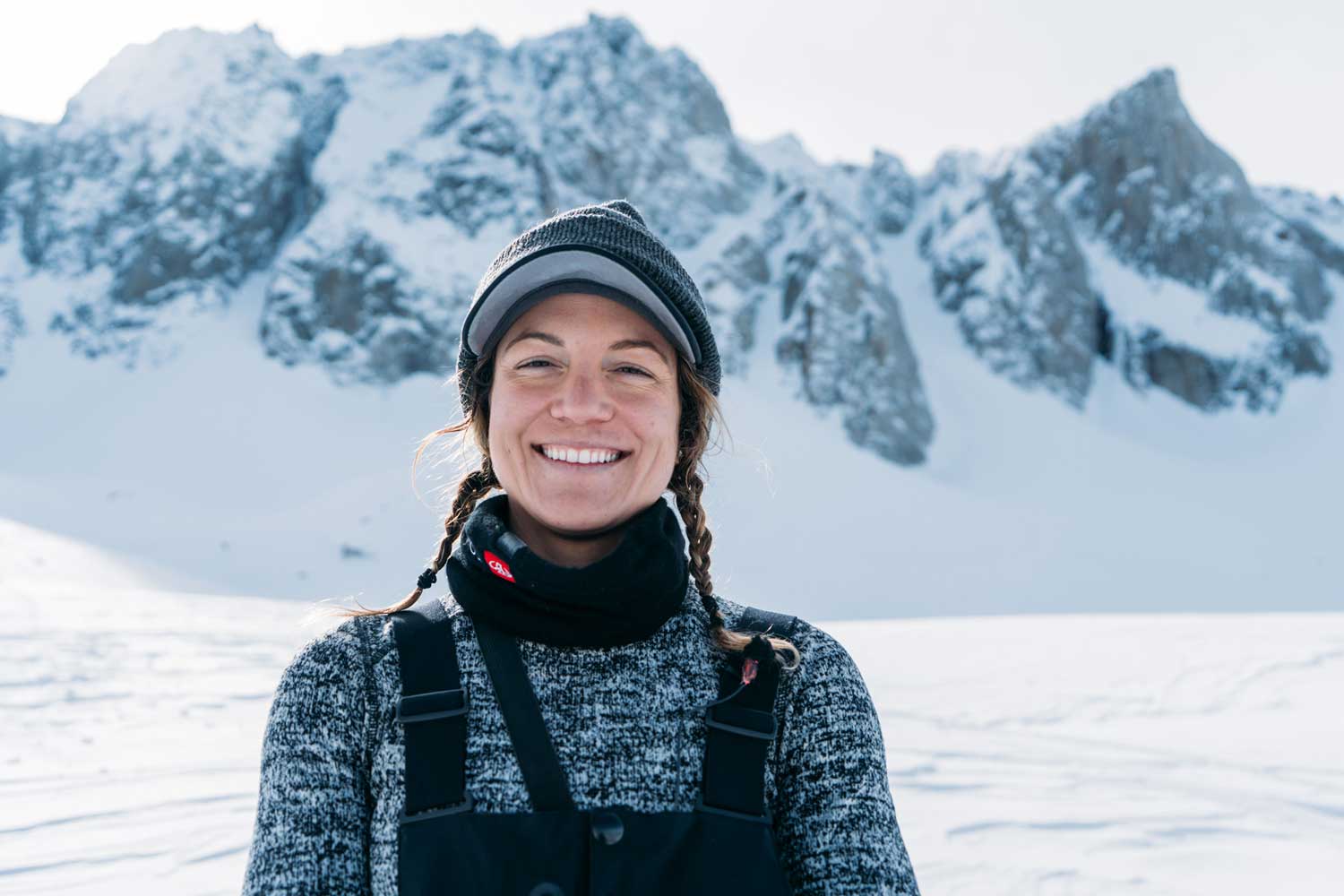 Photo - TGR/ Leslie Hittmeier

What boards did you ride in BC and Tahoe?
The terrain in BC was heli access so I rode the Women's Flagship. The Flagship is like my dream snowboard all packaged into one. It holds an edge in all types of snow, floats really good, and has the pop to get freestyle-y on, but can maintain at high speeds. For the big lines in Tahoe I rode the Women's Hovercraft Split. I like the shorter tail for technical backcountry lines because you can do hop turns and get into smaller zones super easily. The Hovercraft Split is also pretty stiff, for me anyway, so it's ideal for maintaining speed in the run out of a line where you might find lots of different types of snow. The stiff response keeps it secure under your feet when you unexpectedly hit crud and ice.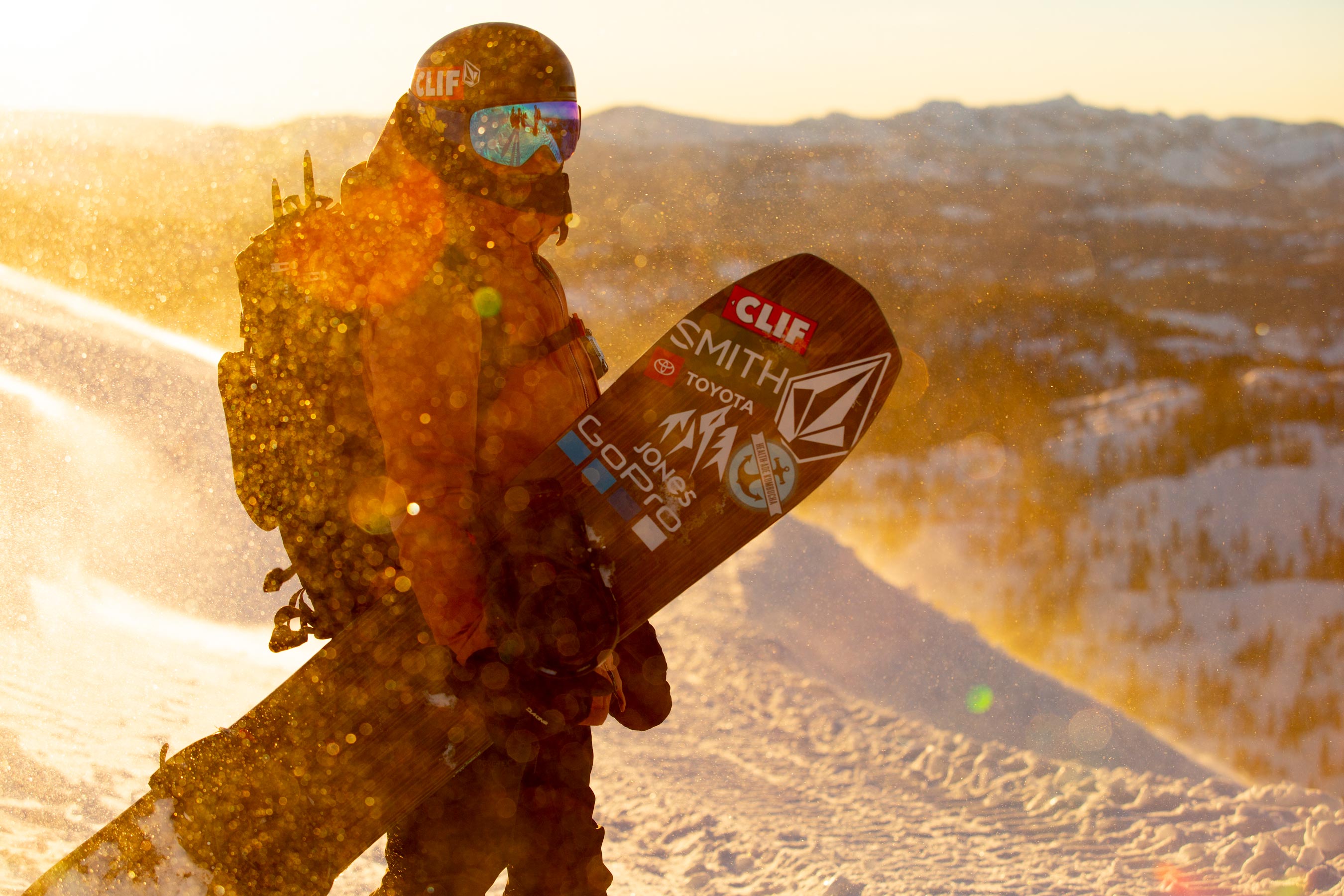 Looking to the future, how did the film project inspire you?
I am so grateful for the opportunity to make this film and dive head first into freeriding and exploring big mountains. But the film project made me realize that I've really just scratched the surface. Pursuing big mountain objectives is a life long adventure and I'm super excited about what that means and what the future holds. I hope to be able to continue documenting my journey on this path and to create films that inspire with my adventures. Certain films have left a mark on my life, so I'd like to keep telling stories with my snowboarding that leave that kind of lasting impression and help others find their true calling in life.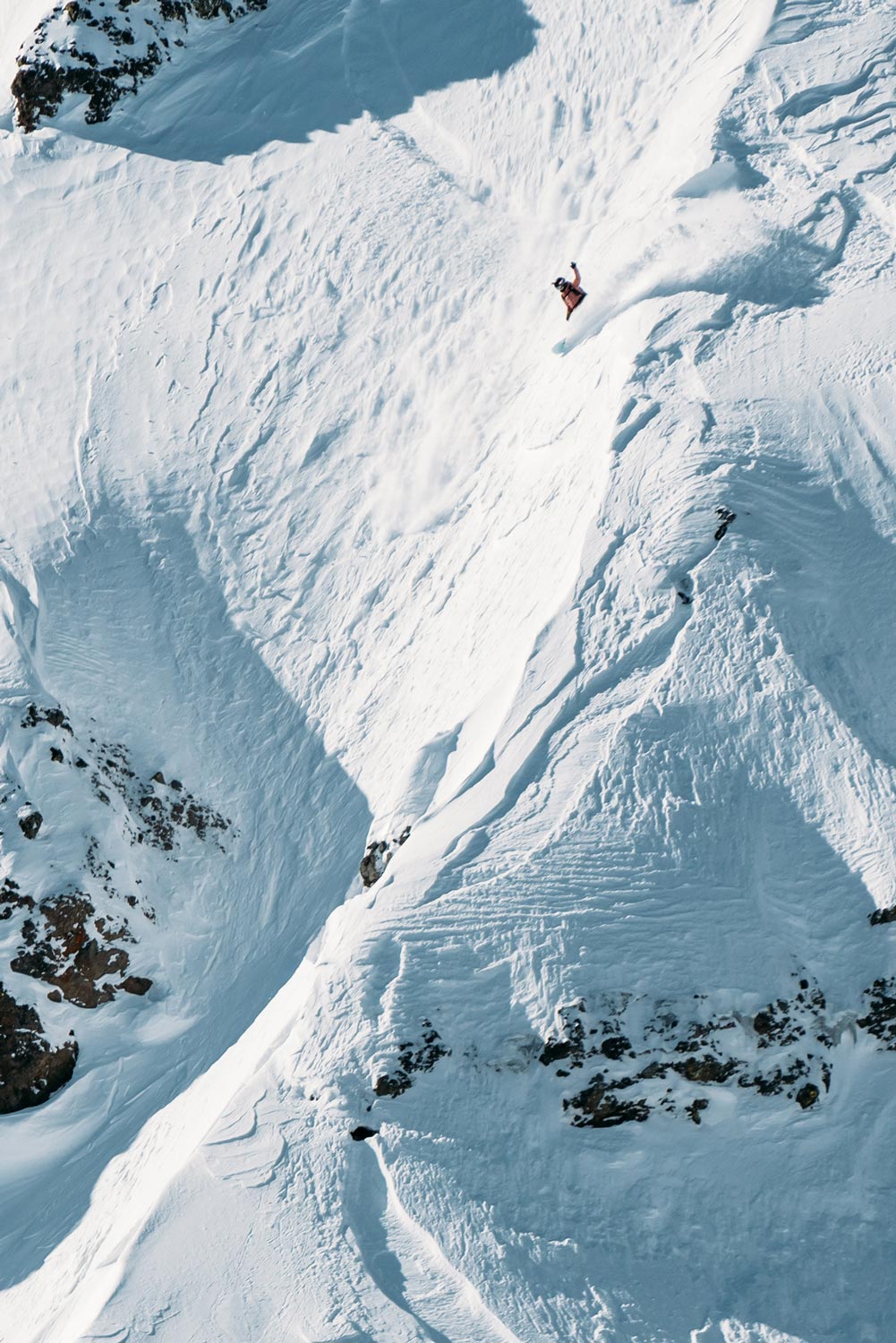 Photo - TGR/ Leslie Hittmeier

Blank Canvas is now available on iTunes!