Lessons learned - Near miss avalanche report by Mat Schaer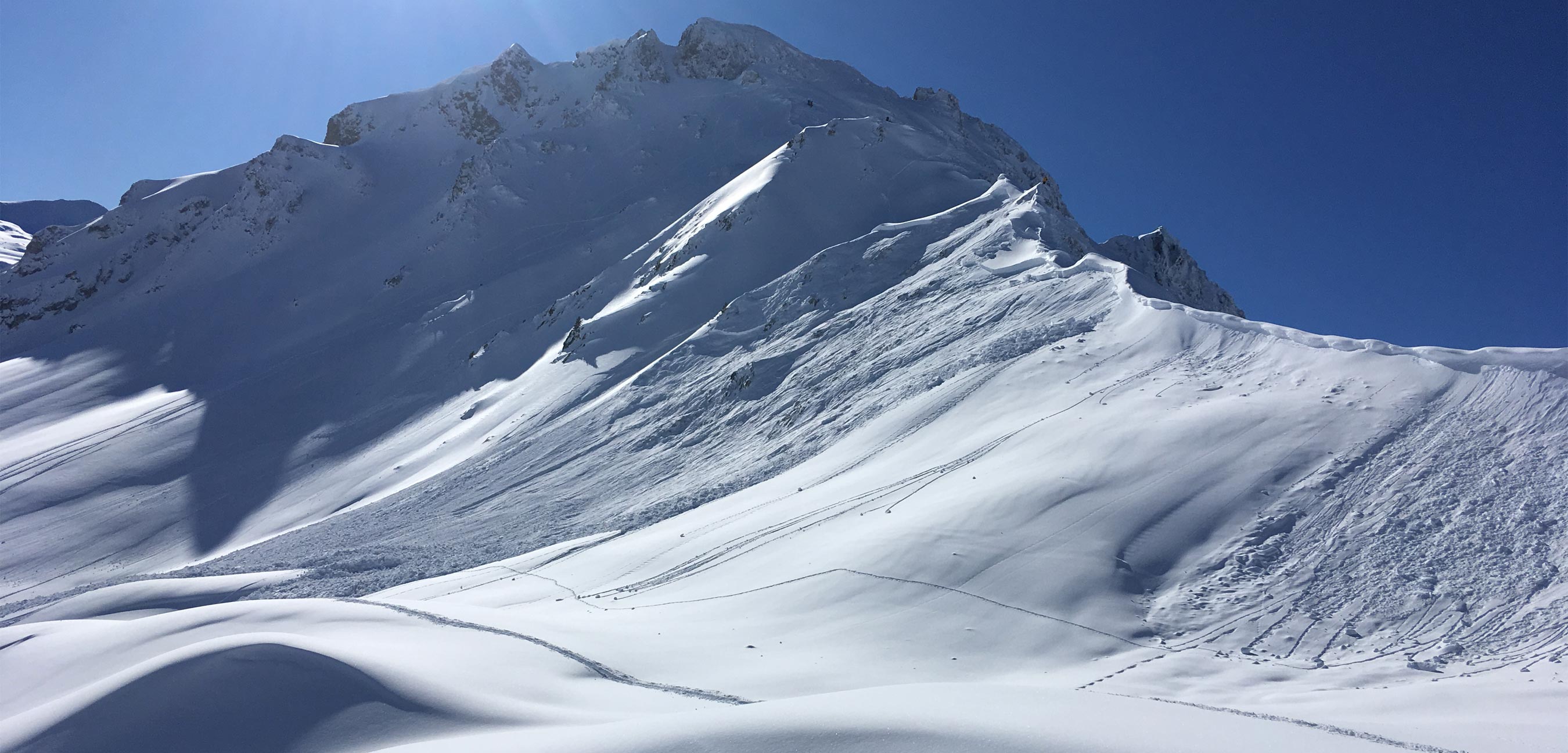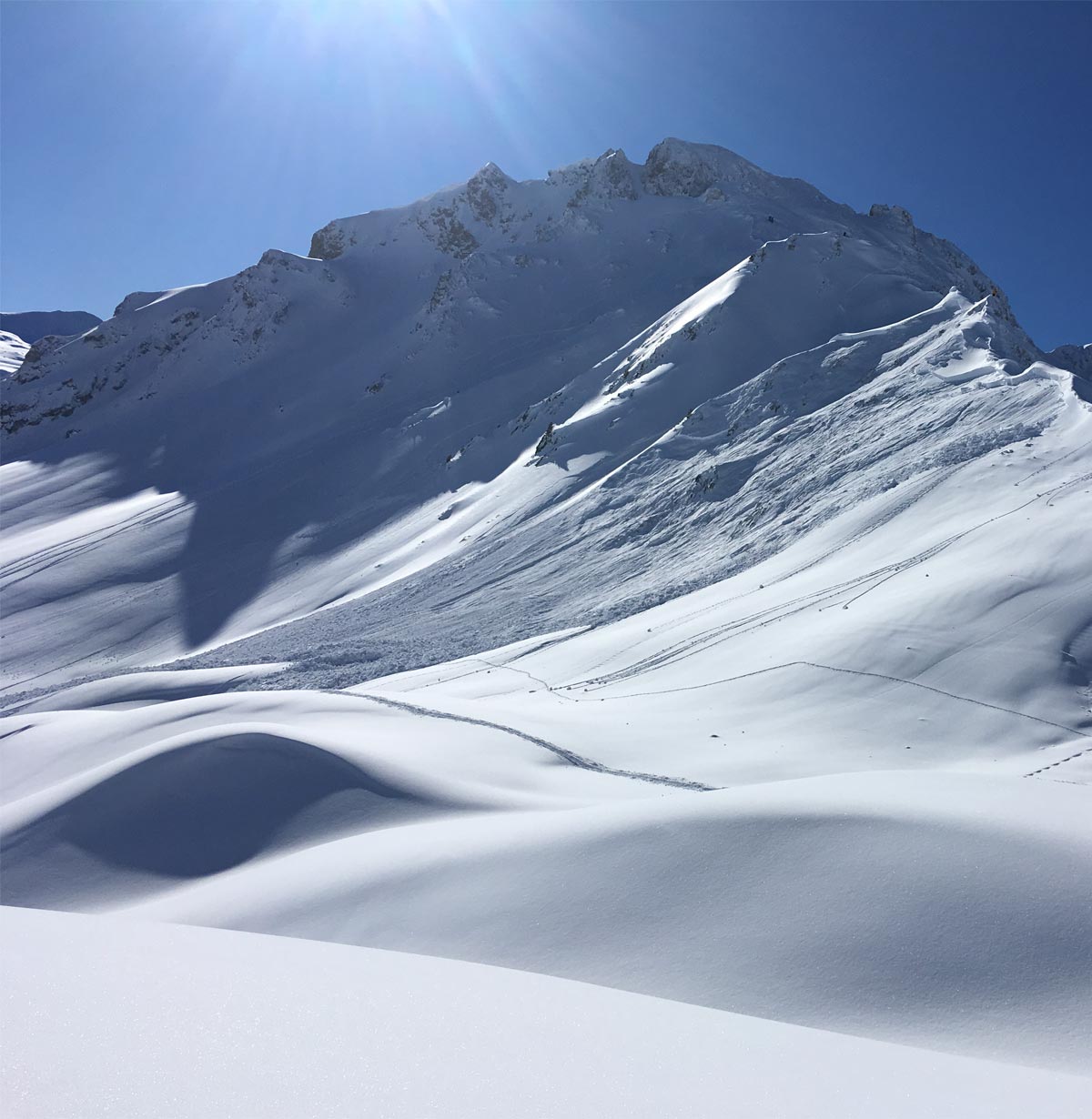 Swiss team rider Mat Schaer is a very experienced splitboarder who has been travelling and filming in the backcountry for years. While Mat is usually a careful student of the snowpack and very aware of potential avalanche danger, his experience and comfort in the backcountry almost got the best of him last season. On a day he was filming, he overlooked some avalanche danger red flags and decided to ride a suspect slope. The face he rode fractured after his first turn and he was very lucky to ride out of the slide without getting caught.

In honor of Avalanche Awareness Month, Mat is happy to share the details of the incident and the lessons he learned that day to help educate others on how to avoid a similar accident. Watch the video of the avalanche then read on for Mat's report:
It was January 31st, and we had finally got a full pow reset after four weeks of high pressure.  The deep days had begun earlier in the week, but I was busy at work and couldn't join the crew until Friday. The weather for Friday was sunny so I was excited to get back in the mountains and start shooting for a friend's new film project that I was invited to work on called From Switzerland with Love…

The night before I went riding it had rained quite high. When we got up to the mountain on Friday one of the only zones that still held good snow was the East face of Mont Gautier. The face was loaded with snow as the west winds had been strong during the last storm.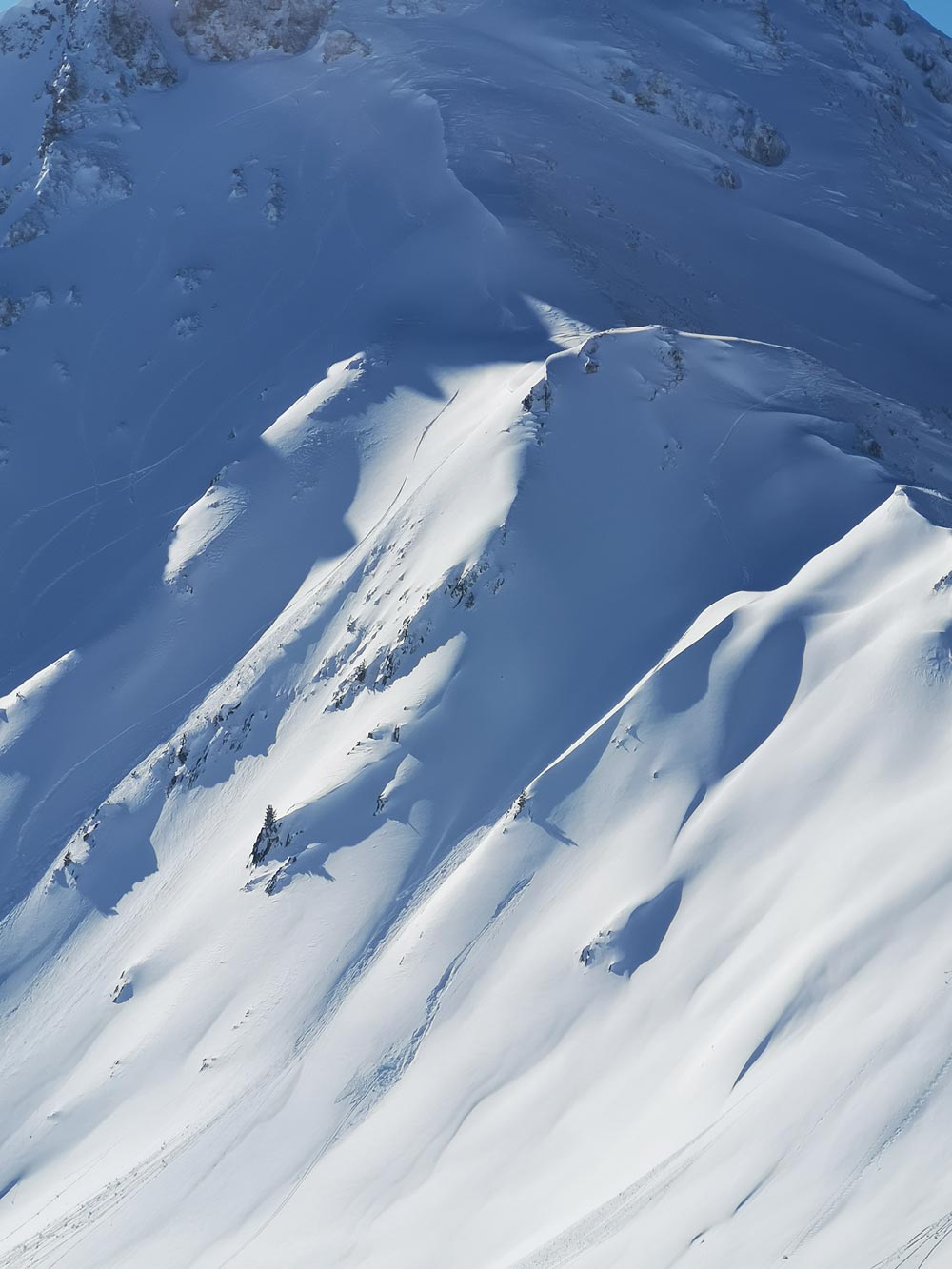 The East face of Mont Gautier before the slide.

The avalanche danger rating that day was 3 out of 5, so I was alert for potential signs of danger, but not automatically assuming conditions were dangerous. To start the day I did a mellow first run on the face. The snow was stable and nothing moved so I went back up to shoot a faster line with an entrance air off the cornice. On my first turn of the second run the whole slope broke around me. My air off the cornice had triggered a huge avalanche. Thankfully, I had enough speed and control to stay on top of the moving snow and ride out to the side of the slide.
Drop in view of the avalanche. Video by Fred Couderc (@fredcouderc)

I feel extremely lucky that I safely rode out of this slide and I'm not sharing these video clips and photos out of pride. The mountain is always stronger and being humble is the best way to ride longer. However, I feel it's important to analyse and share what happened so hopefully it can help other riders avoid such a sketchy situation. So here is what I've learned from the incident:

I was too fired up to start filming and ride pow again after a month of bad conditions. Watching people score good runs earlier in the week had also made me more anxious to get out there and shred the best snow. But the red flags were definitely there. There was fresh wind deposited snow and rapidly rising temperatures that morning. Had I thought about it more, and not let my enthusiasm to shred and film push me on to the face, I should have chosen safer terrain that day.

I've also been riding in this zone every year for the last decade. I had seen avalanches on this face before, but always on the lookers's left side, and much smaller slides. I was not expecting that a slide that big could even happen here. I was overconfident, thinking I knew this zone well. Overconfidence is a common mistake that gets a lot of experienced riders in trouble.
Drop in view of Mat's first run. Video by Fred Couderc (@fredcouderc)

The warm-up run gave me a false sense of security and stability. I let my guard down for the second run. I should have recognized that I was jumping into a small pocket of a different aspect, and that the sun had begun to warm the face.

It is likely that I could have identified the weak layer that was 1m deep in the snowpack had I dug a pit on a similar aspect before riding the slope. The slide broke on an obviously suspect buried layer. I could have also roped myself into the slope and tried to trigger the pocket just below the cornice to test stability before committing to jumping into the slope at full speed.

There is also the possibility that I would not have triggered the avalanche had I not jumped off the cornice to start the line. The pressure applied on the snowpack is about 3x greater when you land a jump compared to making a basic turn. But at the same time, had I not jumped into the line, I might not have had enough speed to ride out of the slide.

My only good decision that morning was to choose a short line with no cliffs or terrain traps below. This was a conscious choice I made that day as I never ride exposed terrain when avy danger is moderate to high. If there is any chance of a slide, I want to be over a clean run out that offers a better chance for getting rescued or avoiding hitting rocks.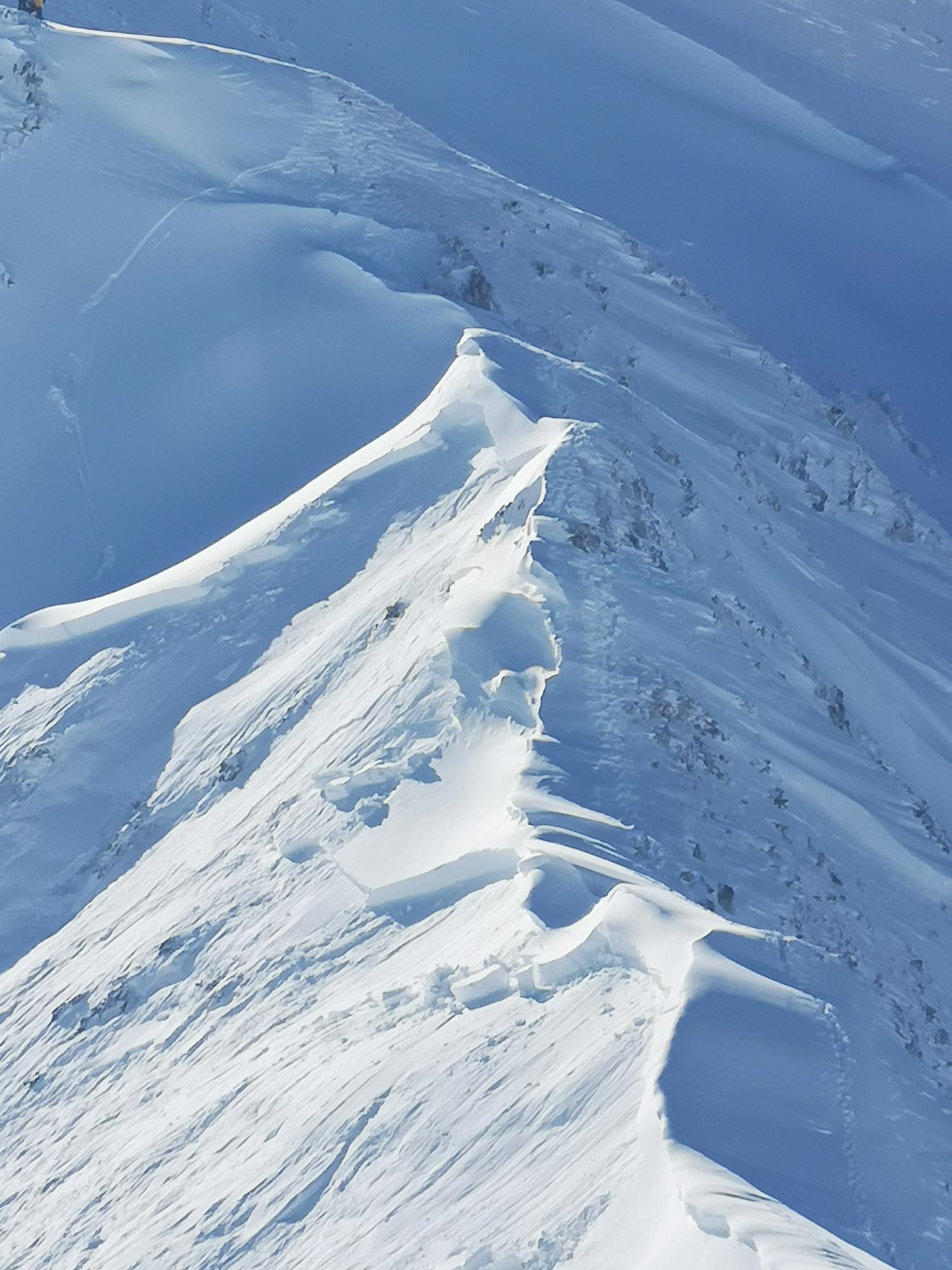 The East face of Mont Gautier after the avalanche.

Which brings up the last crucial lesson I learned. Had I been caught in the slide and buried, I would have had to rely on my friends to dig me out quickly. Fortunately, I was with a very skilled crew who were all well trained in avalanche rescue. I trust they would have found me quickly, but you never know what can happen in an avalanche accident. You can easily get injured, but not buried. It's important to learn how to be efficient with your avalanche rescue skills and gear by taking an avalanche safety course and practicing at the beginning of every winter. When a serious avalanche accident happens, a few minutes of rescue time can make the difference between a near miss and a tragedy.
Avalanche awareness and basic first-aid are critical skills for the backcountry rider. Start or refresh your avy and emergency rescue education here and take a course to solidify your knowledge.