Photos by Andrew Miller / Video by Greg Weaver / Captions by The Lodge Boys

Shuksan you hog, The lodge boys heading towards the hog.
Being in the Pacific Northwest you are always trying to fulfil your vitamin D. Harry chasing the pocket of sunshine.
Timmy is disgusted with Jerry's tight alpine fit pants, while Harry keeps it cool looking toward the next powder slash.
Vistas are aplenty in the Northern Cascades, yet visibility is a rare sight.
Harry Kearney aka "the speed kernel" claims to be from many locations, including but not limited to Buffalo New York, Bradford Pennsylvania, Naples Florida, Telluride/Norwood Colorado. His craft on a snowboard is quickly approaching legendary status.
Last winter with the boys was special for many reasons. After riding together for upwards of 9 years at Mt Baker, everyone had their sights set on different zones after the winter. Hindsight sure is 20 20, and given the Covid19 global smackdown that hit in March, I couldn't be more psyched to have ripped around Washington and BC with Jerry, Timmy, Jann, Weaver and all the homies we were lucky enough to share that time with.
The dynamic between the Lodge Boys is certainly special. To move in the mountains requires trust, respect, and humility, all of which is echoed between us after the years spent snowboarding together. I love riding with these guys because it brings out the finest parts of the act of snowboarding that we all love. Stoke, positivity, and encouragement runs high, but sometimes it comes out as some serious heckling and smack talk. All in good taste though, of course.


The road goes on forever and the party never ends. Alpine J enjoying the uphill as much as the downhill.
Timmy despite spending the last decade in the Pacific Northwest, opts euro style method.
The light at Mt Baker can do crazy things. Everyone had a crack at that cornice and the session was hot. Timmy shut it down with a bossy butter spin maneuver and it got everyone firing the rest of the day.


Mmmmmm, powder. It's a tranquil scene out there until the boys are unleashed on it. No mercy from those guys in a zone like that.


Timmy Taussig hails from New York and likes to ham up the attitude that could come with that, but as evident in that smile cracking in the second photo, he's just kidding and is actually the nicest dude you'll meet. I just hope your lungs can survive the pace if you happen to meet him on the skin track.
Last season was the first season in ten years that none of us were living at Mt. Baker. We all were off exploring new places, new mountain ranges, and new opportunities. It was weird because we normally would ride with each other everyday and were a crew which is essential to backcountry snowboarding. This past season we all ended up taking a few trips to Mt. Baker and hanging out in Canada for most of the winter. Which was very new to all of us but mind-blowing at the same time with how insane the mountains are in Canada. We ended up spending the majority of winter with one another until the pandemic hit. We all love being with each other because we all like doing a lot of the same things on and off the mountain. We never get sick of each other which is rare to have. We give each other a lot of shit but that's just because we love one another and have each other's back no matter what. We are all brothers from another mother. The group is dynamic too because when you are out in the backcountry, you are taking risks and knowing that you have trustworthy partners that you trust with your life is a great feeling to have just in case anything were to happen.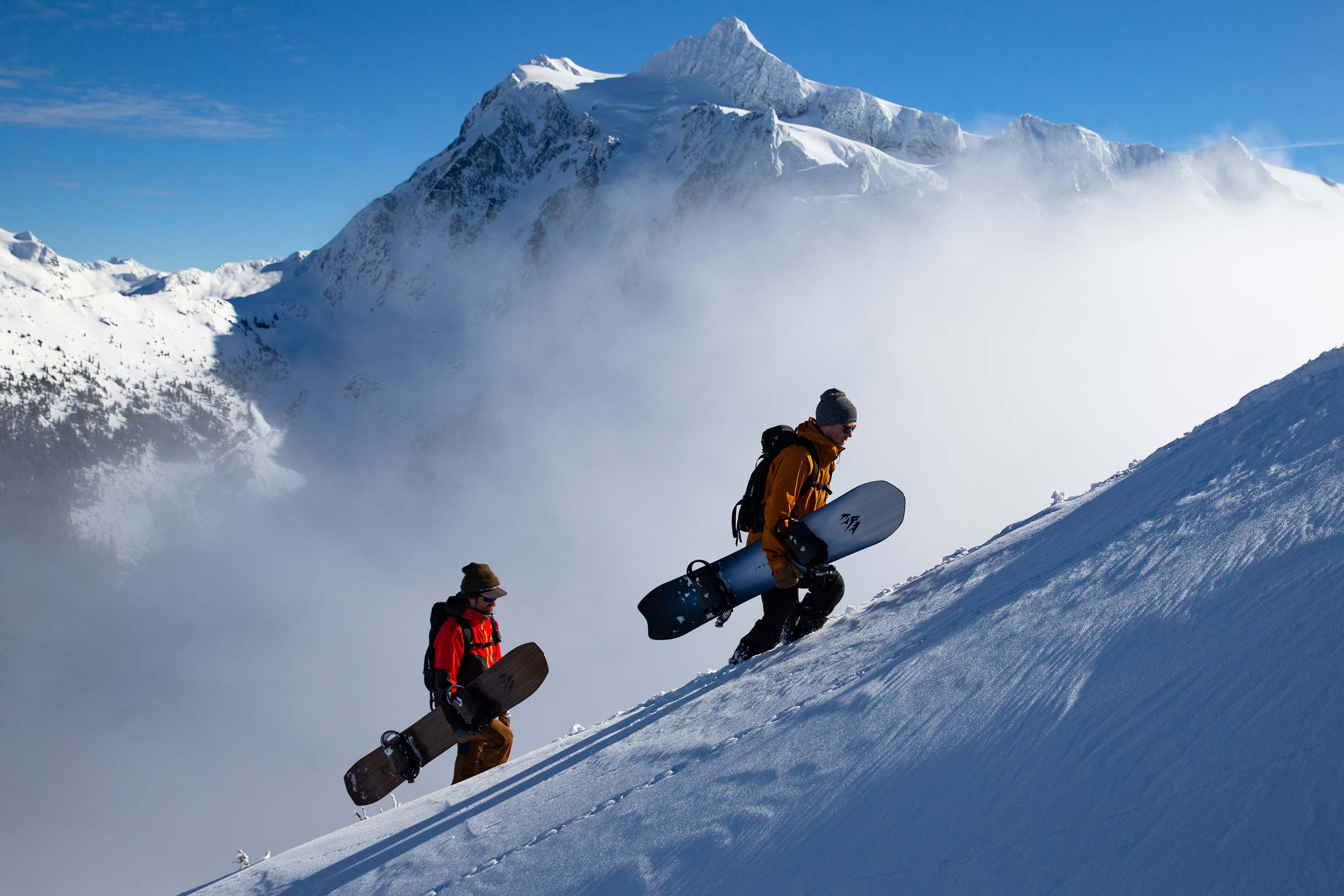 Here's a rare sight of Harry in front of Jerry on the bootpack. I wonder at how many miles were hiked/skinned amongst the crew last winter. There was definitely a lot.

Jerry Mark is the absolute picture of precision and control in the mountains. I'm not sure if that panel deserved what he's doing to it in this photo, but it sure was fun to watch.
Here's Timmy doing what Timmy does best: blasting the biggest airs of the bunch. As stated earlier, he's the nicest dude you'll meet, but he goes full NY out there with a charging riding style that's bigger than the Big Apple.
Ride fast and chuck buckets. It's a simple and effective strategy to have a good time out there. Harry abides.


Jerry Mark aka Alpine J in the Mt. Baker backcountry. Jerry gets his nickname from the fact he is one of the most dialed dudes in the mountains. He loves exploring new mountains, new terrain, and riding big lines. Jerry is a great dude to have in your crew and is always down for a good time. He is also single and ready to mingle. (lol)
While the Lodge Boys left the homeland of the Raven hut at Mt. Baker last year couldn't keep the brotherhood from joining together for a couple trips. The gathering started with the Legendary Banked Slalom, where Timmy beat myself In the race, resulting in me losing a bet and having to make a twerking video seen worldwide throughout the snowboard community. Then Bloodbath, Harry's trusty 78' Chevy K Van made the pilgrimage up North to the mecca of Revelstoke. Where we were graced with a week of non stop touring, and riding classic BC pillows.  One evening while living in Glacier together we watched the surf movie "Momentum Generation" and watched how the Northshore surfers would constantly egg each other on riding large waves. We took that motto to the mountains and harassed each other to ride bigger and more obscure lines. We as a collective bunch feed off each other, while trying to incorporate anyone who has the love of snowboarding.
Window shopping on a cold February afternoon with Jerry Mark in Mt. Baker wilderness.. Alpine J putting on a turning clinic for the boys. Jerry makes his mark with style and grace.
Harry Kearney aka the Speed Kernel aka Sex Storm. Harry is known for stacking podiums at major banked slalom events but little do people know he is a silent assassin in the freestyle department. Harry Kearney displaying a perfect back three Melon at Mt. Baker.
After a full day riding in Mid February, the crew gets a little taste of some terrain across the valley from the upper lot at Mt. Baker. Classic PNW style, the skies cleared for just a moment. Beer cans were cracked and admiration for how special this place is to us.
Anytime we build a Jump there is always a lot of shit talking and heckling. We all start barking at one another, yelling at each other, hitting each other, it gets us fired up…When in doubt lay it out for Mt. Baker. Timmy Taussig
Jerry and Harry make it over to the next roll to see what lies below. If you know where you are going around Mt. Baker there's always a good chance you are going to find endless shred options. There's a saying around Mt. Baker, don't follow tracks if you don't know where you are going.
Classic lodge boy fashion, Bell to Bell. Nothing better than ending a powder day with your best friends, talking about the day and how good that cold beer is going to taste back at bloodbath. Timmy breaks trail with Jerry and Harry following him out of Mt. Baker backcountry.