Utah fine artist and graphic designer Joseph Toney was one of the first freelance artists to design a Jones snowboard graphic. Starting with the 2015 Mountain Twin, Joseph has gone on to design graphics for over a dozen more Jones models including the art featured on many of our recent Ultra Series models.

With a striking line art style and a unique eye for laying out graphical elements, Joseph's art balances the rugged organic contours of the mountains with a clean modern aesthetic. His graphics are always as eye-catching as they are inspiring to draw a smooth line down the mountain. For the 2122 Jones line, Joseph designed the stunning graphic featured on the Mountain Twin, Mountain Twin Split, and the Mountain Snow Skate.

We are thrilled to work with Joseph and excited to introduce him to all our fans. Read on for an interview with him detailing his artistic background + design process, and look out for more of his epic mountain art featured on future Jones models.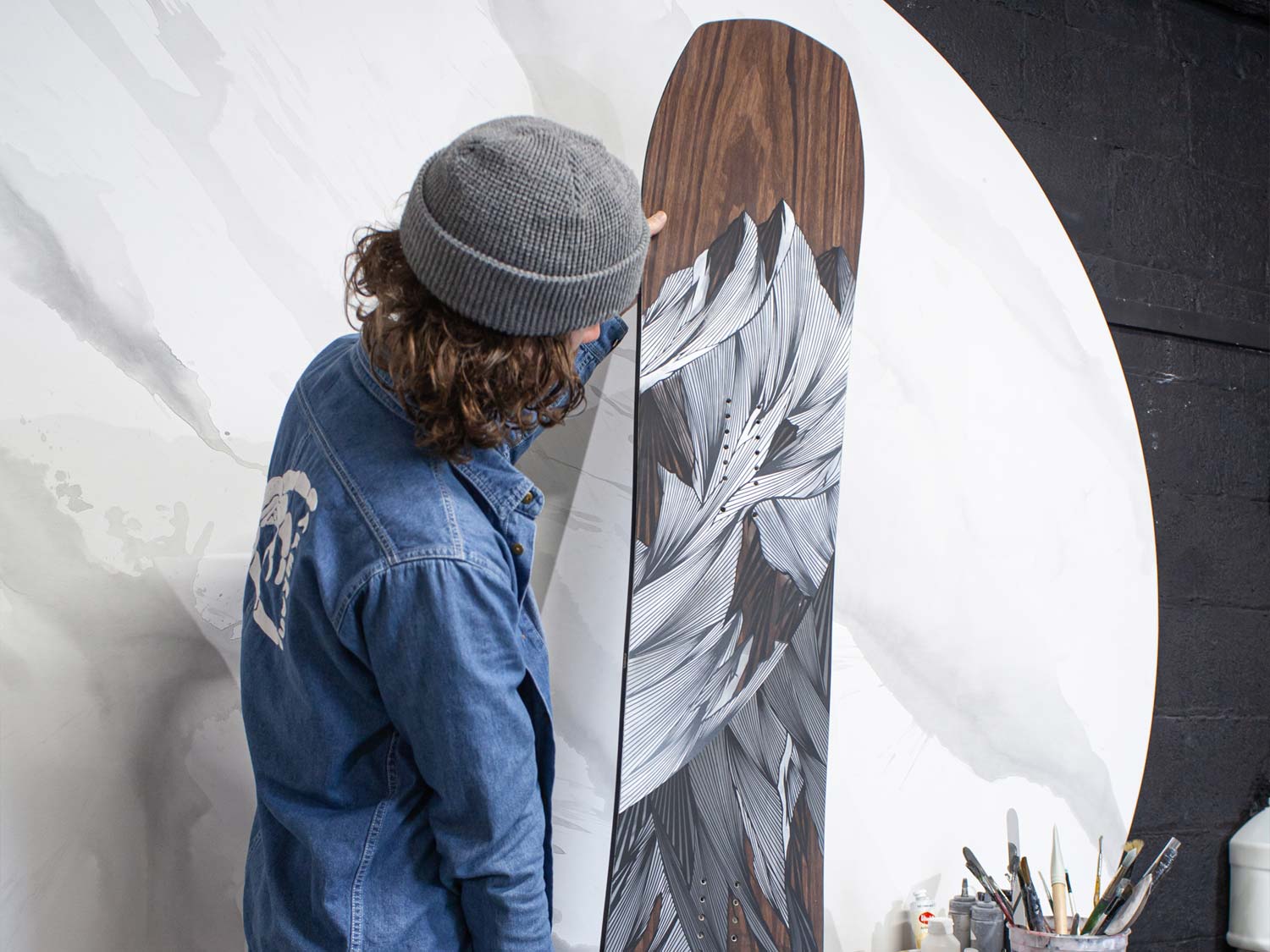 Where did you grow up and how did your creative journey as an artist begin?
I grew up in Boone, North Carolina. It's a small mountain town with a few ski resorts close by and epic views of the Appalachians. When I was in high school I was big into soccer, but I tore my ACL and had to have two knee surgeries back to back. That put me on the couch for almost a year. During that down time I got really into painting and doing design work. I pirated a copy of Adobe Suite and taught myself Photoshop. That's when I started going full on trying to design and draw as much as I could. I was around 18 at the time.
When did you start creating mountain art?
The first art I was creating was not that mountain specific. I started painting mountains when I was in college. My junior year of college I moved out to Jackson, Wyoming to do a six-month design internship with TGR and that drew me to focus on mountain art even more. That's also when I met Jeremy.
What led to you starting to create board graphics for Jones?
After the TGR internship was over they offered me a few design projects that were lucrative enough that I decided to take some more time off from school and stay in Jackson. I worked on the graphics for two of Jeremy's films, Further and Higher, and that's how I met Jeremy. Creating board graphics for Jones came about one day when I was flipping through my sketch book at the TGR office with Jeremy looking over my shoulder and he saw a couple of my loose mountain sketches that caught his eye. We started talking about using one of the sketches for a board graphic design. A year or two later a variation of that sketch was used for the graphic on the Mountain Twin.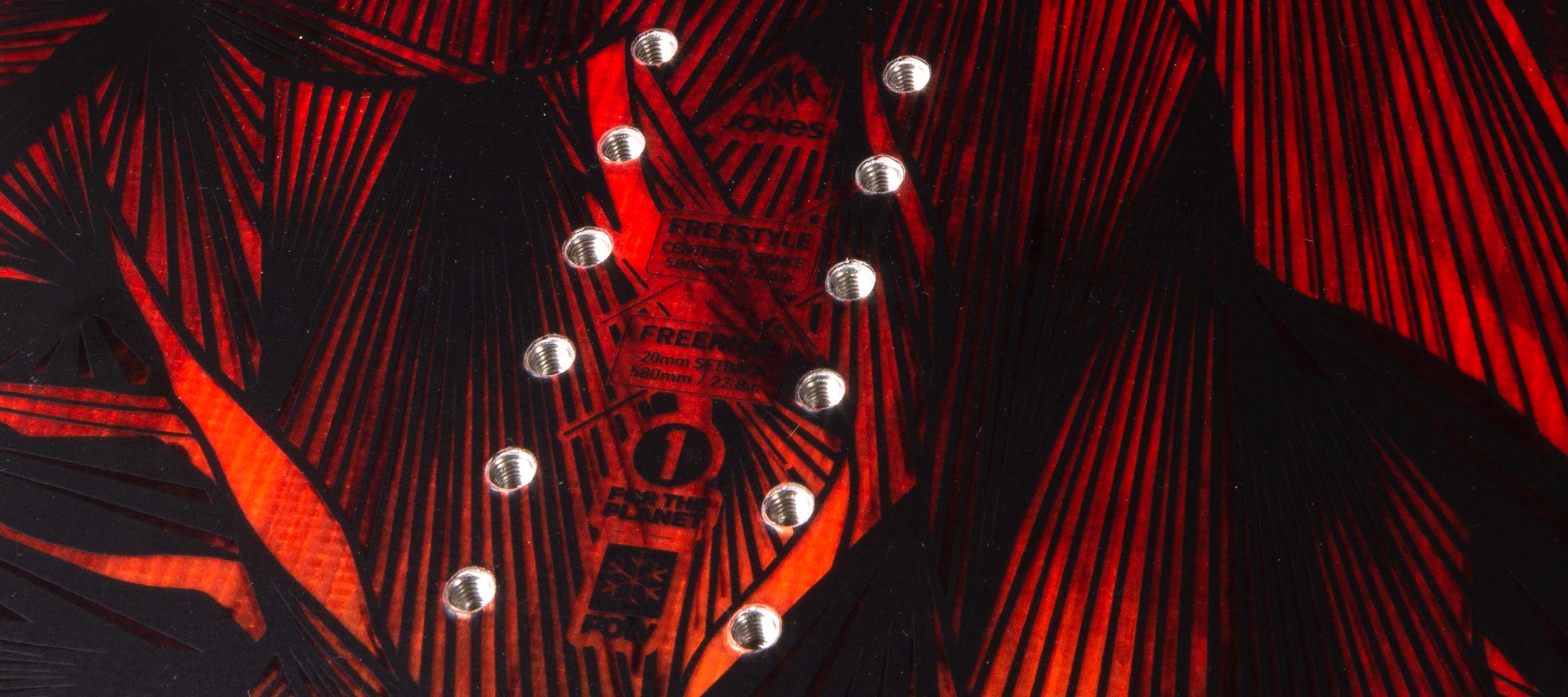 What makes a snowboard such a perfect canvas for an artist?
I really like the verticality of a snowboard because it allows me to paint longer linear shapes to represent mountains rather than the typical wide landscape shapes. My fascination with vertical formats was inspired by 16th and 17th century Japanese art that was done on long scrolls. They were painting really tall, linear mountains a long time ago which was uncommon in art history. Most landscape artists have always favored the traditional horizontal format. Snowboards are also one solid piece that is not broken up like skis, and there isn't too much of the board that gets covered by your feet or bindings.
What is your favorite artistic medium these days?
Painting is my favorite medium. I have an illustrative, graphic based painting style that I developed drawing in my sketchbook. I've kept working in this same aesthetic for close to eight years now and as I've evolved the style my paintings have gotten larger and larger. At the moment I like starting my under paintings with a charcoal sketch using ash that I've found in forest fire zones in Utah. Then I layer acrylic washes over the charcoal and then use opaque acrylic paint for the final line work.
Do you use this same painting process for designing snowboard graphics?
Yeah, it's one and the same for the most part now. For the first board graphics I did several years ago I was just doing single color ink illustrations, more sharpie marker based art. Now I've transitioned to adapting my painting process to be able to use my paintings on a snowboard. I do this by documenting different stages of the painting process so that I can separate the layers out and have different parts of the board printed in different ways.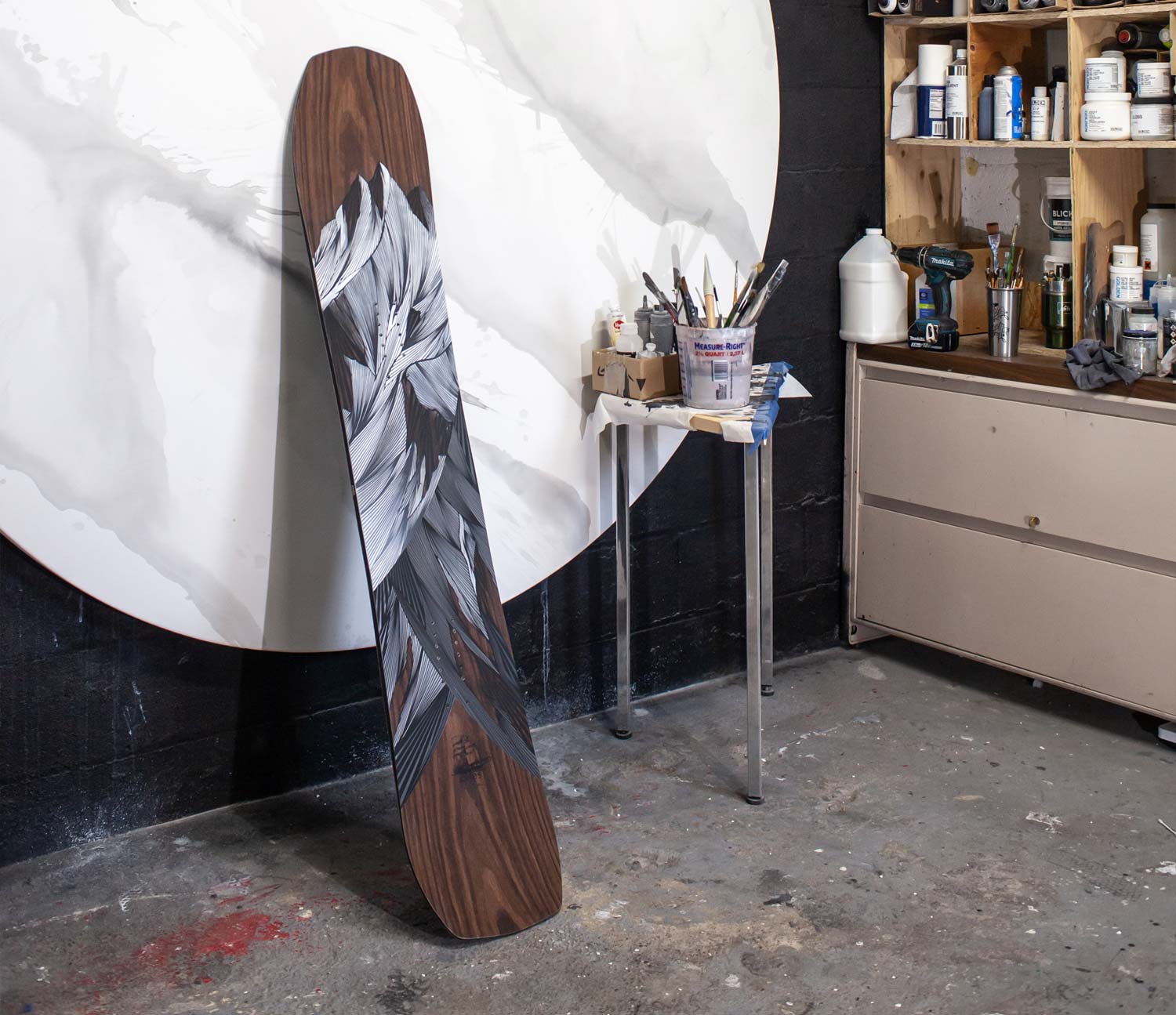 Really cool how you blend analog and digital mediums in your art. Can you explain that process?
For sure, my work flips back and forth between analog and digital throughout the entire painting and graphic design process. I start in analog, just me being out in the mountains and looking at the peaks, getting inspiration. Then I go digital as I shoot photos of the mountains to use as reference images. Next I do preliminary sketches of my idea in analog, then move back to digital as I plan out the actual composition of the painting by chopping up the reference images in photoshop. Once I have the perspective I like using the digitally rearranged reference images I'll start the actual analog painting process. When the painting is complete, I make a high resolution digital file by taking multiple photographs of the canvas and stitching them together like a panorama. From there I post process the digital file and seperate layers such that I can enhance backgrounds or pull out lines from the background. Once that's all done I have the digital file that gets used for the snowboard graphic.
Do you always try to represent real mountains in your work?
No, I don't always paint actual peaks. Sometimes I just have a loose idea of the look of a peak that I'm going for so I'll combine elements from a real mountain onto a different shape to create my own mountain. Other times I paint actual peaks or mountain ridges and focus on making the painting accurate to the eye of someone who knows that mountain. In these paintings I want the viewer to be able to pinpoint where a couloir is or what section of the ridge you drop in to ski. I enjoy treading the line of abstract and representational mountain art between different paintings.
What is your primary artistic focus beyond designing snowboard graphics?
Snowboard graphics and other commercial design work are only a small part of what I do now, maybe 20% of my work. The other 80% of my time is split between painting in my studio and painting big urban mural projects. The really big mural projects are what's getting me the most fired up right now. Most of the murals I've done are in Utah and Colorado. One of the biggest is in downtown Denver on the evo outlet building. I sell most of my canvas paintings and prints at the Slate Gray Gallery in Telluride, Colorado. I'll show anywhere from two to five of my paintings in the gallery space at a time.
What is your advice for aspiring artists who would like to design snowboard graphics?
Just becoming an artist or a designer is the first step. To do that you need to put in serious time and make a lot of work. I had to make a bunch of bad work to be able to make the work I make now that I'm proud of. And just because success or opportunities don't come overnight doesn't mean they won't come in the future. You just have to keep at it and keep evolving your style and what you create. It's also important to be your own harshest critic and always look at what you've done and think about how you can make your next work better.
Some of the boards featuring Joseph's art through the years