2021 Jones Backcountry Adventure Grant
Trip Report
Splitboarding in the Cascades with Skye Schillhammer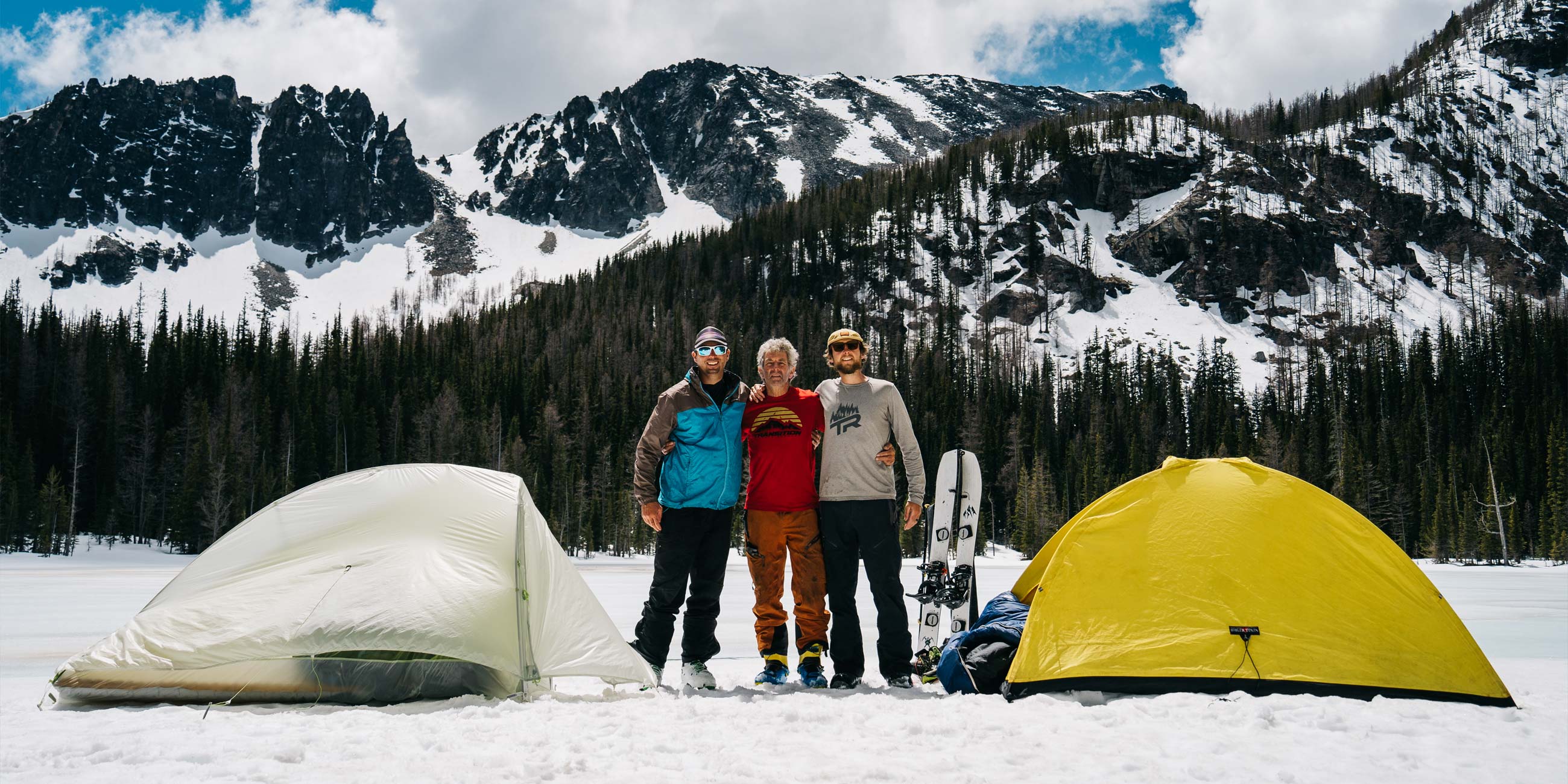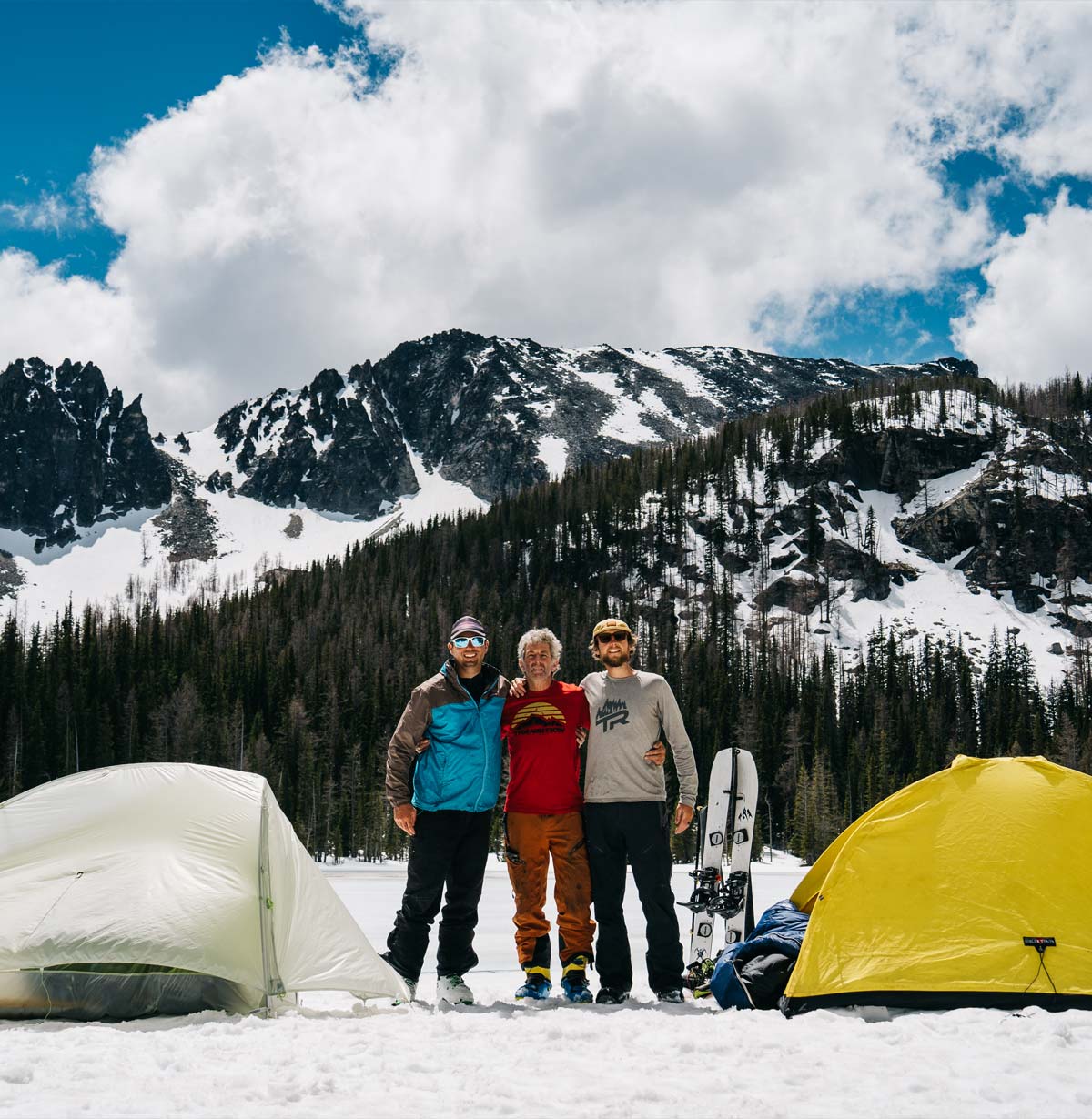 Thrilled to present a trip report from the 2021 Jones BC Adventure Grant winner - Skye Schillhammer of Darrington, Washington.

In May 2021, Skye used the grant to help fund a backyard splitboard tour into the North Cascades with his father, older brother and friends. They had originally planned an ambitious itinerary that would venture into the Beaverhead Range in Western Montana, but dangerous avalanche conditions demanded they change their tour plans just a couple days before heading out.

The goal of Skye's tour was to enjoy time with family in the mountains, so changing their destination didn't deter from that focus. Their plan B adventure overcame even further obstacles, yet still succeeded in being an amazing week of sharing in the thrill of splitboarding across the generations.

Check out Skye's trip report, video and photos to get inspired to start working on your application for the 2022 Jones Adventure Grants.

Fallback to the North Cascades
Trip report, video and photos by Skye Schillhammer
I've learned almost everything I know about winter mountain travel following on the heels of my father, Gary, and my brother, Carl. Our family has spent decades exploring the mountains surrounding our hometown of Darrington, WA in the Pacific Northwest.

For this Jones Adventure Grant trip, I had hoped to embark on a splitboard expedition with my father and brother that would get us out of our comfort zone and let us explore a new zone unfamiliar to us all. Our proposed route was a four-day 28 mile traverse in the Beaverhead Mountains of Western Montana. For the best possible shot at pulling off the tour, we all put a ten day window on the calendar this spring to try and make it happen

In the week leading up to our trip window, we watched the Beaverhead Range get fresh snow, thunderstorms, more snow, more rain, and then a couple days of 70 degree sunshine. Despite a strong desire to go regardless of conditions, we knew avalanche danger in the region would be extremely high and it wasn't worth risking even tip-toeing around out there.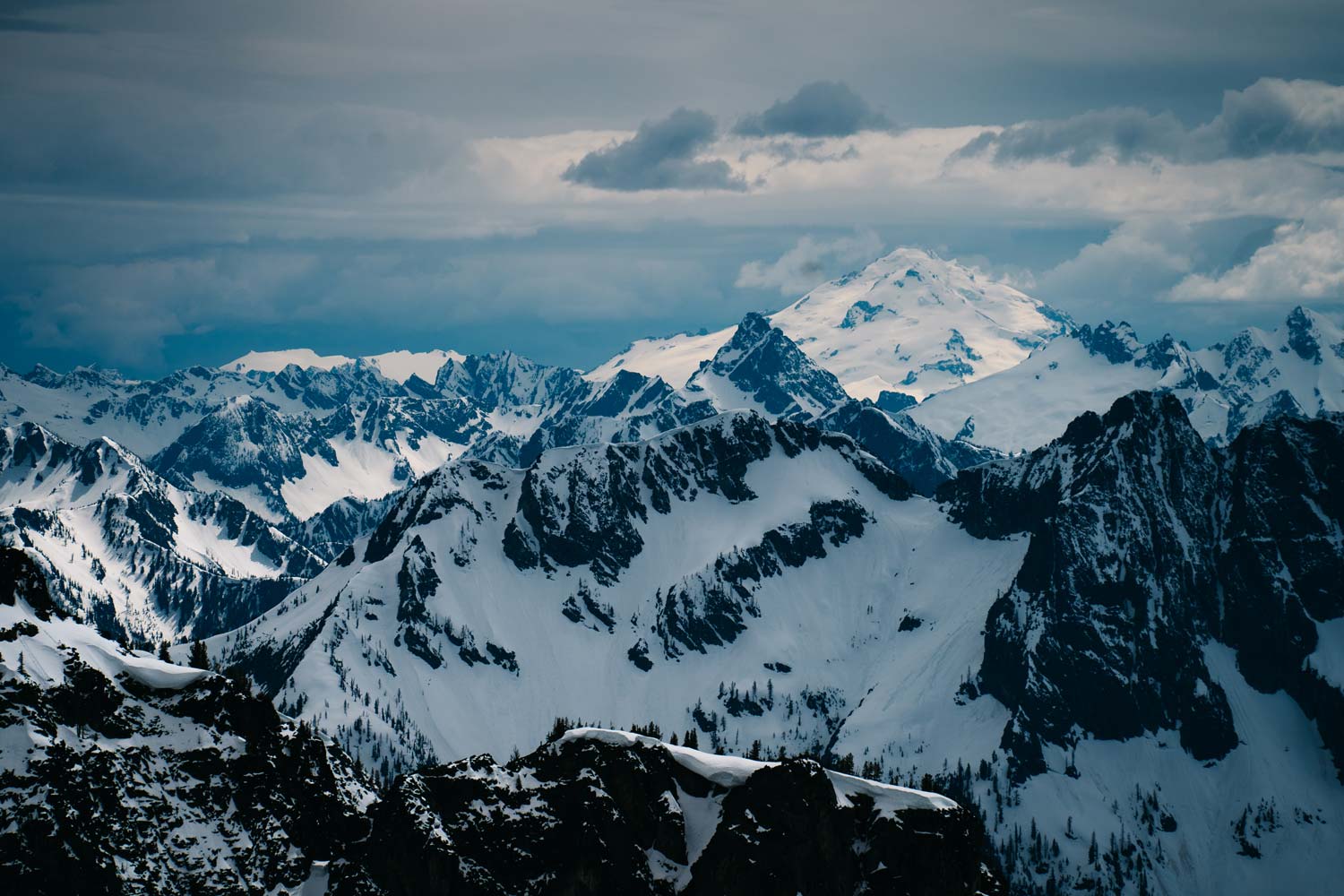 Mt. Baker and the stacked ridges of the North Cascades.

We all still had the time off, so we started plotting a plan B. Looking across the entire northwest, this storm series had wrecked conditions almost everywhere. The best option became some of the mountains we knew the best, our backyard! Going to a place in the North Cascades where we had experience with the terrain and snowpack would allow us the best chance to get a taste of the adventure we were after, while staying as safe as possible.
My brother Carl and my father Gary slug out the climb to camp.

Day 1 - First night, first tracks
Having driven Highway 20 through the North Cascades countless times, we knew of a seldom traveled area on the pass near Fisher Peak. We called up a few of our friends to join, and headed into the unknown. This adventure kicked off like all good treks through the mountains, with creek crossings. Each one demanded a treasure hunt for a solid downed tree to cross, as staying dry was high on the priority list heading into the high country.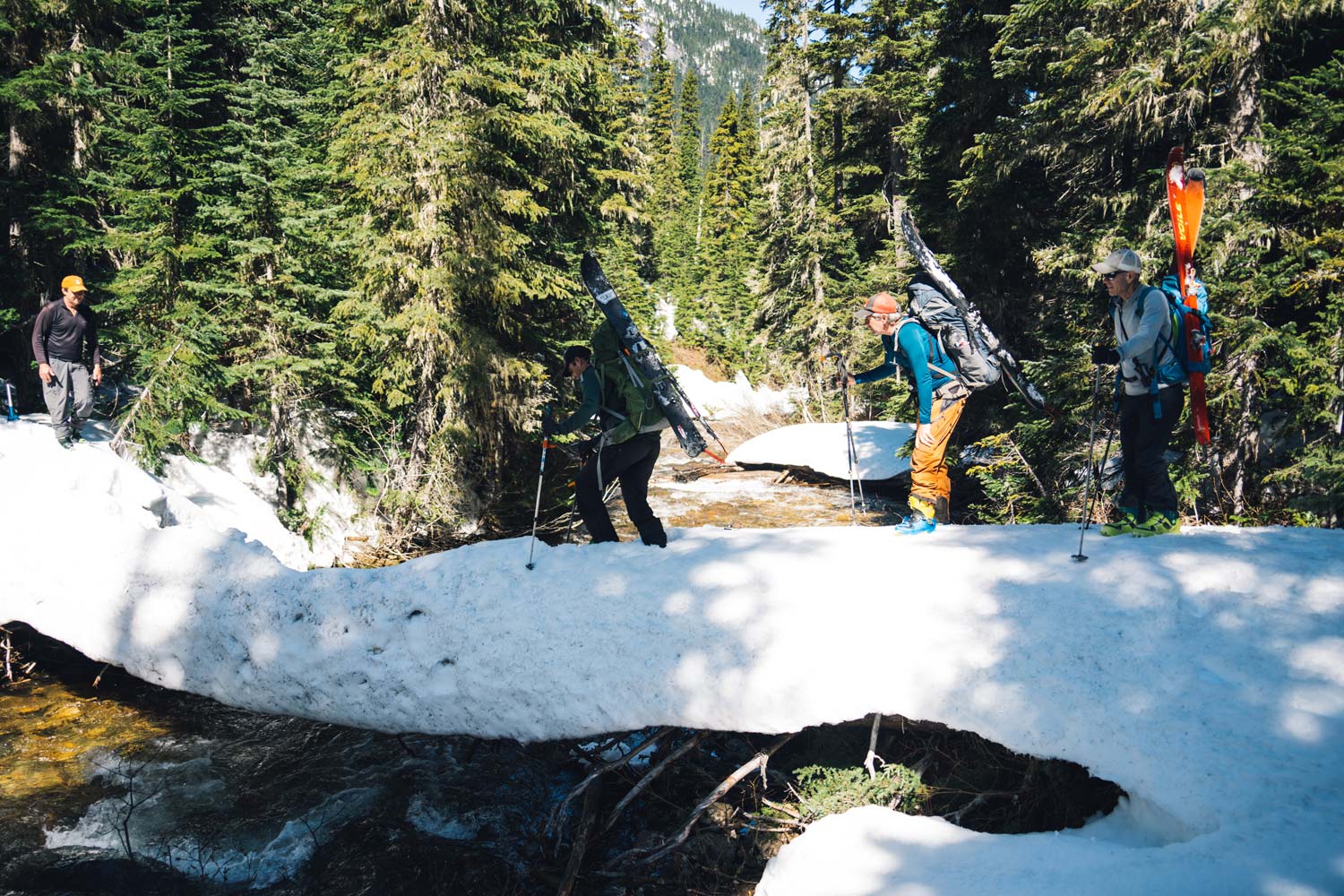 One of many creek crossings enroute to camp.

After a few hours moving up through the old growth forest, we poked out into a bright and open basin. The wide open views were a welcomed sight, but the midday sun was cooking the snow. Arriving at our intended camp spot, we quickly dropped our heavy packs and started kicking our way to the pass above. Almost four thousand feet later we crested the ridge, and were rewarded with incredible views all around.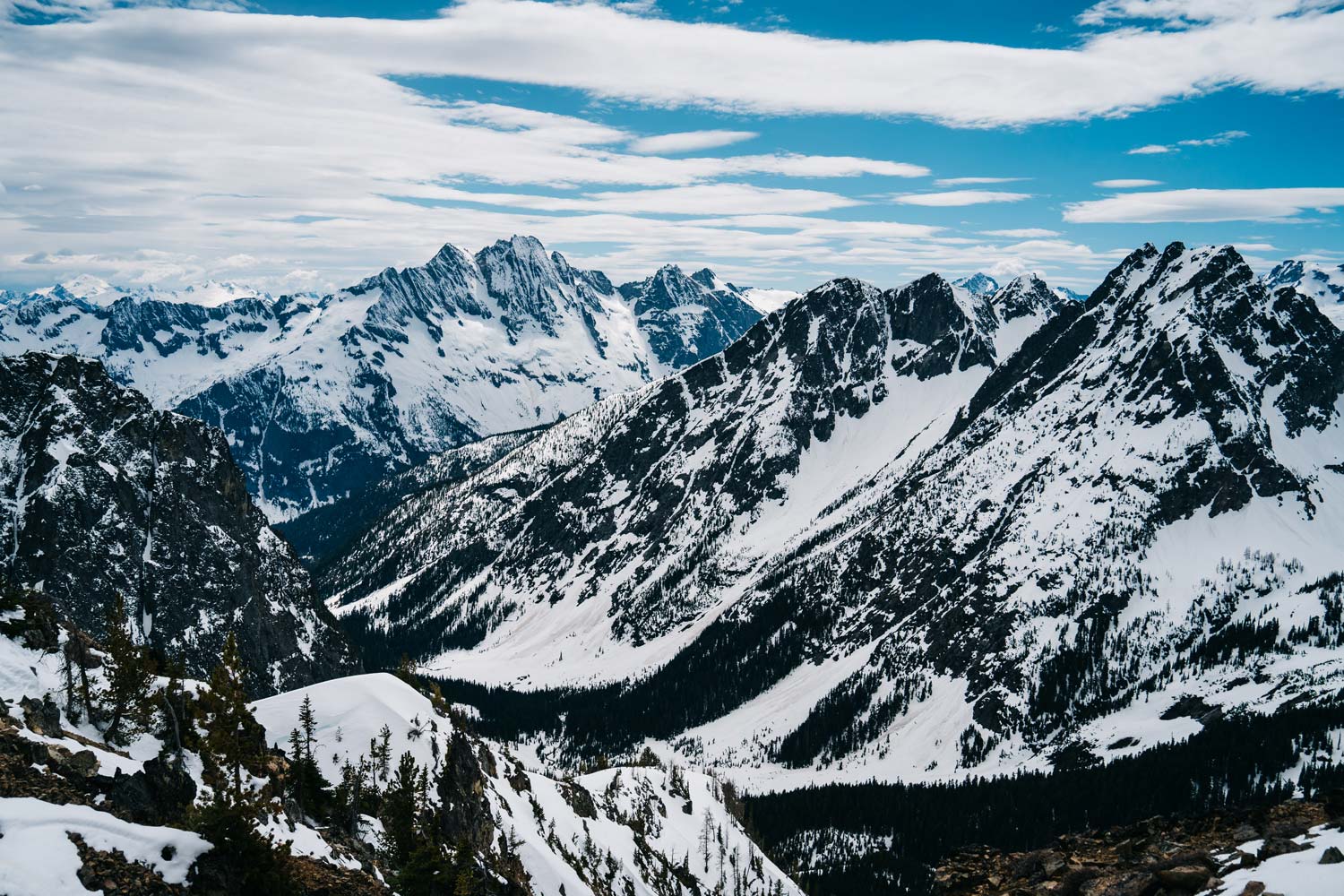 The view from our highpoint - miles of ridgeline to mind shred.

We celebrated our first big ascent of the trip over lunch and then geared up to drop in. The sun had cooked the snow so it was a sticky slide back down to camp, but super fun nonetheless. Back at camp, we took time to dig out our tent spots, make food, and enjoy the last bit of sunlight hitting the peaks around us.
Carl and Gary kickin' it at camp.

Day 2 - Skinning by ski strap
We woke up to sunrays trying their best to vaporize a thin cloud layer that had moved into the basin. In no rush, we drank coffee, and watched the moisture burn off as the morning slowly warmed up. Once the fog had dissolved, we begrudgingly slipped into our damp boots and set our sights on the mission for the day. Unfortunately, our momentum was quickly thwarted by a gear failure. One of my dad's binding toe pieces was missing a pin - a vital component for uphill travel in his hard boot setup.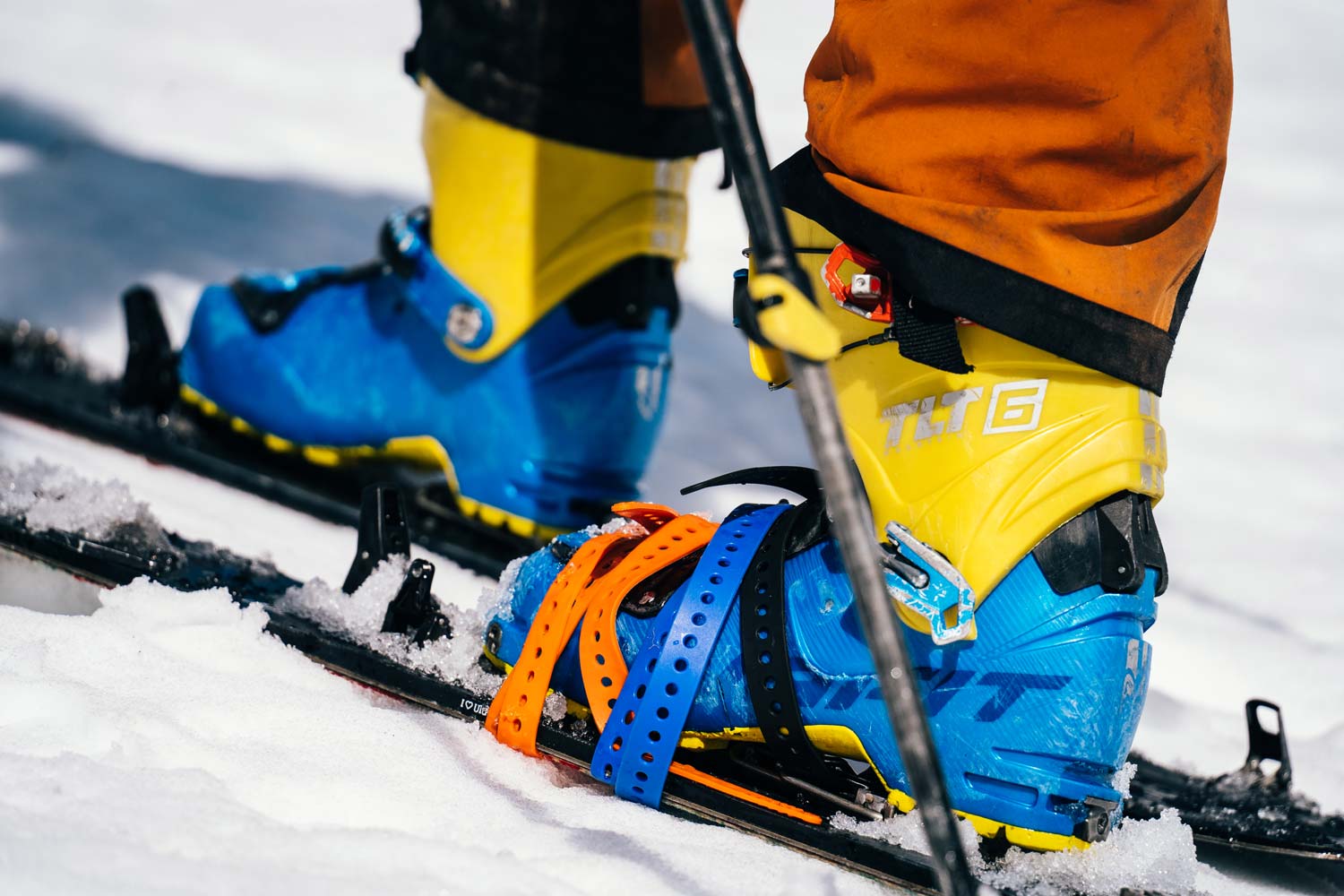 A broken binding brought back to life.

We put our heads together for a solution, and realized that like most situations, the best solution was the simplest one - ski straps! We emptied our bags and used a combination of ski straps to fashion a somewhat functional touring setup that would prove to be capable for the day.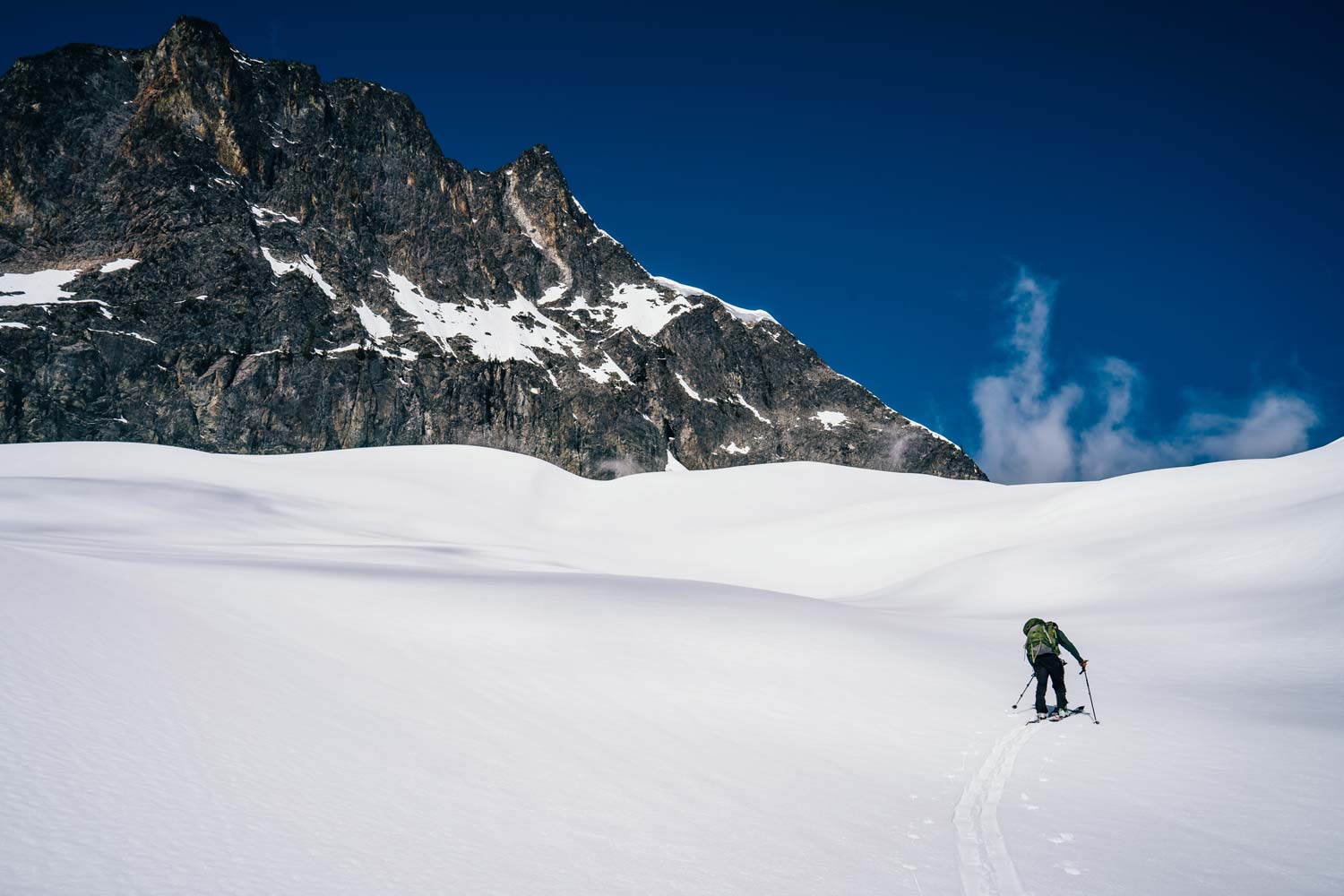 Enroute to another epic view.

We slowly and carefully made our way up to a pass in the opposite direction of the previous day. This route had us traveling through large open rolling slopes, surrounded by large peaks. It was the type of climb where every few steps you are rewarded with a new breathtaking view.
My dad Gary and his trusty Ultracraft Split.

Miraculously my dad's makeshift binding held together, and we ripped the skins for a long lap back down to camp. The morning sun had already begun cooking the snow which caused small natural releases on many of the valley walls.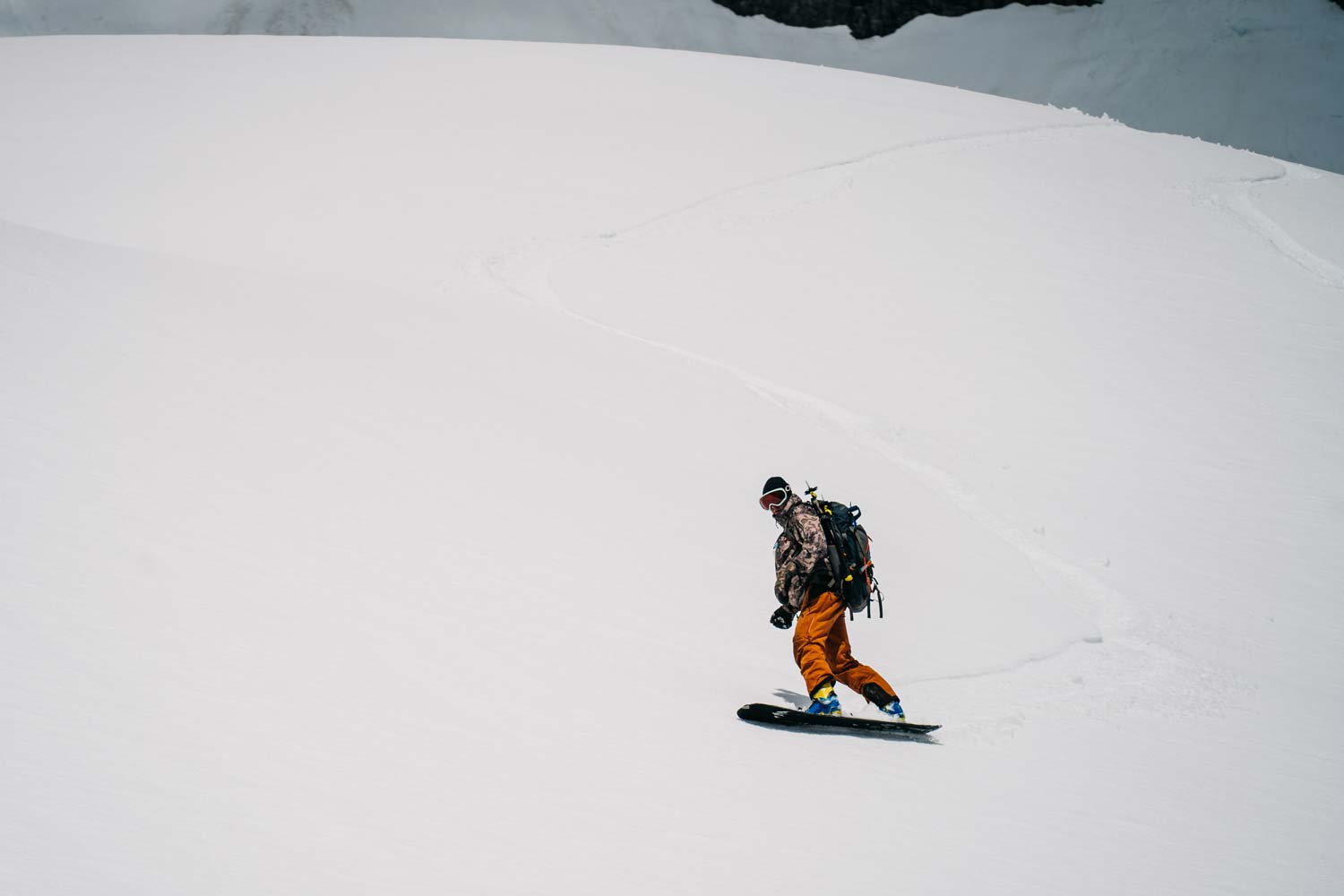 Gary carves it up on the way back to camp.

The rising avy danger coupled with shaky confidence in my dad's binding set up forced us to make the tough call to head back to the trailhead that afternoon. We packed up camp, and struggled our way through manky, pine needle forest, motivated by a cooler full of beers waiting for us back at the truck.
On the move toward the next adventure, Gary and Carl start up the trail to Crater Lake.

Day 3 - Scouting for the next adventure
Back in civilization much sooner than anticipated, we fixed my dad's binding and then immediately began searching for a zone within a day's drive that held worthy snow conditions for another quick overnight tour. Between Montana, Idaho and Washington, the best conditions we could find looked to be just a few miles east of us in another North Cascades zone in the Okanogan-Wenatchee National Forest. We hoped a weather window promising cool nights and sunny days would provide the buttery spring turns we were searching for.
No snow, no problem on the way to camp.

Day 4 - Crater Lake bound
With boards on our backs and hiking boots on our feet, we headed out for adventure number two of the trip. We set out for Crater Lake, a high alpine lake surrounded by open slopes and fun couloirs on all sides. The approach began on foot, but soon became an annoying mix of skinning and hiking until we gained enough elevation to hit consistent snow. Just as we crested into the basin, a small squall moved through and created a dramatic scene over the lake. We set up camp along the shore and layered up for a cold evening at seven thousand feet.
A magical morning on the lake shore.

Day 5 - Coffee and couloirs
To our delight, the morning sun illuminated our tents which got us up early to drink coffee and scope lines from camp. It was going to be a warm day, so we got geared up and headed out soon after breakfast to avoid the hot pow we had experienced in the last spot.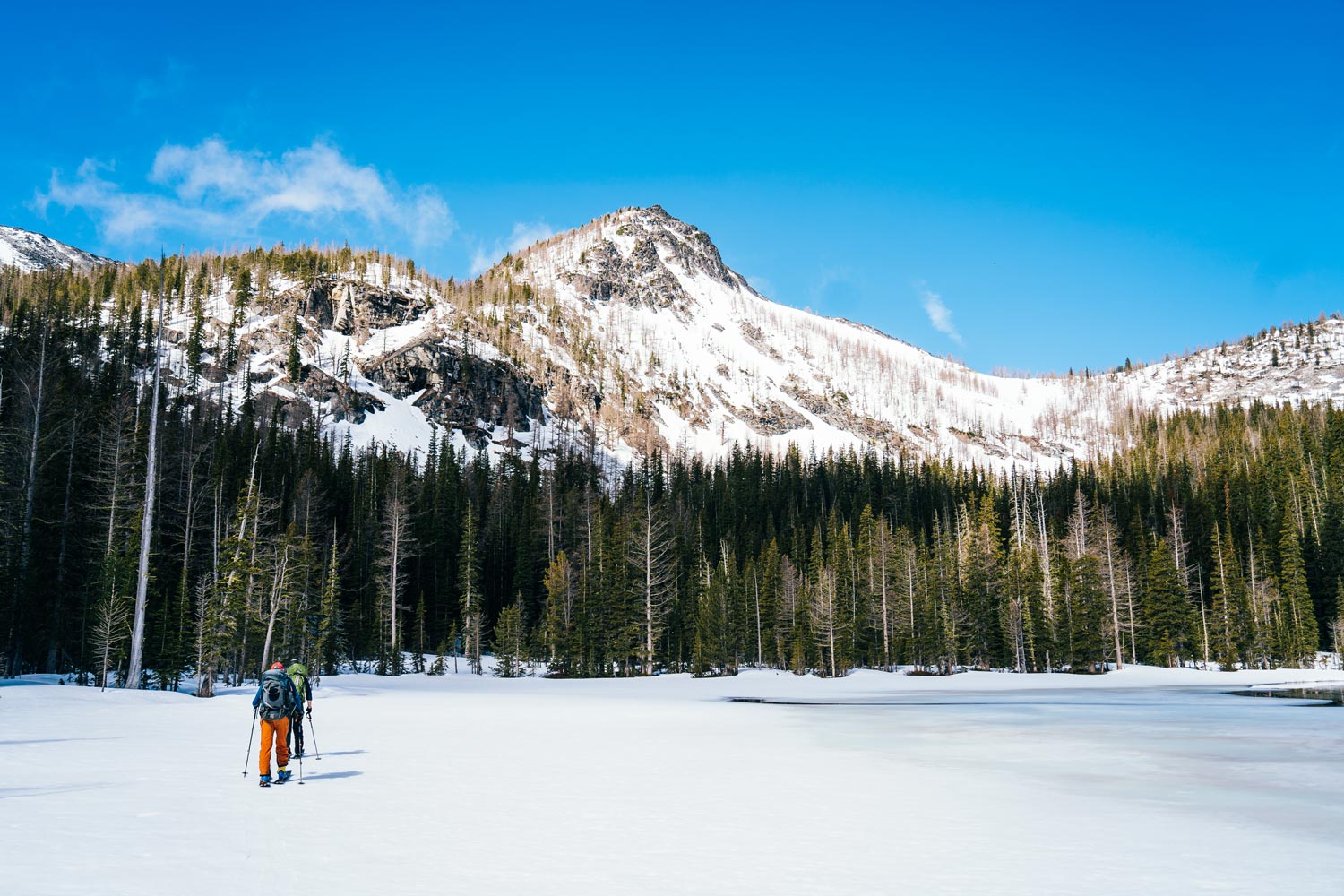 Crossing the lake to start the day's tour.

Above the open slopes we had the option of multiple short couloirs with nice aprons below. We picked off the longest and steepest cute first, then proceeded down the ridge until all the choicest chutes had been checked off.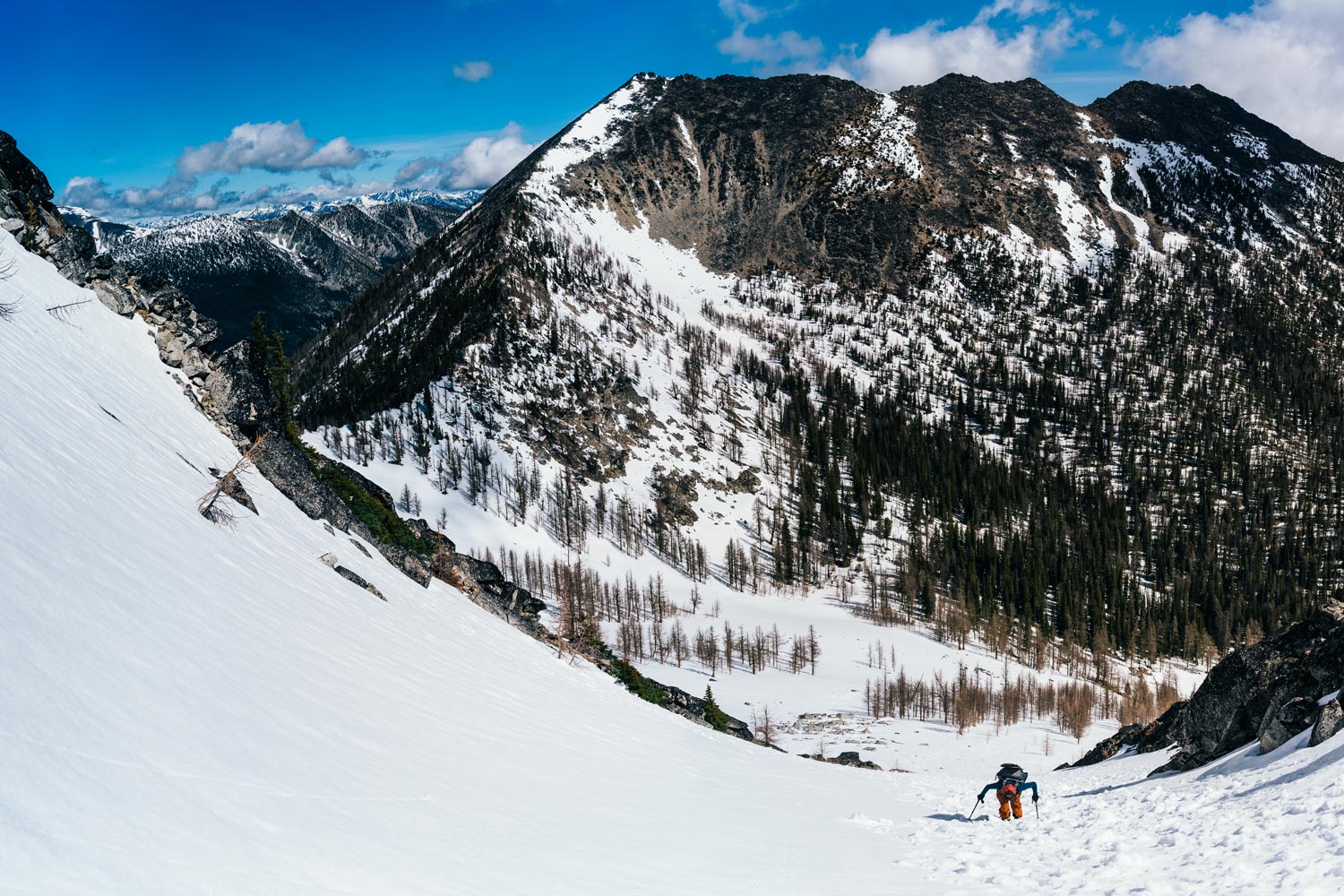 Onwards and upwards to get the goods.

The entry to each line was a bit firm, but softened after only a few turns. This is what we were after! Silky soft snow that wasn't too sticky. We lapped the chutes until we had our fill, then stopped for a long lunch on a rocky peak to soak in the surroundings.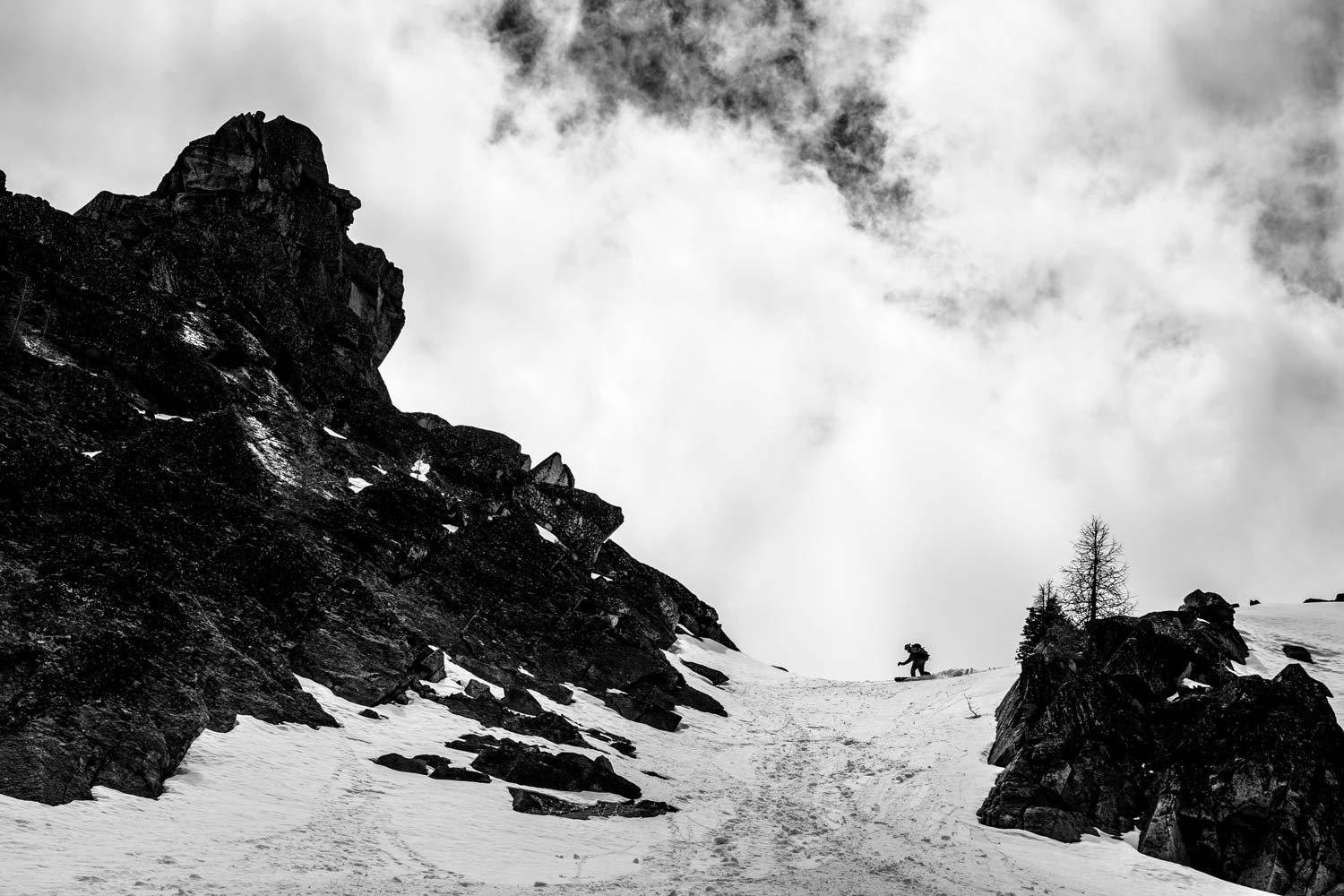 Dropping off the top into creamy dreamy snow.

As the sun rose higher, the snow got sticky, and our desire for more turns dipped below our desire for a cold beer. We rode back to camp and packed up a last run back down to the trailhead. It had been a quick trip, but all of us were stoked to have spent a safe and successful week in the mountains together despite the uncooperative weather.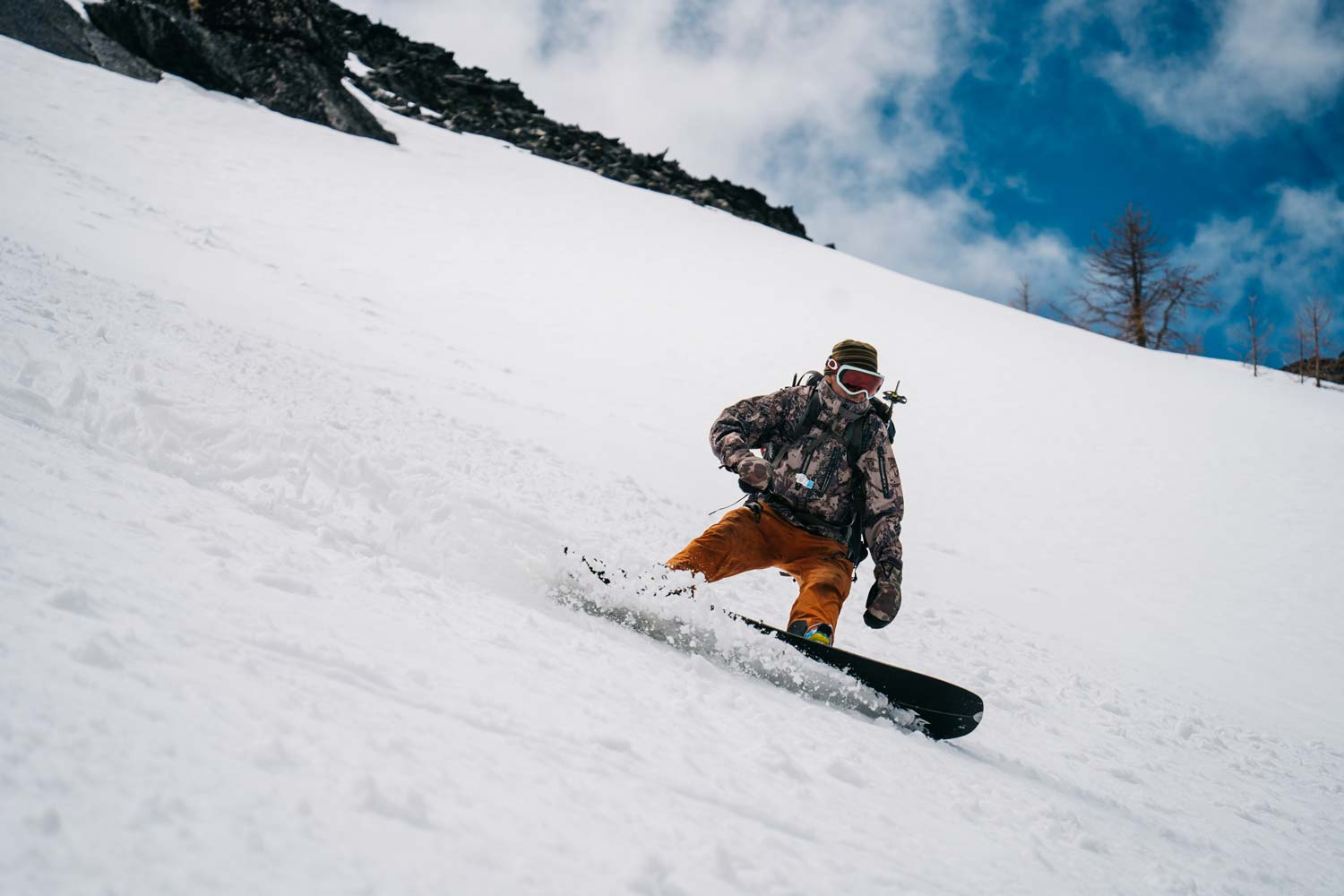 Gary in his element, gettin some!

Trips like this are something special to experience with anyone, and especially your family. While the three of us share a common passion for the outdoors, life often makes it difficult to just drop everything and head into the wilderness. The Jones Adventure grant was the spark of inspiration that carved out the window for us three to spend time together. We're all extremely grateful to both Jones and the American Alpine Club for this opportunity to create memories and share experiences that will stick with us forever.
Turn your dream adventure into reality.
Apply now for the 2022 Jones Adventure Grants.
Gear for your next adventure