Jeremy Jones drives his Storm Wolf  into classic Mammoth wind buff on Dave's Wave. / Photo – Andrew Miller
It was a one-storm wonder. A massive atmospheric river event that hit the west coast of the United States like a firehose and didn't let up for 72 hours. The California Sierra took the brunt of the record breaking storm, and in its wake the mountains from Lake Tahoe to Mammoth were covered in 3-5 feet of dense snow.

Had it been January the storm would not have been as notable. But it was only the last week of October! Or as we donned it, SHREDTOBER!!!

Jeremy Jones and the Jones team took full advantage of SHREDTOBER. They hit an epic opening day at Mammoth Mountain on October 29th, and then spent Halloween weekend tagging lines in the Mammoth backcountry.

 It was a season opener we won't soon forget, and in celebration, we're thrilled to share some spooky SHREDTOBER stoke. Start the journey with a poem from Jeremy Jones, and then feast your eyes on a slasher flick and photo gallery.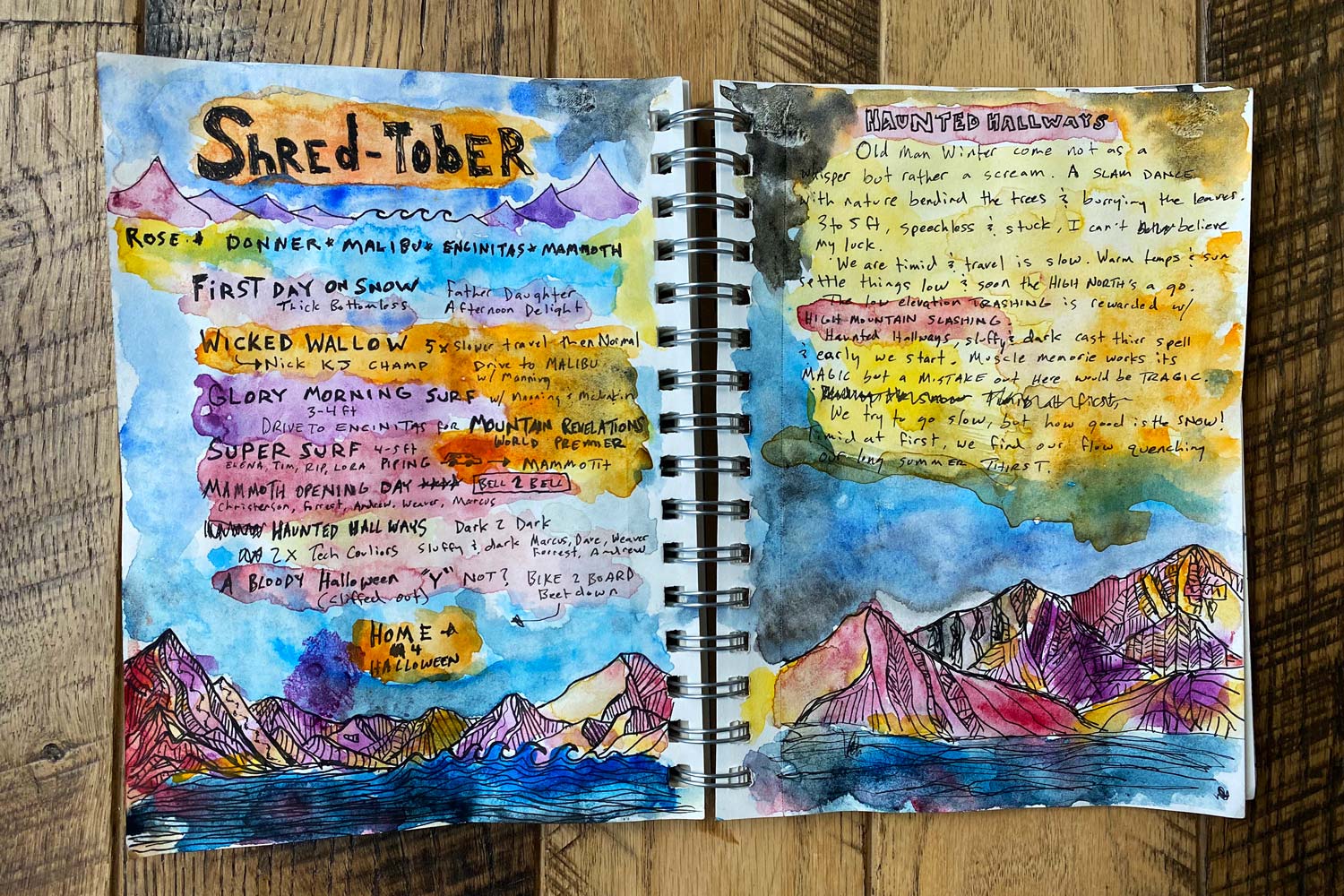 SHREDTOBER delivers an epic start to the 21/22 season. / Photo – Andrew Miller

Old man winter comes not a whisper, but rather a scream.
A slamdance with nature, bending the trees and burying the leaves.
Three-to-five feet, speechless and stuck, I can't believe my luck.
We are timid and travel is slow. Warm temps and sun settle things low, and soon high north is a go.
The low elevation thrashing is rewarded with high mountain slashing.
Haunted Hallways, sloughy and dark, cast their spell and early we start.
We try to go slow, but how good is the snow!
Timid at first, we find our flow, finally quenching our summer thirst.
All smiles, good to be back in the mountains with friends.
Spooky scenes from Shredtober
Video by Greg Weaver, photos by Andrew Miller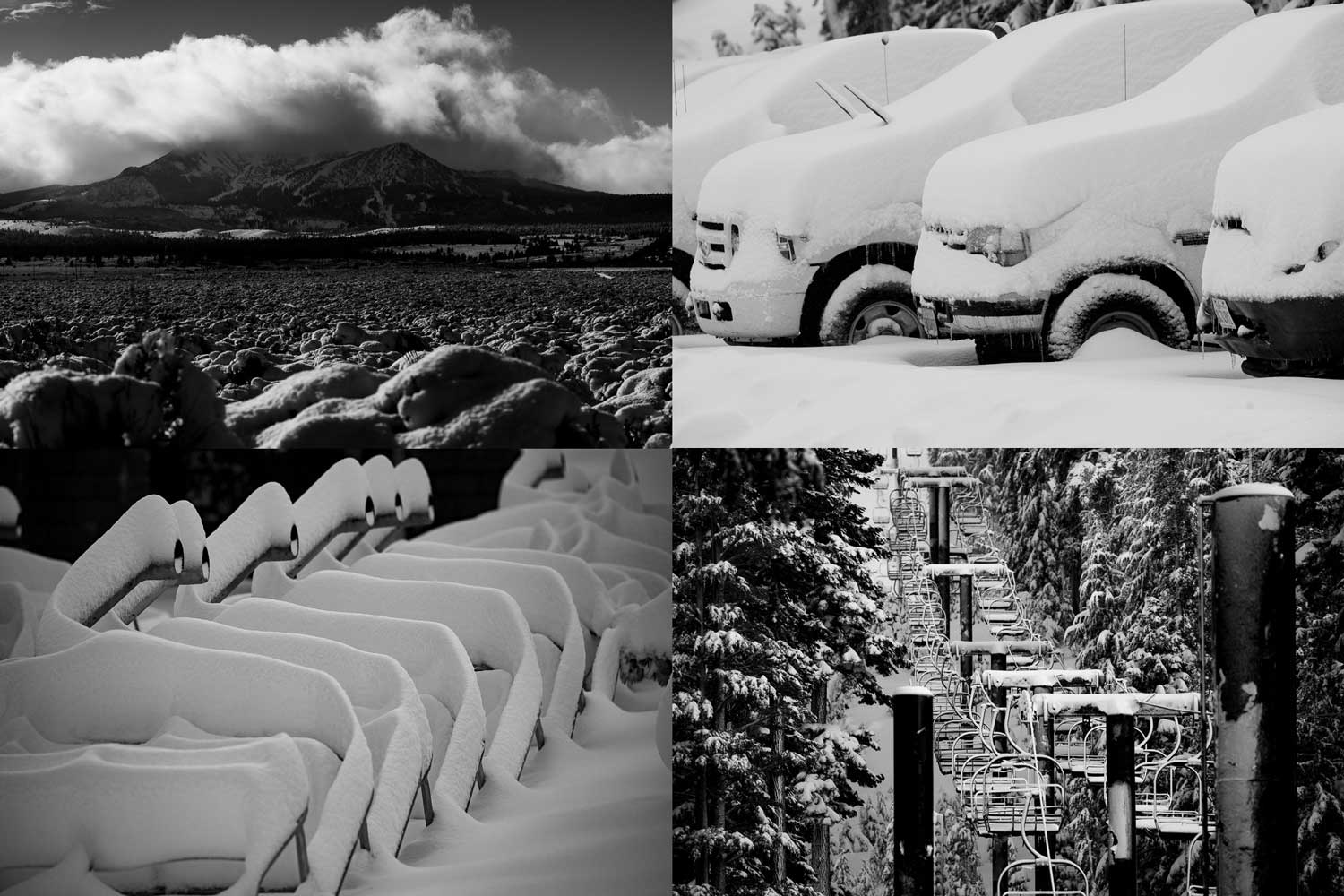 On October 25th, the first winter storm of the season pounded the Eastern Sierra. The storm caked the mountains with a dense spackling of Sierra cement.
With an "insta-base" falling overnight, Mammoth decided to open top-top-bottom two weeks early. Marcus Cassidy sinking into some of the best opening day turns he has ever had on October 29th.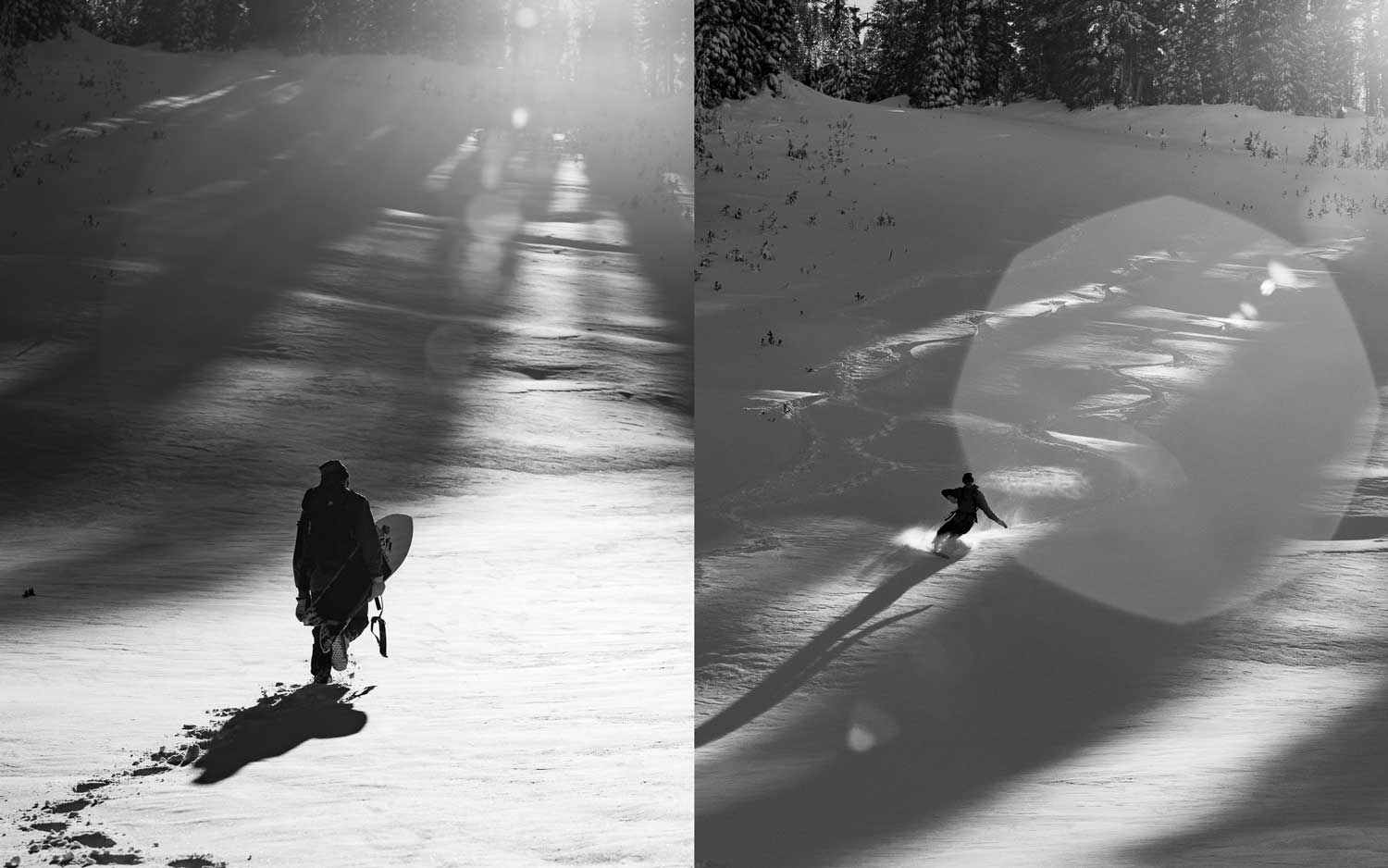 Before the resort opened, Jimmy Goodman kicked off his season with a pow surf session on his Mountain Surfer.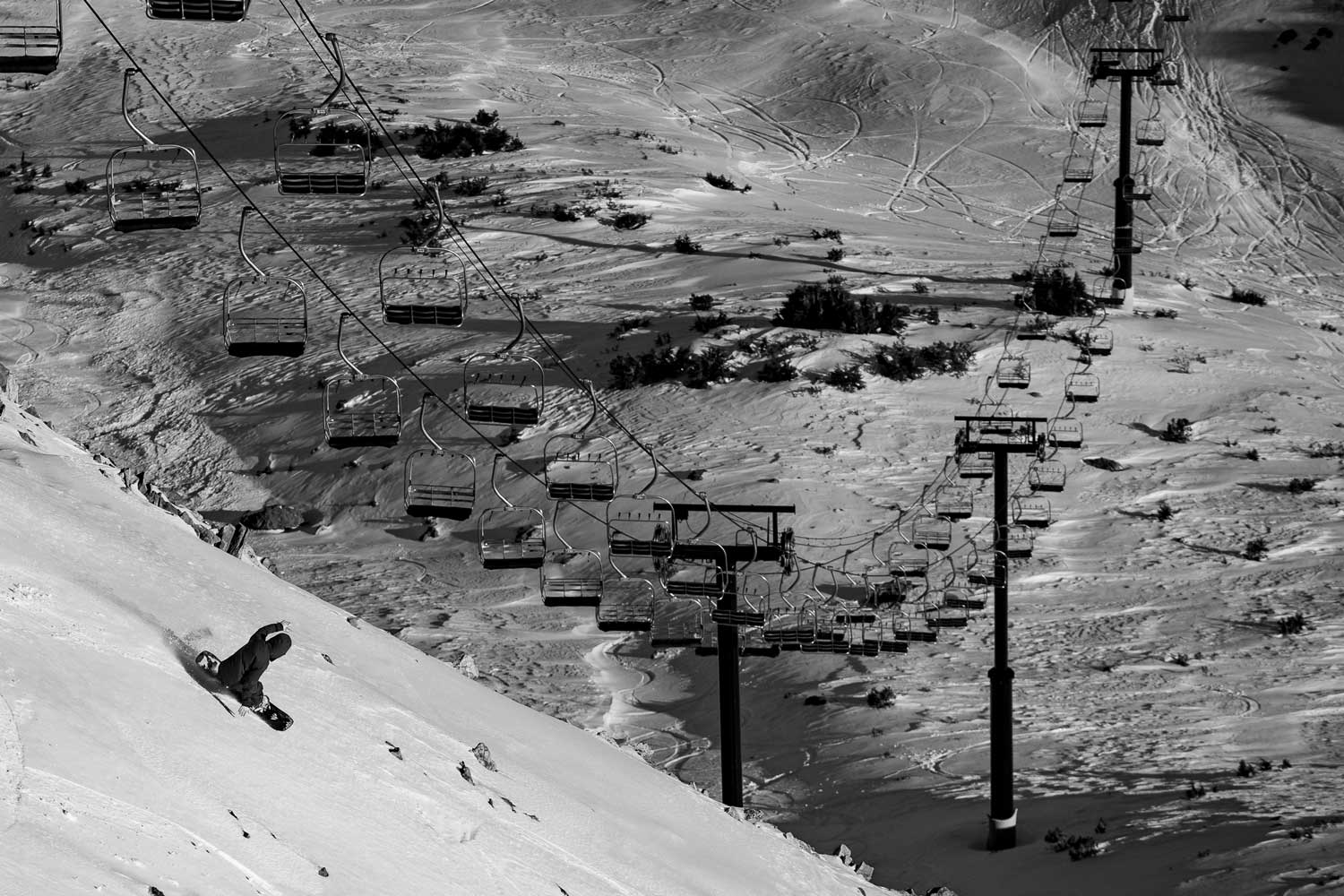 Forrest Shearer rips into the Dropout chutes under Mammoth's iconic Chair 23.

Jeremy Jones wastes no time getting straight into the business during opening day.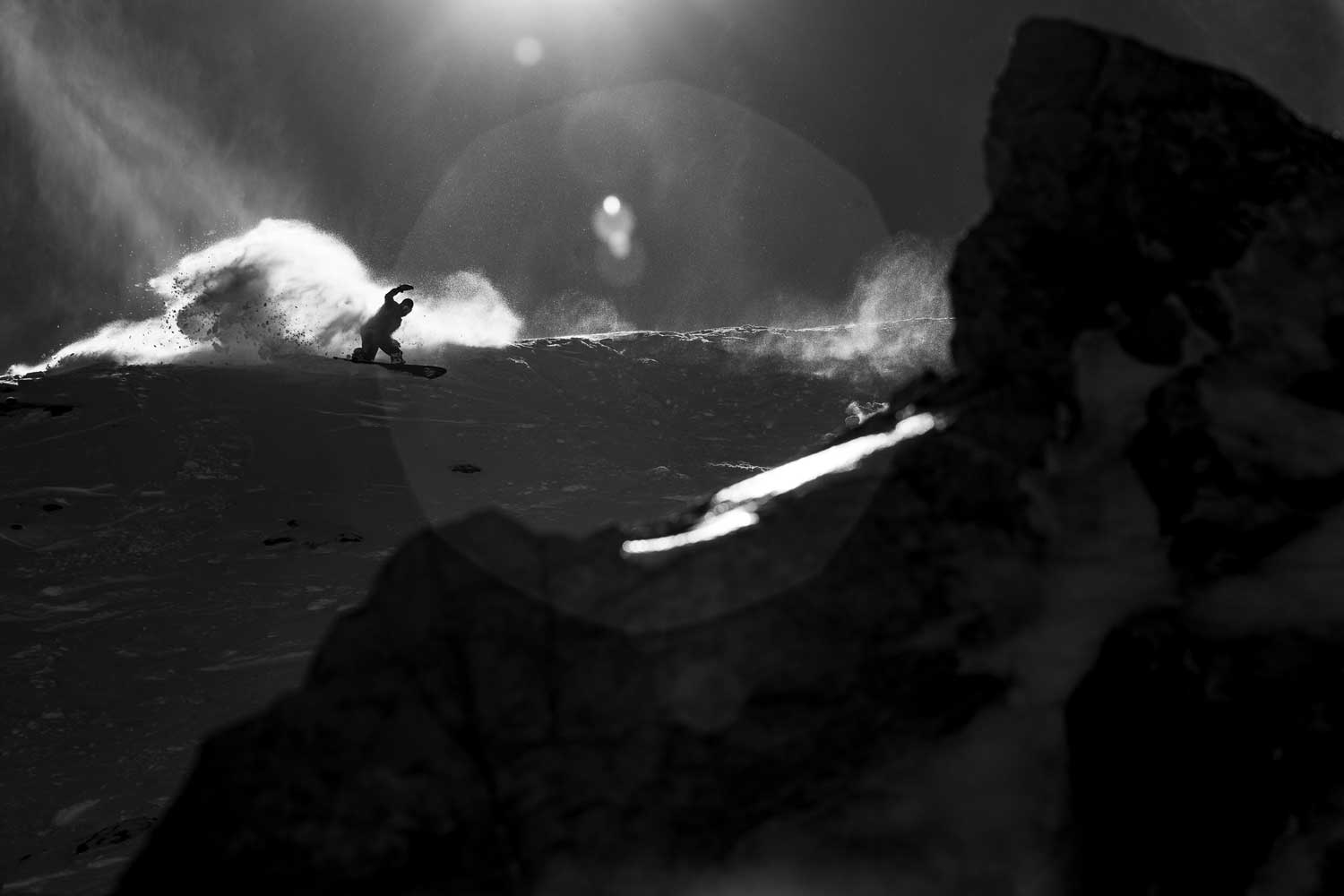 Chris Christenson claims he "never goes right", but couldn't help himself leaning into his Storm Wolf 158 on this backside wave.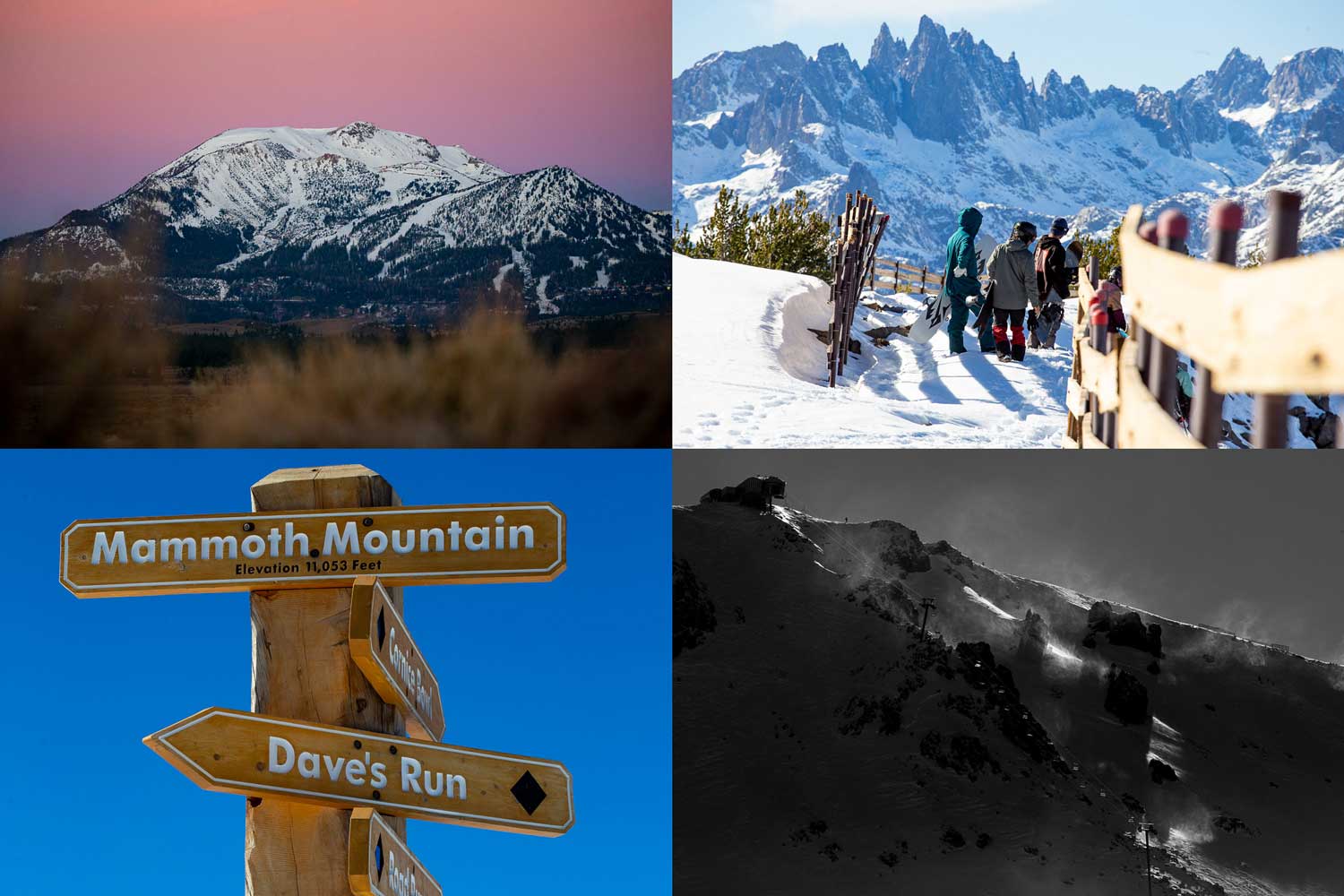 After a long smokey summer, seeing Mammoth dressed in white was a sight for sore eyes.
Opening day had it all - from powder, to wind buff to slush. Marcus Cassidy finding a smooth wave off the top.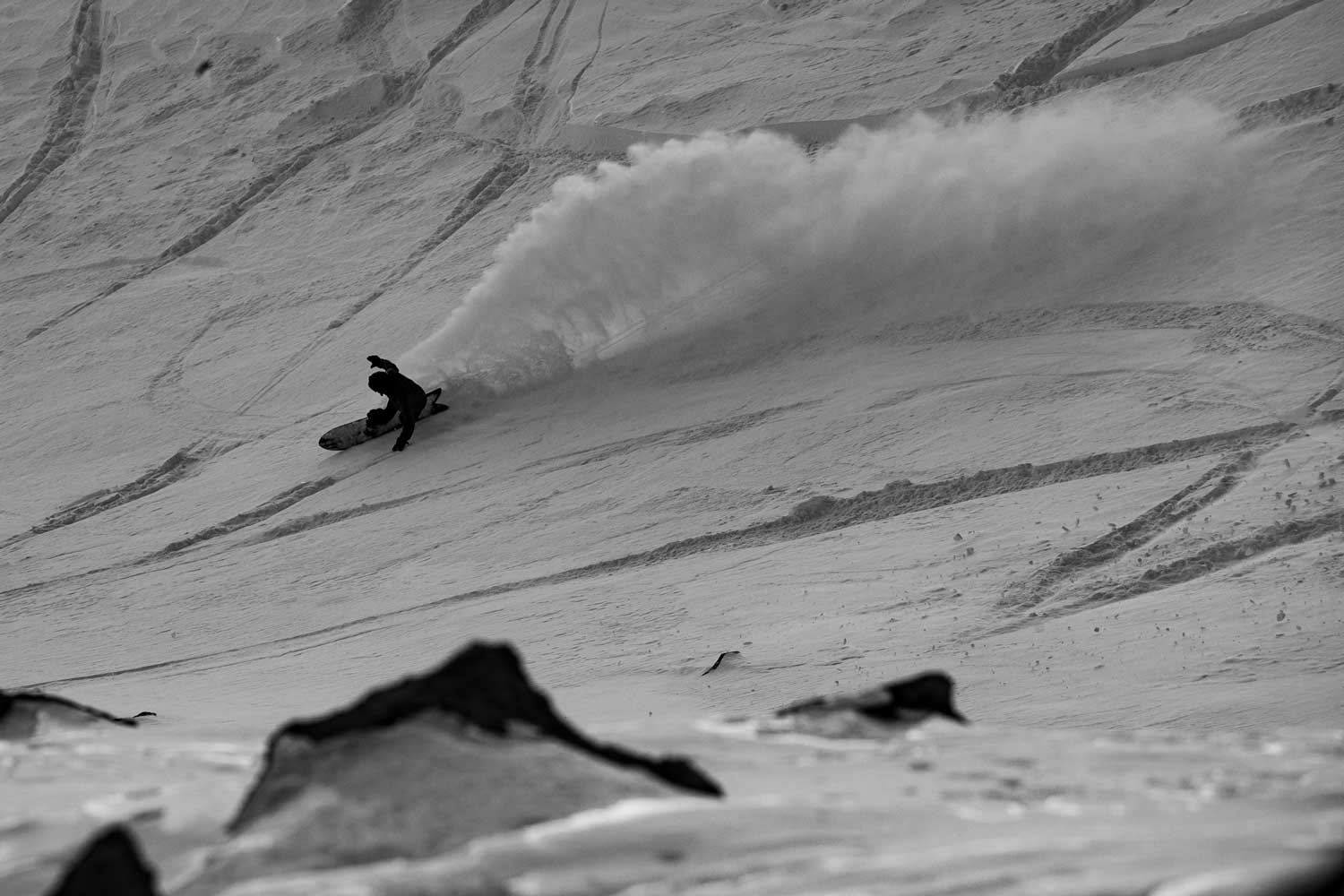 Jeremy Jones sticking to the shadows, finding great snow all day. Nothing like a bell-to-bell opening day in October!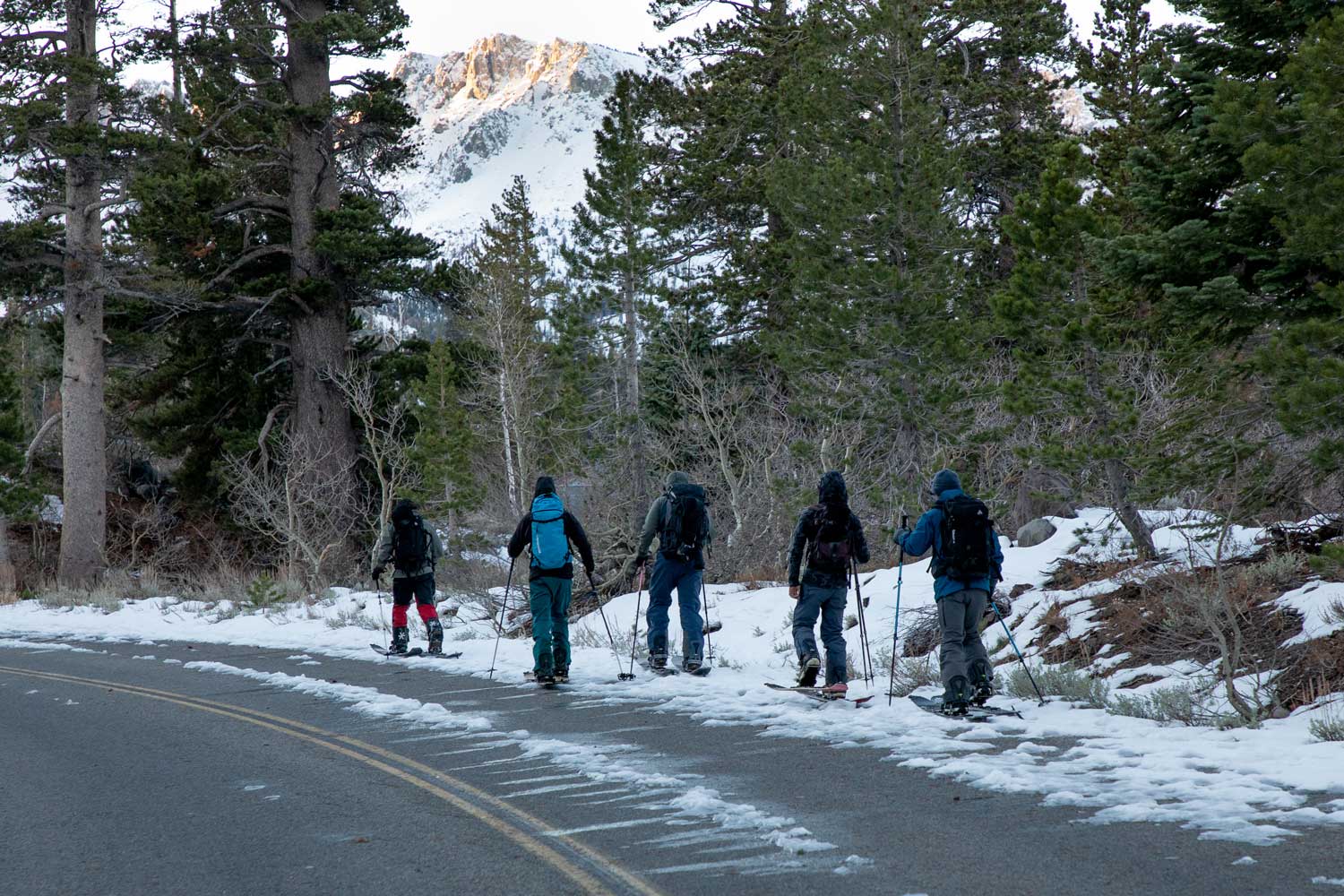 The Splitboard: The best tool to avoid opening weekend crowds.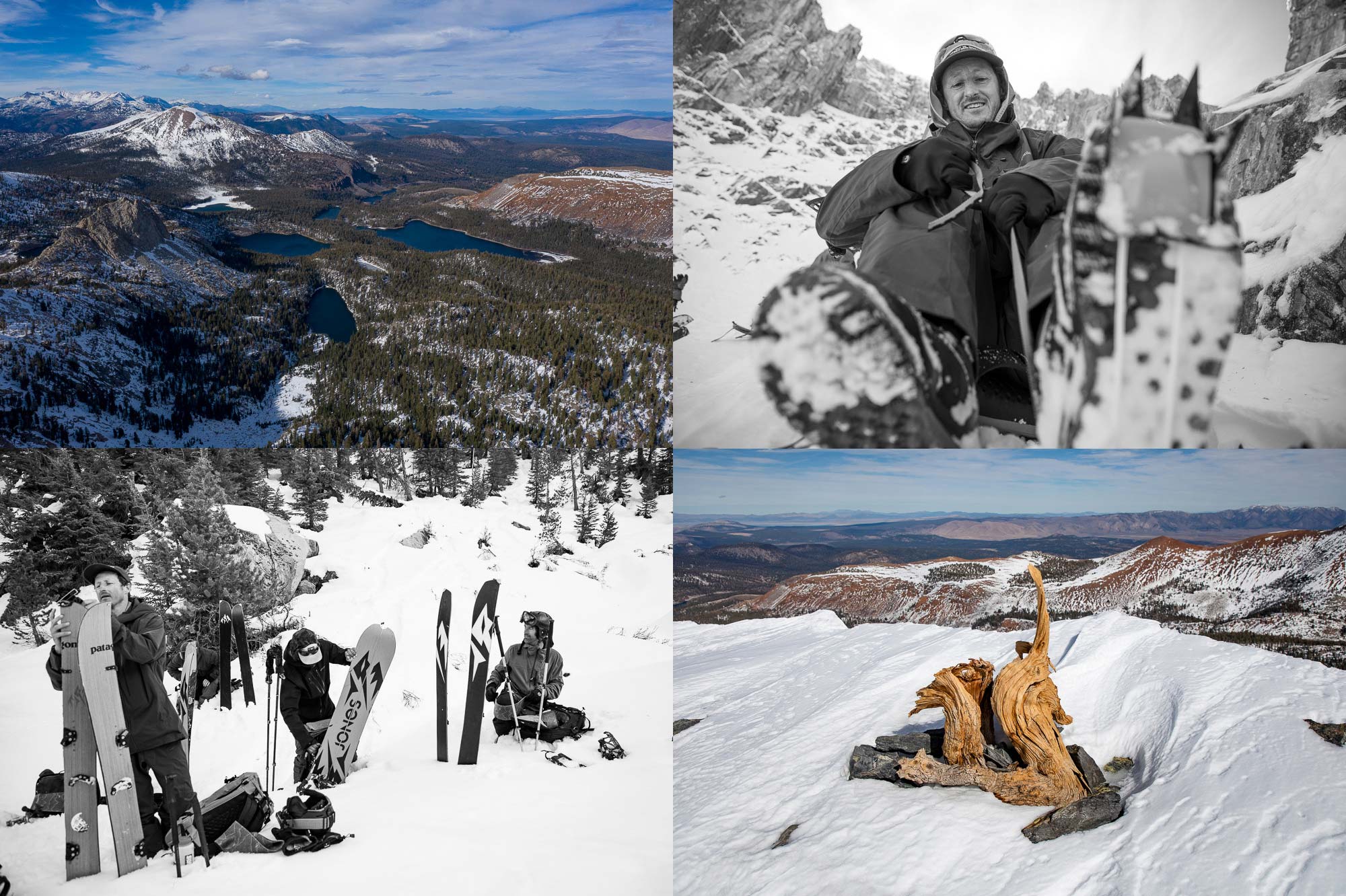 Opening day in the Backcountry, always great to be back in the High Sierra.
Dave Faustini dropping into an east side elevator.
From skinning on pavement to a solid base up high, early season missions are extra work, but worth the rewards.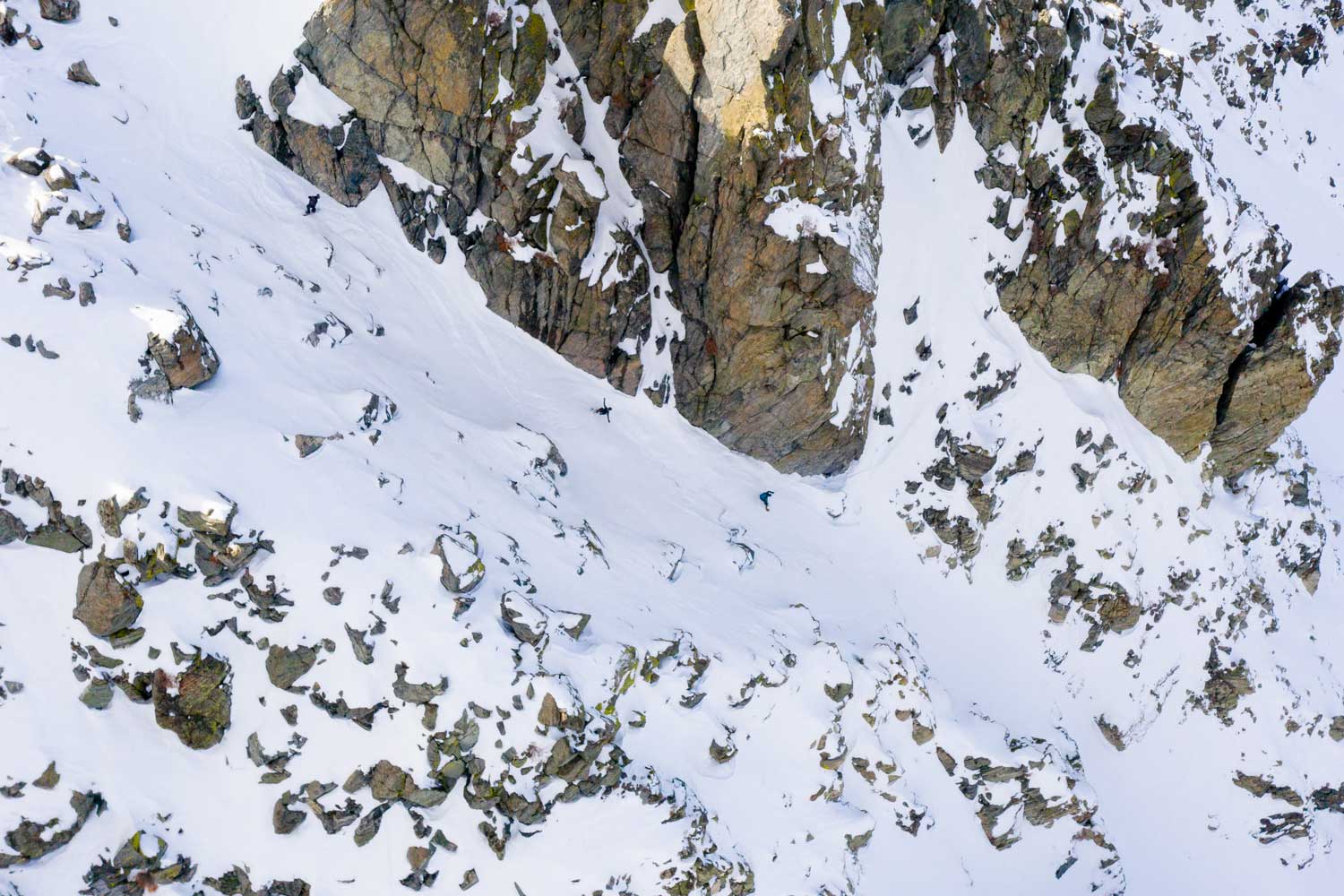 Party lap with Dave Faustini, Jeremy Jones & Forrest Shearer.
Marcus and Dave taking in the views while scoping for lines.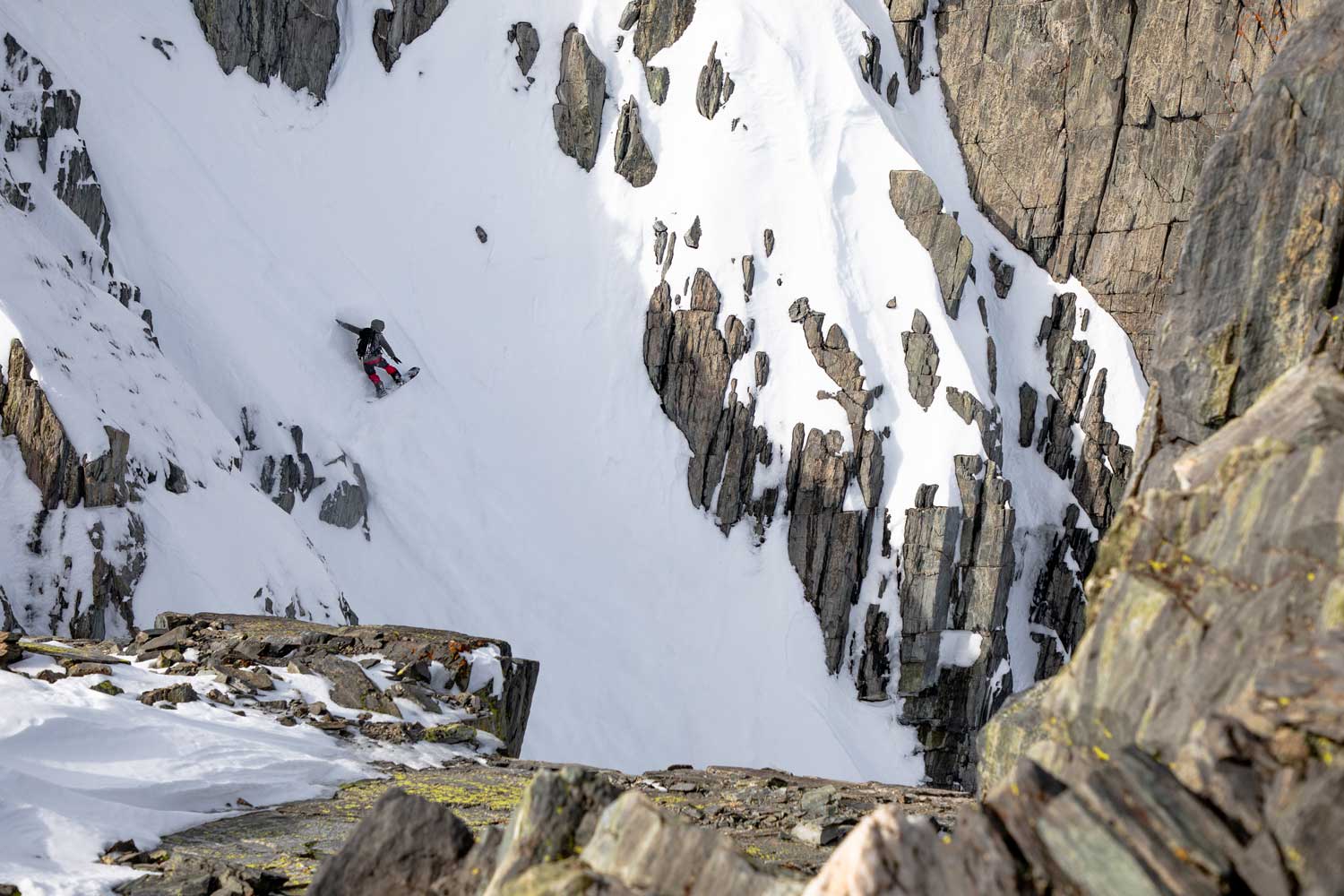 Jeremy Jones dropping into a haunted hallway for Halloween.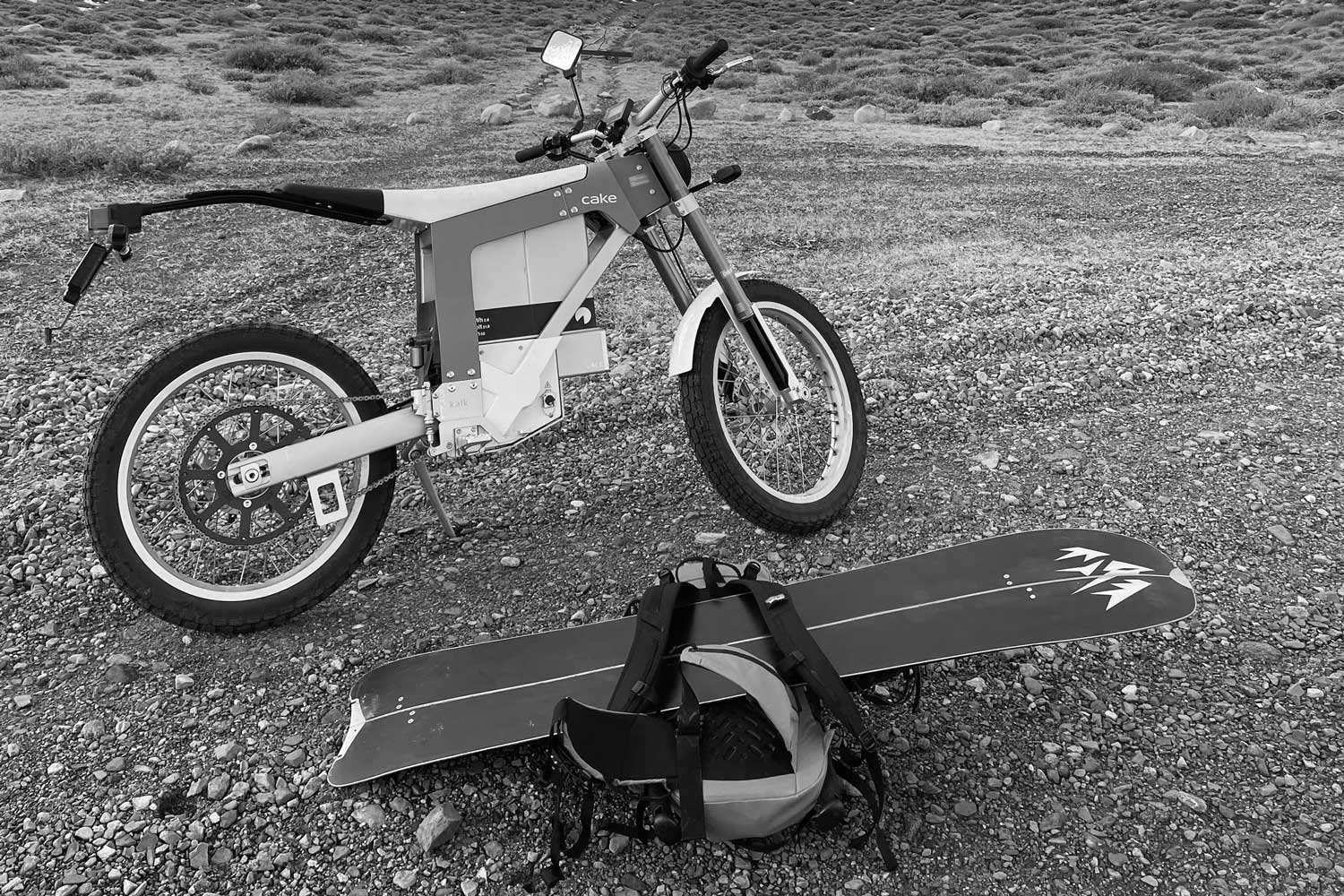 Forrest Shearer's Shredtober set up. The E-bike and Splitboard combo are key to unlocking early season zones.
This is how Forrest Shearer celebrated Halloween. Trick-or-treating Eastern Sierra style. /  Photo – Dave Faustini