Sunshine and Spines with Victor de Le Rue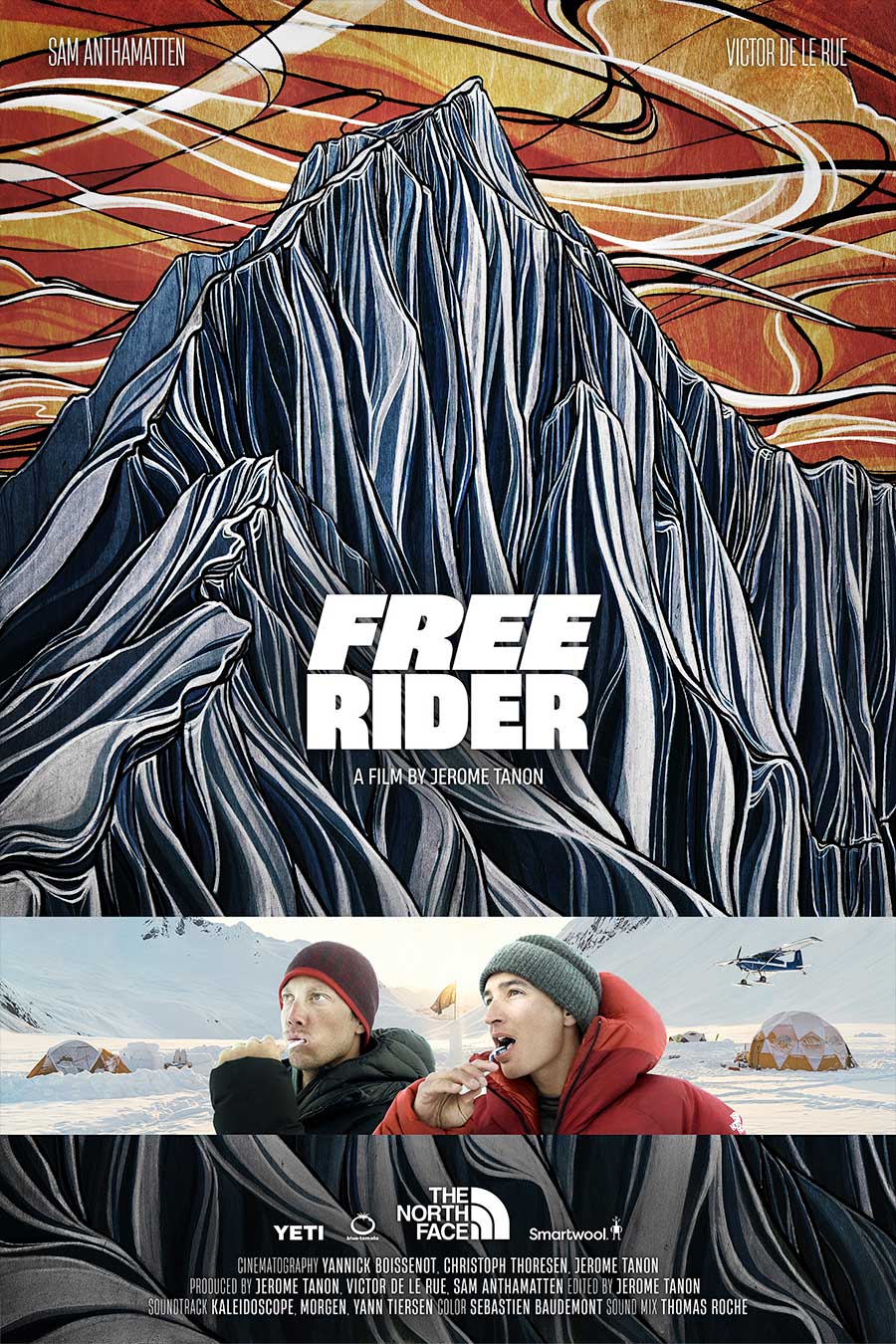 In April 2022, Jones rider Victor de Le Rue put an exclamation point on his season with an expedition to Alaska with skier Sam Anthamatten. Using a ski plane to set a base camp deep in the wilderness, they progressively worked their way up to riding some seriously scary spine lines. All the action from the trip is featured in a new film produced by Jérôme Tanon called Free Rider. The film will debut at film festivals this Fall, and be online this December, but read on for a special trip report from Victor to get stoked to see Free Rider soon.
Victor's spring 2022 Alaska expedition trip report
My inspiration for the trip was simple - to get out for a big adventure and live some cool new experiences in the mountains. Coming out of the pandemic I really needed to get lost somewhere and go on a hunt for something. I debated between trying to climb a big mountain or searching for deep pow. In the end we decided on the Alaska deep pow option. We would set a basecamp in a rad cirque for three weeks and try to ride some sexy spines!

The best guy for me to bring on an adventure like this was Sam Anthamatten, a skier from Zermatt who is the most complete athlete I know. He can do it all pretty much better than anybody! He's a phenomenal rock climber, ice climber, speed flyer and skier, and has a ton of experience in all the mountains. He's also a really funny guy that I fully trust in the mountains, both of which are important factors when you go on an expedition. When you want to accomplish great things, the vibe and experience of your crew is super important.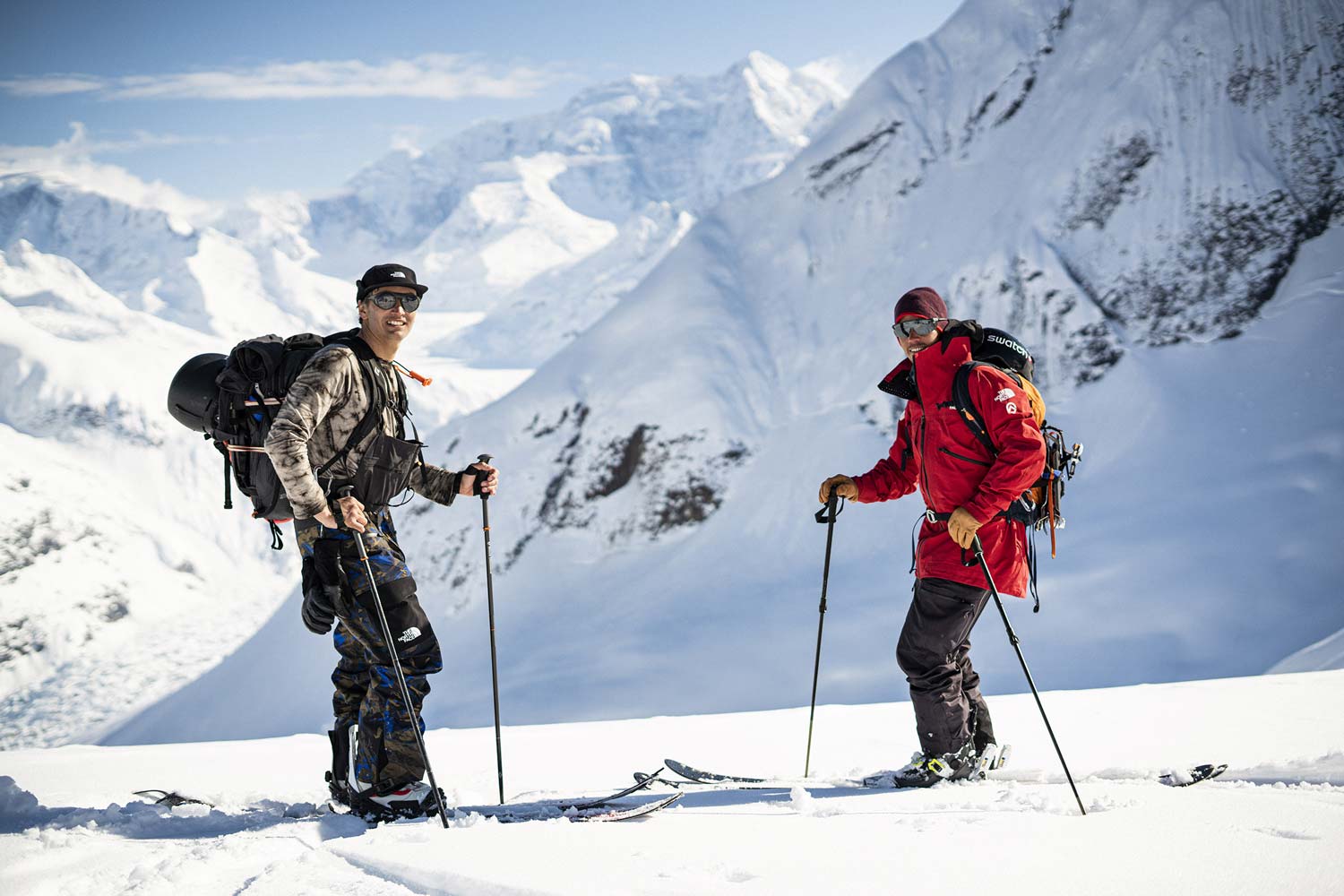 The biggest challenge of the trip was to find a good zone to place the basecamp. I feel like I spent weeks looking at maps over and over again trying to find the best locations. Once we had about five potential zones pinpointed on the map the next challenge was to get up in a plane and see them with our own eyes on a scouting flight.

You need a good weather window to be able to fly, and once you have sun, you need an available plane and pilot. And sometimes, even when you line up all this, you get out there, and then the clouds roll in and you can't see the mountains you came to scout. This happened to us twice. The AK season is very short, so it's stressful to keep getting set back like this. When a good weather window opens up you need to be out there making the most of it.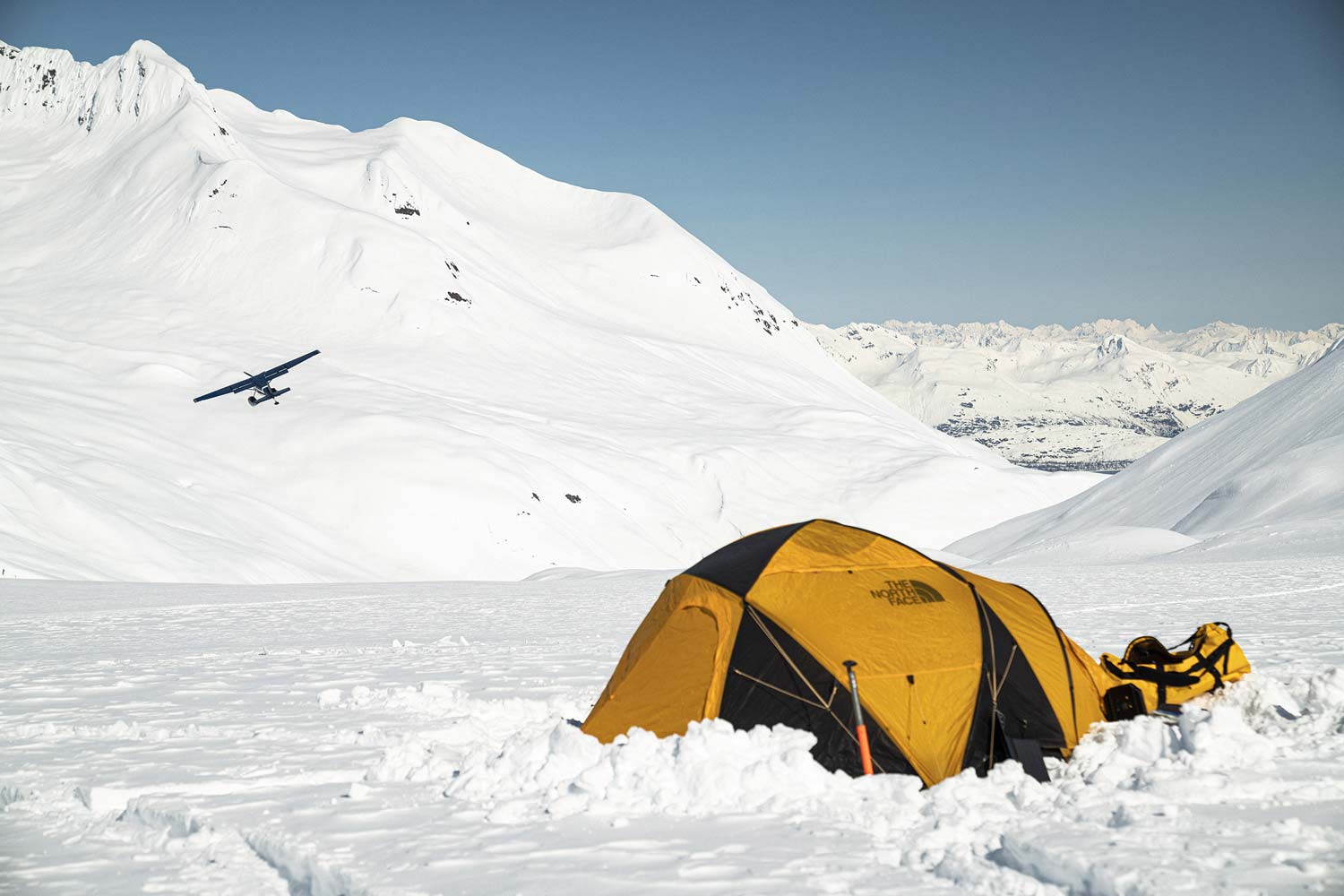 After three scouting flights we were finally able to scout one of the zones we had identified on the map. Our perspective of the terrain had been a bit off though. The zone we had in mind was actually too steep to ride. What I thought would be perfect spines were actually just huge cliffs!

But to our surprise, the next zone over that I had thought would be too small was actually perfect. The terrain would be plenty big enough once we were standing on top of it. Even when you go in knowing everything you see on the map will be much bigger in reality, you still get tricked every single time.
The zone was perfect because it was at a good elevation, there were lots of line options, and it was the right aspect for great filming light. The sun rose at the end of the valley so the light at sunrise was always epic. You could also access the lines from the top by climbing along ridges instead of exposing yourself on the face. The next valley over held amazing lines as well, so if we rode all the lines in this valley, and the weather was still good, we had lots more riding options.

The only downfall of the zone was that the only spot to place our basecamp was exposed to serious avalanche hazards if it snowed a lot. If a big storm system came in we would have to move our camp to the top of a col. This would be a BIG mission, but doable if necessary for our safety.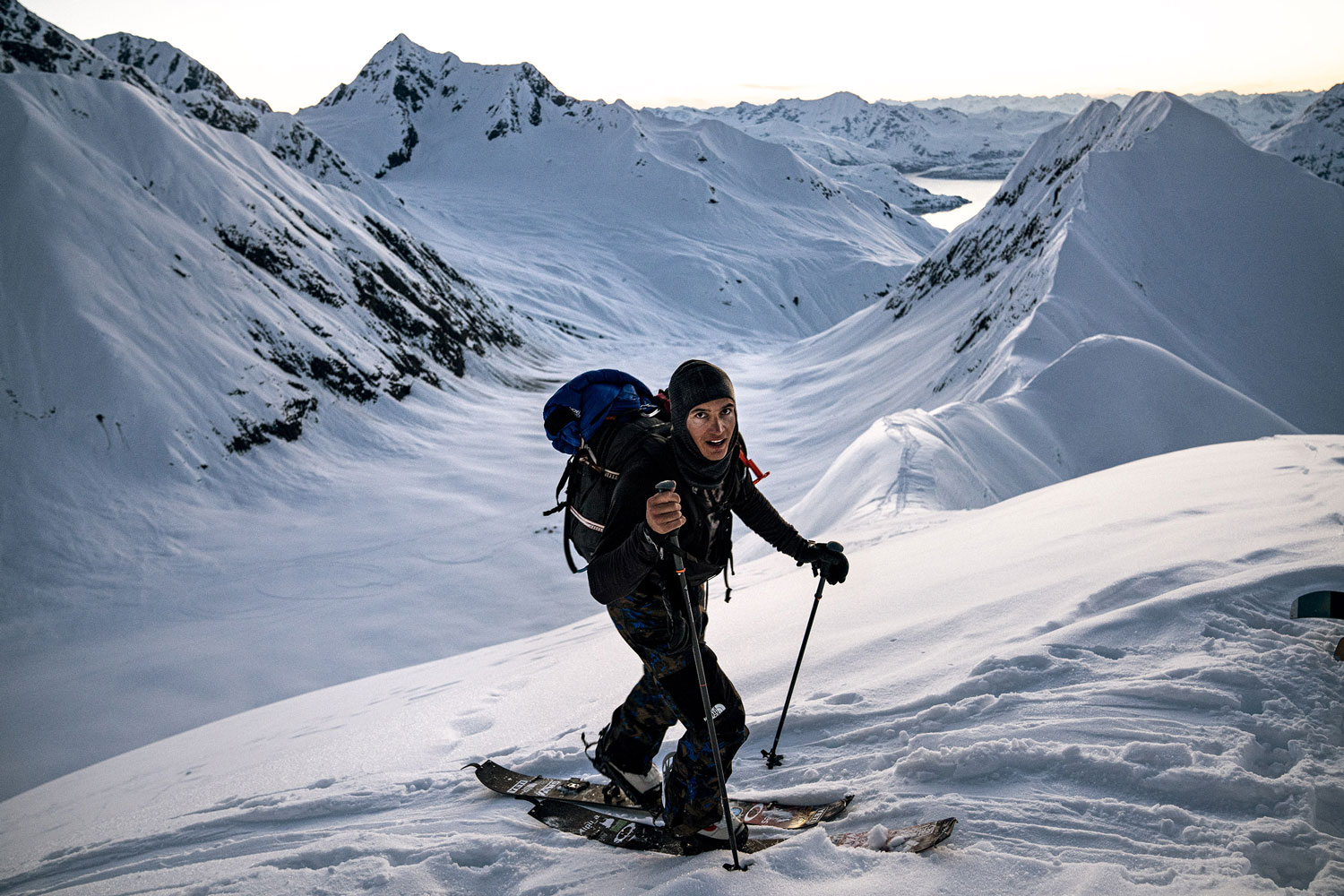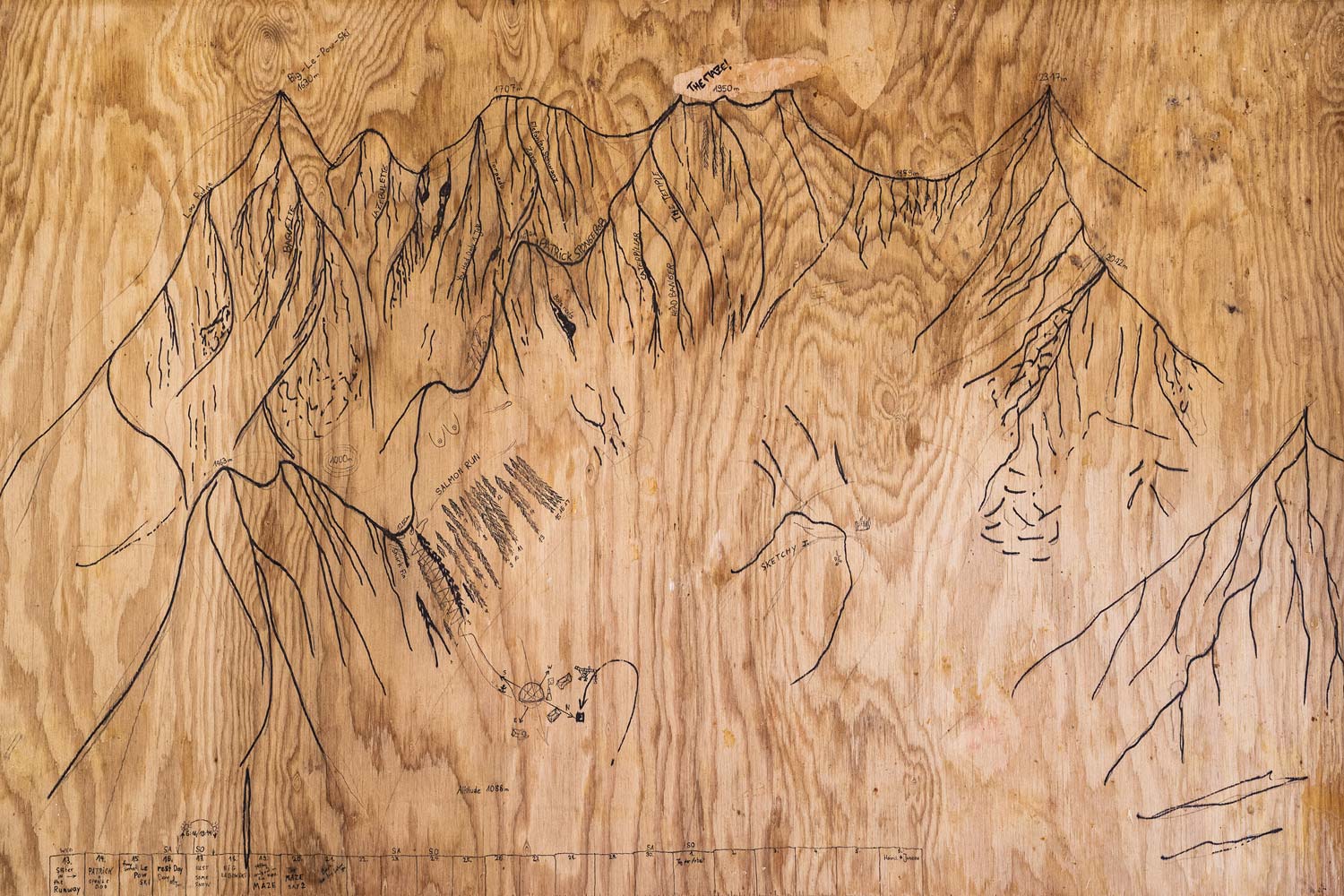 Before going to AK, I was ready to go out there and spend most of my time in the tent getting pounded by the snow and wind. Thankfully, that did not happen. The snow and wind came before we got into the mountains.

Just before we got into camp there was a three-day 100km/h wind event that ruined pretty much all the snow in Alaska. Knowing that the wind had destroyed so much of the terrain made our zone research even harder. But this is where we lucked out. The zone we chose was protected by a bigger mountain just in front of it, so we actually found decent snow.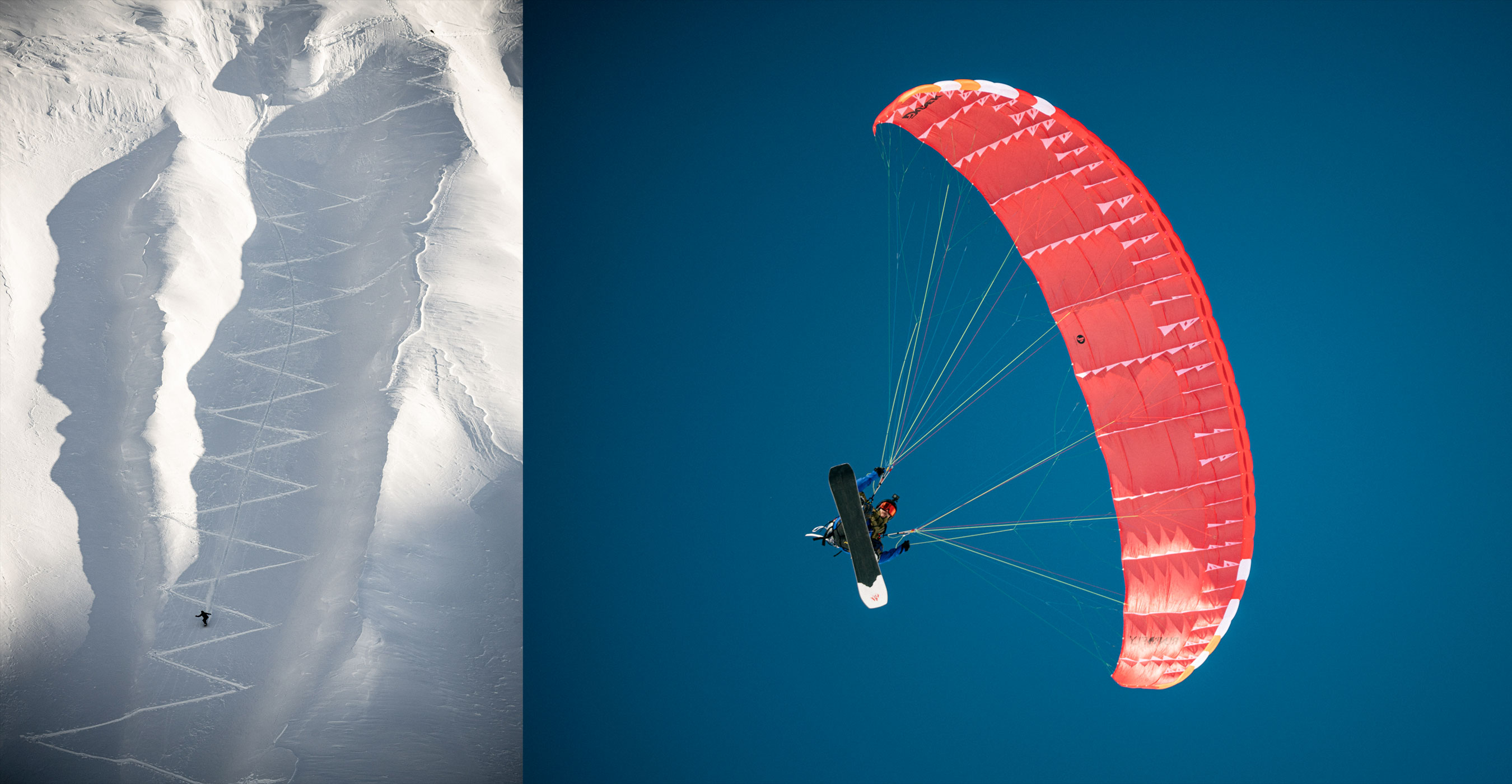 It wasn't the deepest AK snow, but it was the perfect depth for the lines we rode. We were riding very complex terrain with mandatory exits that were hard to find. If you made a mistake and got thrown off your line by deep snow you could have easily gotten cliffed out, or worse. So the snow was not super blower, but it was exactly what you wanted riding these kind of lines. In classic deep AK pow these lines would have been too dangerous to ride. The snowpack was also super stable which made our decision making and line progression that much easier. We could build up our confidence and then step to the big lines!

We started with the closest lines to camp, which were the smallest, to begin understanding the terrain, the feel of the snow and the potential accessibility of the bigger lines. The snow on these lines wasn't epic, but it worked out.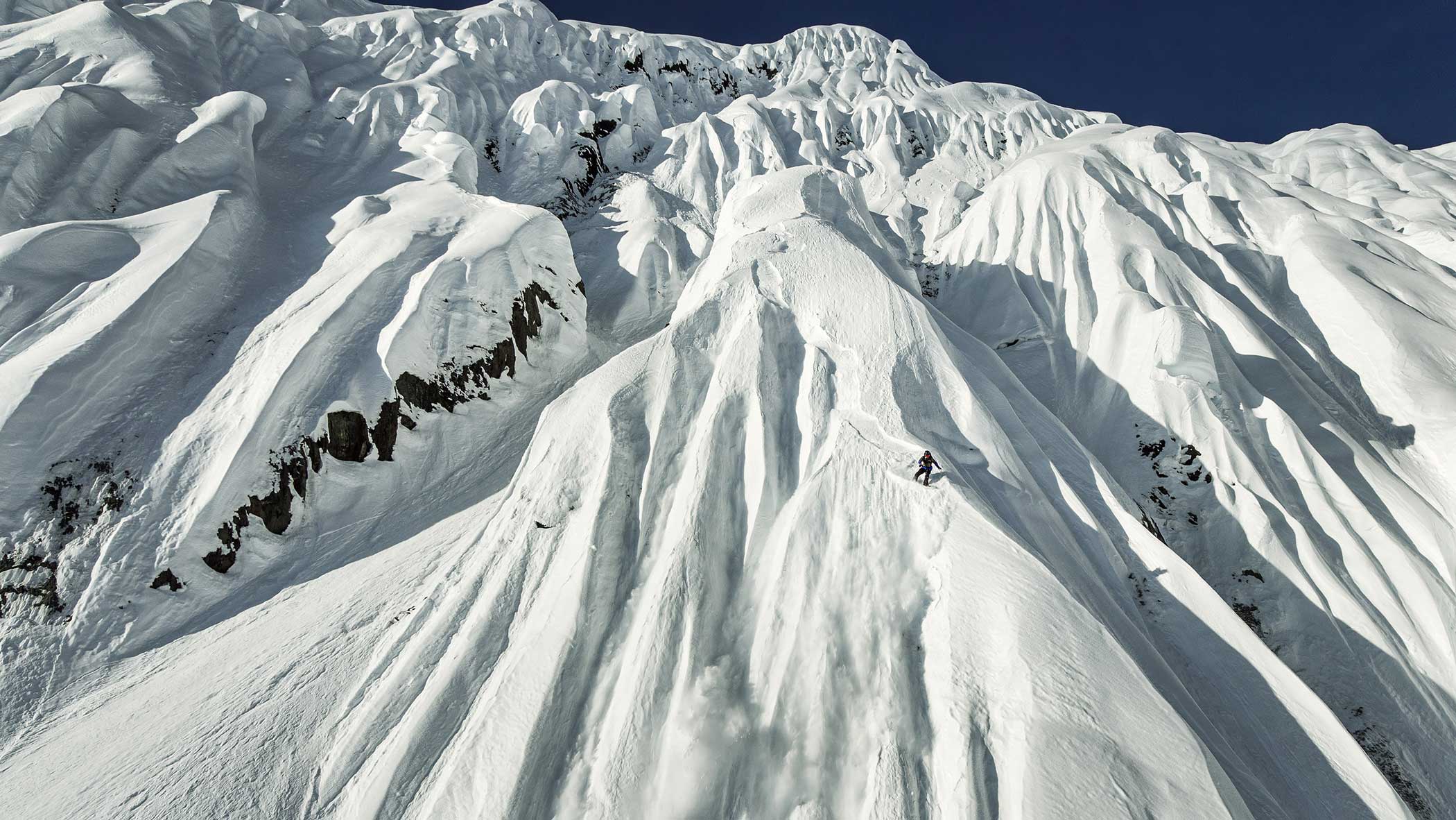 Photo – Christoph Thoresen / Jérôme Tanon
I managed to do a frontside rodeo on my first line! Unintentionally, unfortunately ;) Sluff compressed my board and unexpectedly launched me into the air which had never happened to me before.

I didn't get hurt so it was the perfect first line wake up call. I got a good reminder to chill out, and realize that we were so remote, any accident would be very problematic. I needed to be very cautious with every line I rode and do everything I could to avoid any more mistakes.
Photo – Christoph Thoresen / Jérôme Tanon
Looking back on the trip, this was probably my best snow trip ever. I loved the adventure side and the fact that we were exploring a zone that had never been ridden before. It was also really cool to be in a zone where you could work up to bigger objectives day after day as your confidence in the terrain and the snowpack grew.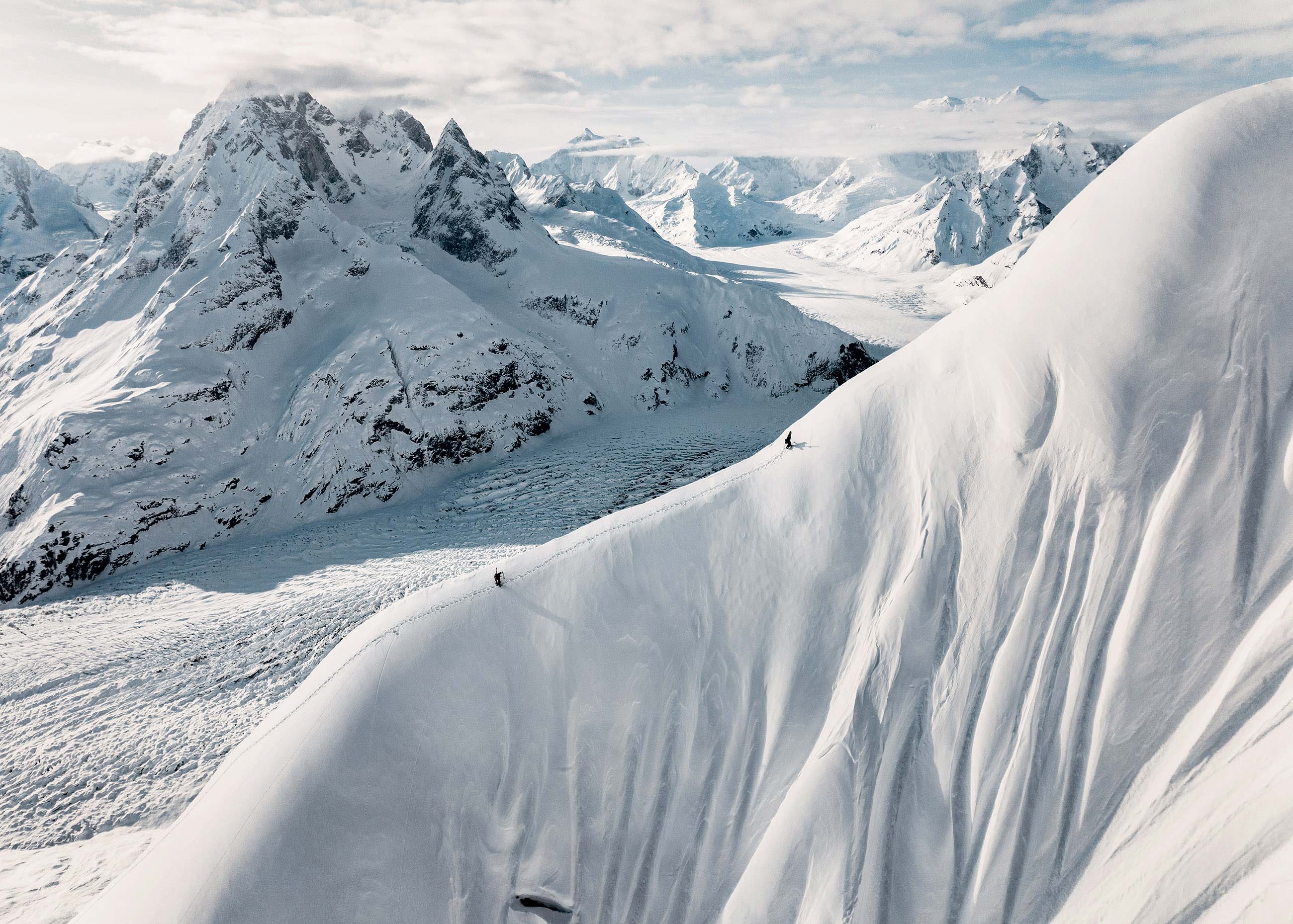 Photo – Yannick Boissenot
I could have easily stayed out there another three weeks if the weather had not warmed up and cooked all the snow.

It was my first real expedition, and no doubt, it will not be the last. I can't wait to get back to Alaska!