Mount Moran, Teton Range, Wyoming / Photo – Fred Marmsater/TGR

A celebration of the revered Teton mountain featured on 2023 Jones gear.
Every season we choose a mountain that holds a special place in the hearts of shredders and commission a painting of that peak to feature in graphics on our boards and gear. For 2023 we selected a truly magnificent mountain in the Tetons - the mighty Mount Moran.

Tucked up in the north end of Grand Teton National Park, just out of view from the town of Jackson in Wyoming, Mount Moran doesn't draw the eyes or attention of most visitors to the Tetons, but to backcountry skiers and snowboarders it is undoubtedly one of the most prized peaks in the range. One look at Moran's east face and it's crystal clear why everybody wants to ride it. The massive mountain is littered with striking yet rideable lines, including the 'Fifty Classics' famous Skillet Glacier that plummets over 6000 feet straight off the 12,605 foot summit to the lakeshore miles below.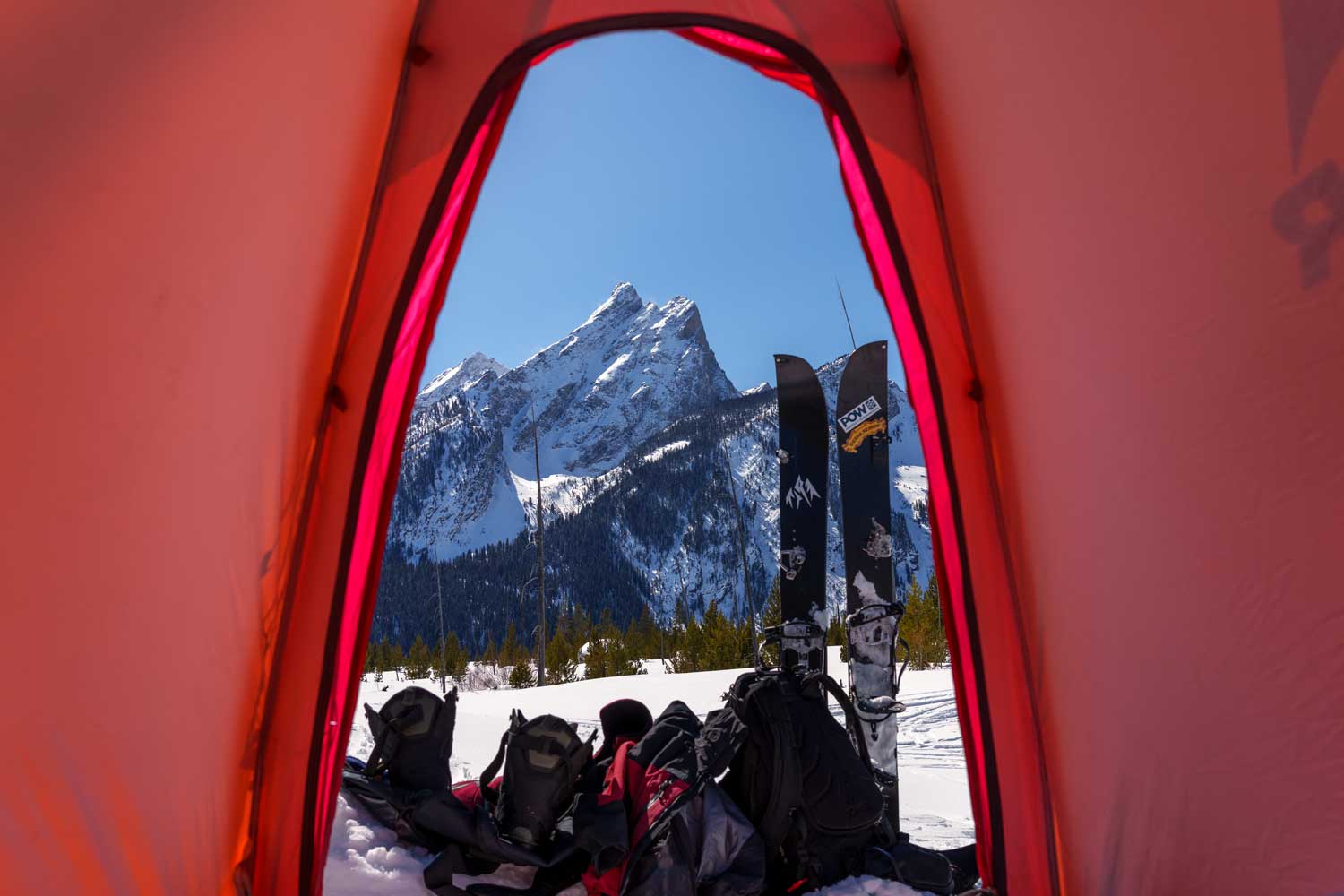 Mount Moran Base camp - 2022 / Photo – Photo – Fred Marmsater/TGR
Mount Moran's rarefied mystique is compounded by the reality that the approach to the mountain in any season is no joke. Moran is guarded from the nearest road by Jackson Lake, a sprawling six mile wide body of water that must be crossed somehow, someway before you start climbing up.

The first people to navigate the lake and climb to the summit of Mount Moran were three members of the Chicago Mountaineering Club who successfully climbed the Skillet Glacier route in July 1922. Mount Moran's ski history wouldn't start until nearly fifty years later when legendary ski mountaineer Bill Briggs made the first ski descent of the Skillet with a few other friends in the spring of 1968. The first snowboarder to lay a track down the Skillet was Stephen Koch, a bold and pioneering rider who dropped into the line in 1991, and went on to claim dozens more first descents in the Tetons and around the world. Koch was also the first skier or snowboarder to descend the Northeast Ridge of Mount Moran, which is a futuristic line he rode in 1999 that has yet to be completely repeated.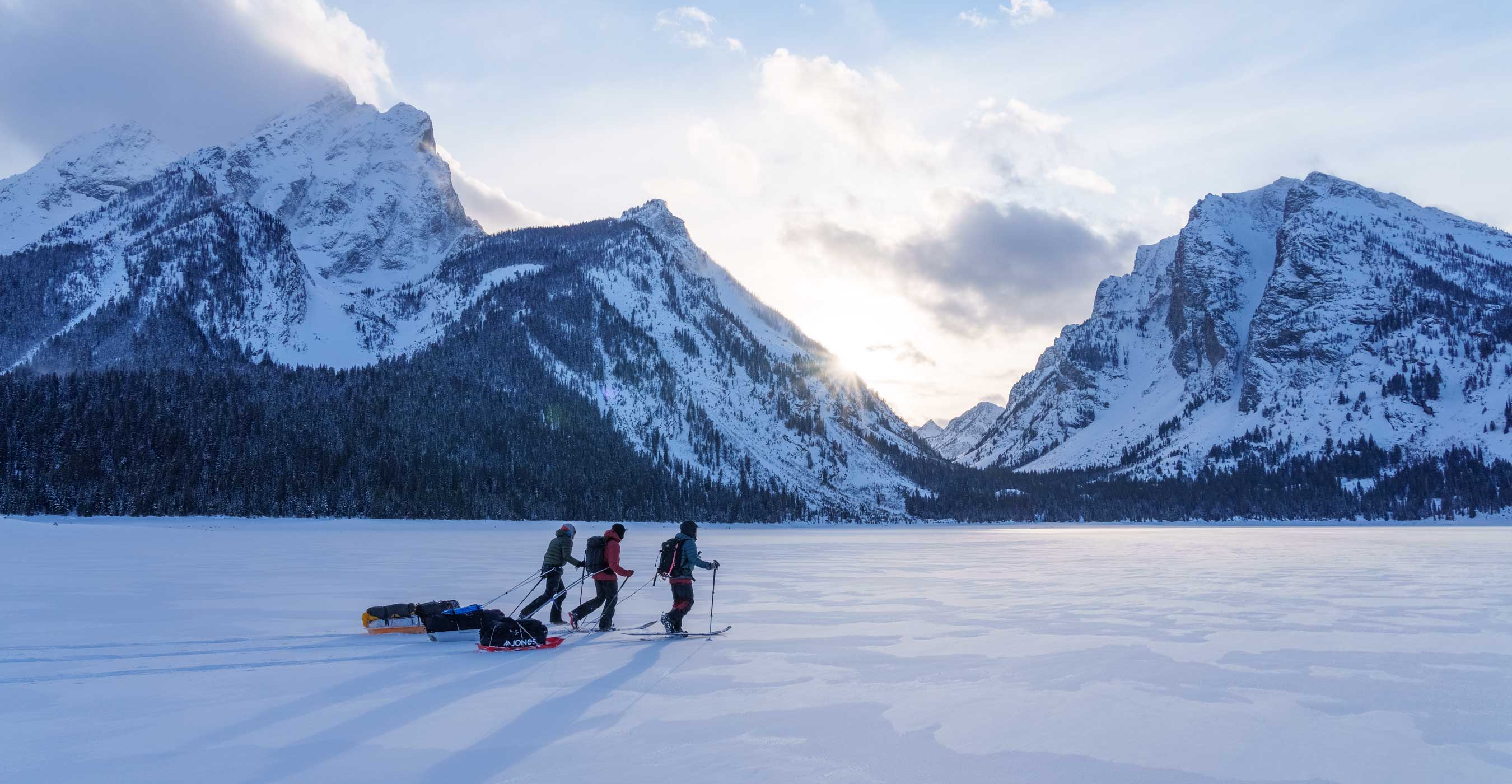 Crossing Jackson Lake / Photo – Fred Marmsater/TGR
One mountain, nearly a lifetime of lines
Few know Mount Moran better than Jones ambassador guide Clark Henarie who guides for Exum in Grand Teton National Park. Henarie has spent dozens of days exploring Moran's many faces and is quick to expound on the mountain's virtues.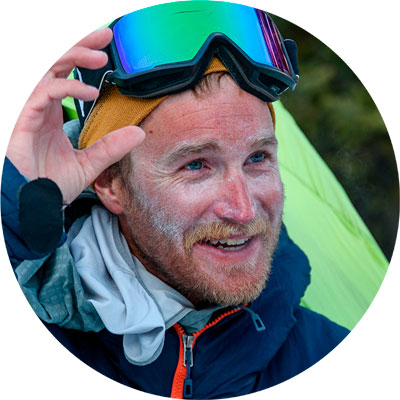 It's insane how much terrain is on Mount Moran. You could spend months riding just that one mountain and never get bored
Jeremy Jones / Photos – Fred Marmsater/TGR
And unlike many of the other prominent peaks in the Tetons, Moran holds an incredible diversity of terrain.

"There is a lot of steep and intimidating terrain in the Tetons," said Henarie. "Moran has gnar too, but what's cool about it is that it also has a ton of more moderate terrain that anyone can ride if you're motivated to get there. You can get as rad as you want or just ride as much fun pow as you want."

And that's exactly what Henarie did in March 2022 when he was joined by Jeremy Jones, fellow Jones ambassador guide Nathanial Murphy, Jones filmer Greg Weaver and photographer Fred Marmsater for a week long Moran trip. The crew set up camp at the base of the mountain and spent a magical week slaying pow all over the peak.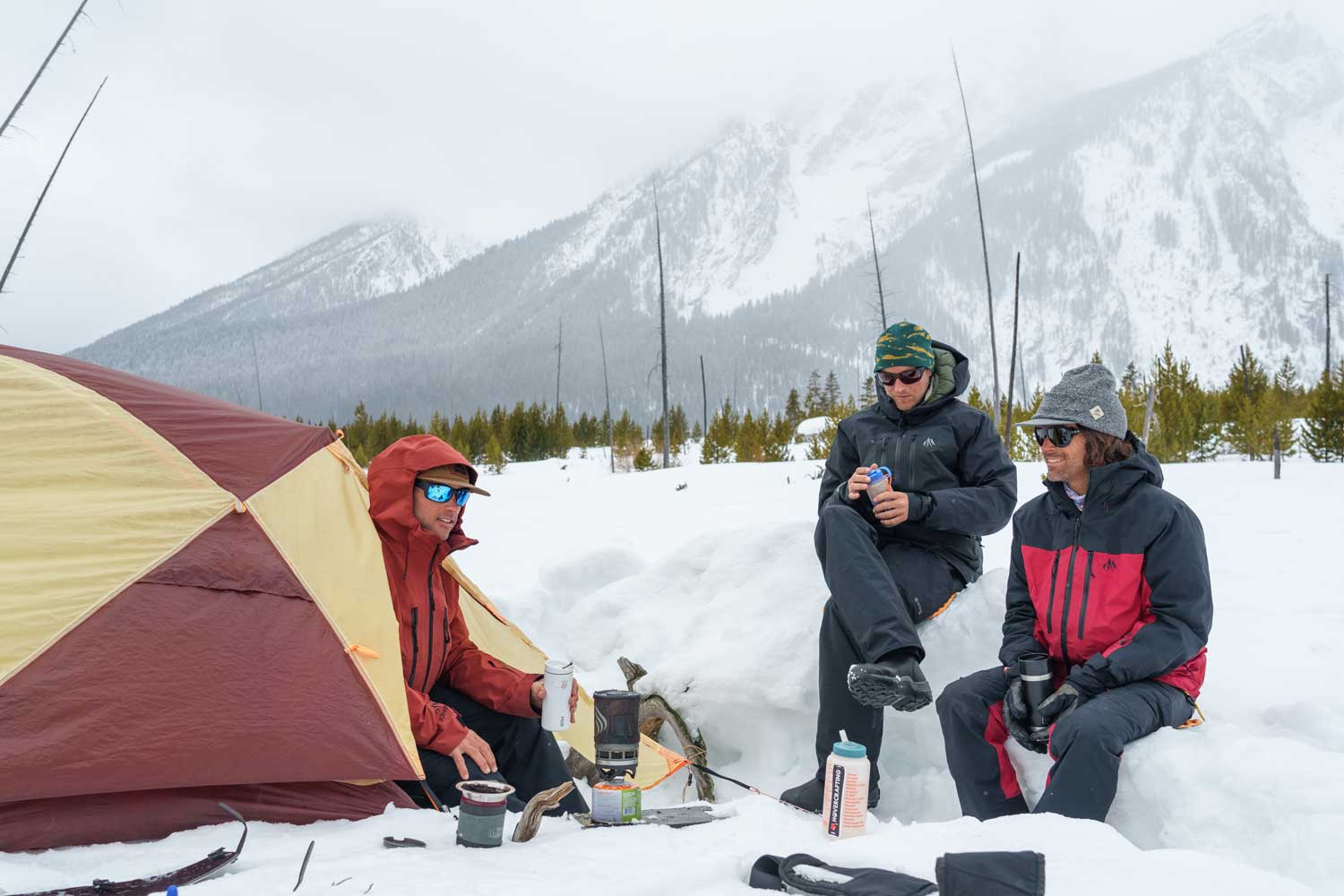 Jeremy Jones, Clark Henarie & Nathaniel Murphy / Photo – Fred Marmsater/TGR
"The mountain started opening the door to us as soon as we left the trailhead," said Henarie. "We walked over in perfect evening light. Set up camp in a good spot. Had a good crew to help out with cooking. And then we just woke up everyday and went to town riding pow for the next seven days."

On one of the last days of their trip they got up at midnight and sent it up the Skillet. Their goal was a sunrise descent.

"I busted the bootpack topping out on the Skillet handle at around 6:15 am right when the sun hit," said Henarie. "Then we did the craziest switch over to drop in as quickly as possible so we could rip turns in pink light. It was a surreal morning."

Climbing the line at night and dropping in at first light paid off for them as they rode the epic pow for 6000 feet from the summit straight to camp.
Left: Nathaniel Murphy - The Skillet / Right: Jeremy Jones / Photos – Fred Marmsater/TGR
"Timing is critical if you want to nail the Skillet in good conditions, especially if you are dealing with new snow later in the season," said Henarie. "You don't want the face to get too much sun before you drop in. It's called the Skillet for a reason, the snow bakes in there."

To catch the mountain covered in cold winter pow, the guys dragged their camping gear across Jackson Lake in sleds and set up a base camp. You don't have to hit Moran mid-winter though. Many of the lines including the Skillet are rideable well into the spring.

"There's no wrong way to ride Moran as far as ideal conditions or access goes," said Henarie. "You can skin across the lake mid-winter and ride it in pow, or you can wait until spring and canoe across the lake and ride it in corn. You can also bust it out in a long day if you don't want to camp. The only thing that's a sure thing is that it's going to be an awesome adventure."
Left: Clark Henarie / Right: Jeremy Jones & Clark Henarie

Carrying on Moran's artistic legacy
Yet another unique thing to know about Mount Moran is that the mountain was named after Thomas Moran, a pioneering American painter and printmaker who was one of the foremost painters of the Western Frontier in the 1870's. Moran's sketches and paintings of Yellowstone helped inspire Congress to establish the Yellowstone region as the first national park in 1872.

No doubt Moran would be touched to see the work of Jones ambassador artist RP Roberts who was tasked with creating the painting of his namesake mountain that we feature on a board, binding and apparel in the 2023 line

RP is a graffiti artist turned landscape artist based in Wales, UK who's stunning paintings have been featured on our boards since 2017. A 20-year veteran shredder, RP has an amazing eye for highlighting mountain features and his paintings bring winter landscapes to life with bright colorways and bold textures.

Beyond creating graphics for Jones gear, RP paints commissioned pieces depicting mountains around the globe using ink pens, acrylics, aerosols and watercolors. For the painting of Mount Moran he began by taking a deep dive into the topography of the mountain.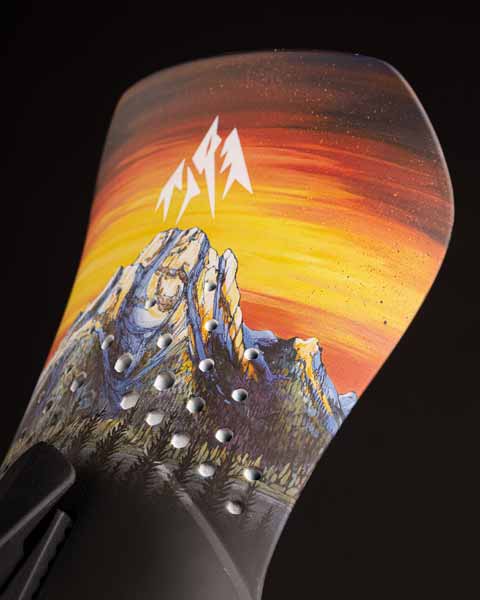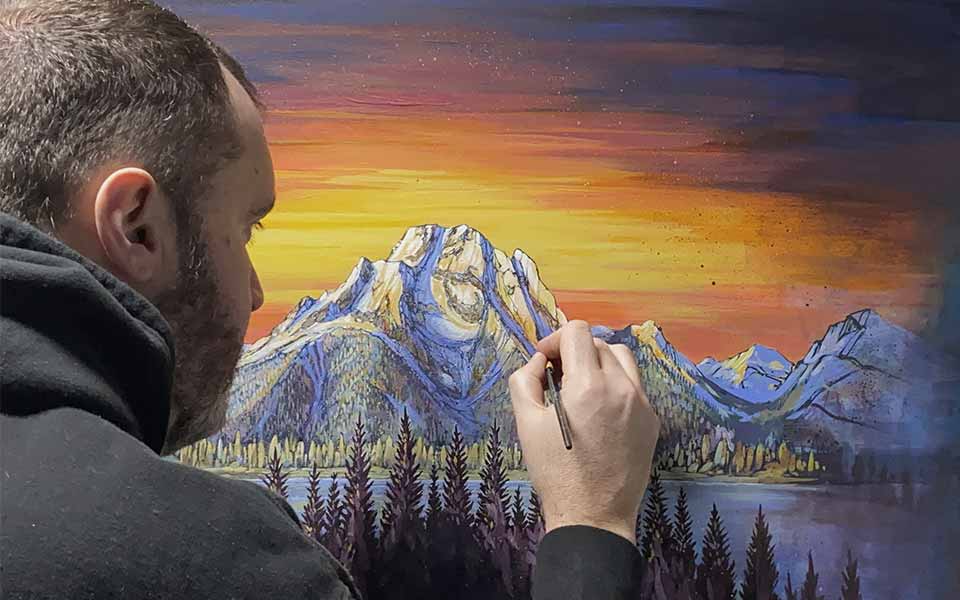 "I started the process of creating the painting by looking at images of Moran from different vantage points," said RP. "Next step was to lay out a digital composition of how the peak would layer with the lake and trees in the foreground. Once the digital composition looked good, and the color scheme was agreed upon, I painted the piece full size on a wood panel."

Understanding how a snowboarder views the mountain is critical to the perspective Roberts wants to convey in his art.

"When looking for reference shots I check out shots of people riding the peak on Instagram," said RP. "Seeing how people shred the mountain gives me a feel for the most important mountain features to include and gets me hyped to paint them."

RP's landscape art strikes a beautiful balance between a photo realistic view and an impressionistic view. The result is always a memorable graphic that pops off whatever gear it's placed on.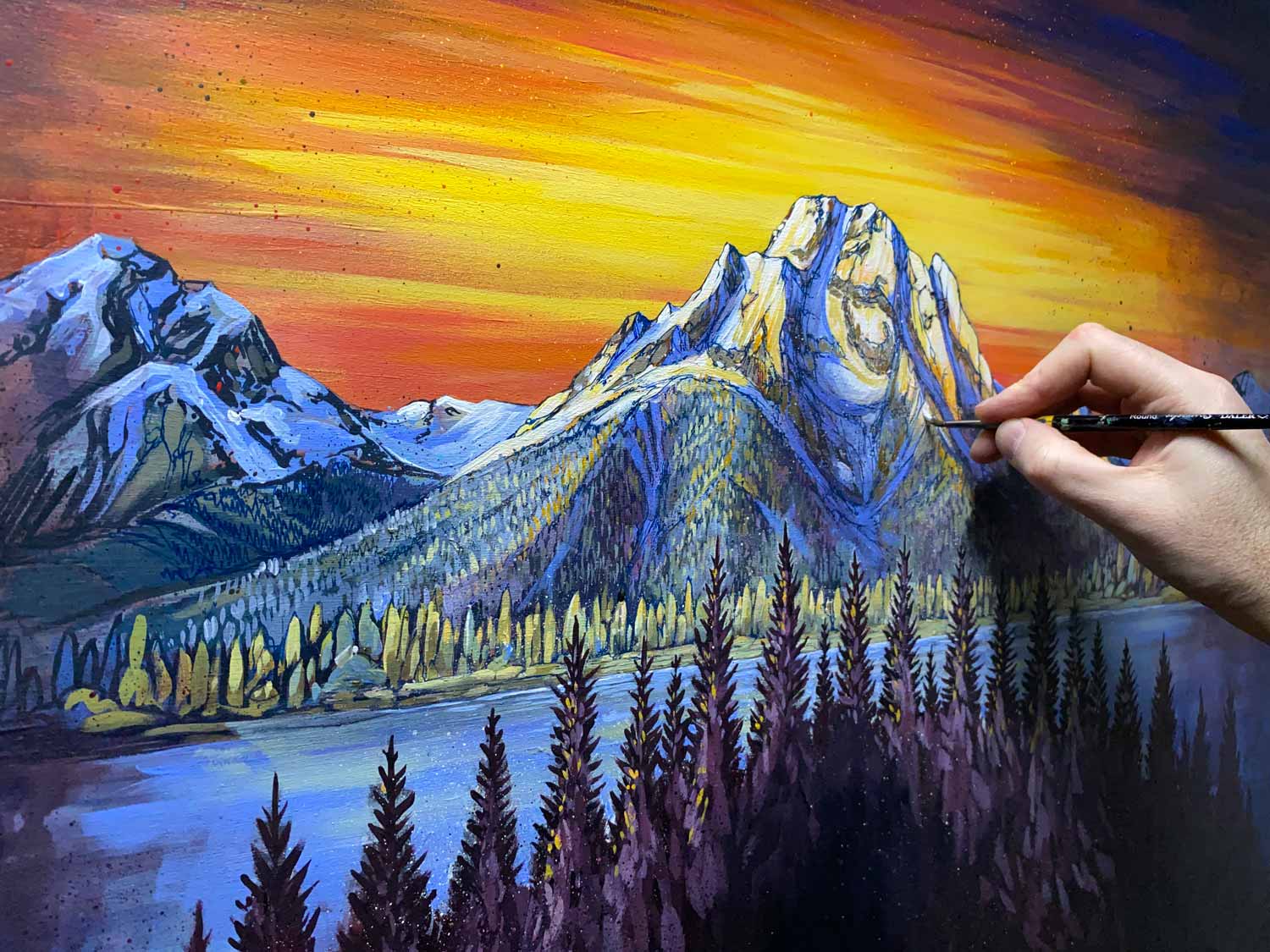 "I love having the opportunity to create paintings that get used on Jones gear because snowboarding is such a passion for people, so to contribute a visual element to that passion feels amazing," said RP. "When I know someone had a rad day riding a board with my painting on it, I feel their stoke."

We're honored to feature RP's painting of Mount Moran on the 2023 Frontier Snowboard + Frontier Split, one colorway of the Orion Binding, and a Men's Recycled Long Sleeve Tech Tee. Whether you've already put a track down Moran, or you aspire to, this gear is a timeless tribute to one of the most magnificent mountains in North America that should inspire you to ride dream lines like the Skillet anytime you lay eyes on it.
Shop Mount Moran x RP Roberts gear